Special Auction in Munich - 19th Century Art
A Private Collection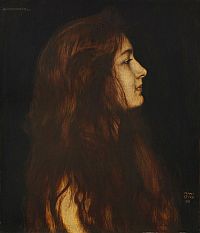 Franz von Stuck
Aschenbrödel, 1899, oil on wood,
49,1 x 42,3 cm
Estimate: € 80.000-120.000
Munich, 24 April 2017, (kk) -

The collection of a Southern German art lover that is going for sale in the auction of

19th Century Art

at Ketterer Kunst in Munich on 24 May is a true gem. Works by renowned artists from the Munich School, as well as by illustrious representatives of Austrian art are among the highlights of the 35 lots.

The high-class range of offerings is led by

Ferdinand Georg Waldmüller

's oil painting "Ein alter Invalide mit Kindern" from 1827, which carries an estimate of € 100,000-150,000. The acclaimed Viennese artist possesses great mastery in capturing the observer by carefully rendering his protagonists' emotional ties. This closeness emanates a touching truthfulness. His landscape paintings, however, are likewise captivating. An impressive example thereof is the work "Altes Bauerngehöft im südlichen Wienerwald" from around 1850, which will enter the race with an estimate of € 40,000-60,000.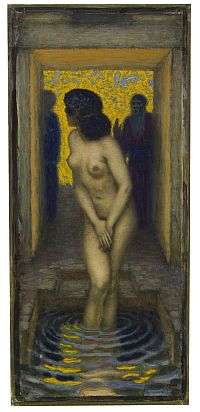 Franz von Stuck
Susanna im Bade, around 1913, oil on wood,
65,6 x 29,6 cm
Estimate: € 80.000-120.000
Other highlights are two works by Franz von Stuck. The painting "Aschenbrödel" from 1899 introduced a very successful motif series in his oeuvre. Owed to the young girl's innocent erotic aura, the portrait, strictly kept in side-face perspective and executed in Italian Quattrocento manner, is a sensual and gracious depiction that expresses vulnerability and strength in equal measure. It has been estimated at € 80,000-120,000 and is on a par with another work by the artist: Made around 1913, "Susanna im Bade" is a popular theme from Christian tradition that Stuck rendered time and again. However, in doing so he abandoned their traditional meaning in favor of a more archetypal human interpretation.

Half a dozen works by Franz von Defregger are guaranteed to provide excitement in the saleroom as well. The group is led by the oil painting "Die Zitherspielerin" from 1909. Even though the Tyrolean artist made several variations of the popular motif, the portrait master put particular emphasis on the people's faces in this work. An effect that is even increased by the plain background. The estimate is at € 20,000-30,000.

Other works in the collection come from Rudolf von Alt, Eugène Henri Cauchois, Carl Jutz the Elder, Carl Kronberger, Hubert Sattler, Eduard Schleich the Elder, Adolf Stademann and Joseph Wopfner.

Apart from the special auction, the array in the department of 19th Century Art is enriched by more than 170 other works, with, among others, a portrait of "Princess Theresa of Bavaria" (estimate: € 25,000-35,000) from the widely traveled court painter Karl Stieler. Other artists represented with several works are Friedrich Kallmorgen (e.g.: "Der Taufgang", estimate: € 15,000-20,000), Hans Thoma (with estimates of up to € 15,000), Edward Theodore Compton (among others with a "View of the Marmolada" and a "View of the North Slope of Grossglockner", estimates: € 12,000-15,000 each) as well as Joseph Wopfner and his monumental "Fischerzug am Chiemsee" (estimate: € 15,000-20,000). Other big names in the section are Paul Baum, Jan Chelminski, Johann Georg von Dillis, Jakob Wilhelm Grünenwald, Karl Hagemeister, Erich Kips, Alexander Koester, Franz von Lenbach, Carl von Marr, Friedrich Voltz and Heinrich von Zügel.
Preview
08/09 May Ketterer Kunst Holstenwall 5, 20355
Hamburg
*
11/12 May Ketterer Kunst Malkastenstr. 11, 40211
Düsseldorf
*
15/16 May Ketterer Kunst Fasanenstr. 70, 10719
Berlin
*
19-23 May Ketterer Kunst Joseph-Wild-Str. 18, 81829
Munich
**
* selected works ** all works
Auction
19th Century Art in Munich, Germany on 24 May 2017


Since it was founded in 1954, Ketterer Kunst has been on the forefront of auction houses dealing in Fine Art and Rare Books, with its headquarters in Munich, and a branch in Hamburg. Representatives' offices in Berlin, Heidelberg, Duesseldorf, the Benelux Union, France, Italy, Switzerland and the US have contributed substantially to the company's success. In addition, exhibitions, special thematic and charity auctions as well as monthly online auctions at www.ketterer-internet-auction.com are regular events at Ketterer Kunst. Robert Ketterer is owner and CEO of Ketterer Kunst.

| Press inquiries: | Client inquiries: |
| --- | --- |
| Ketterer Kunst | Ketterer Kunst |
| Joseph-Wild-Str. 18 | Joseph-Wild-Str. 18 |
| 81829 Munich | 81829 Munich |
| Michaela Derra M.A. | |
| phone: +49-(0)89-55244-152 | phone: +49-(0)552440 |
| fax: +49-(0)89-55244-177 | fax: +49-(0)89-55244-177 |
| e-mail: m.derra@kettererkunst.de | e-mail: infomuenchen@kettererkunst.de |