Ten Years of Internet Auctions at Ketterer Kunst
Net Pioneer Celebrates Anniversary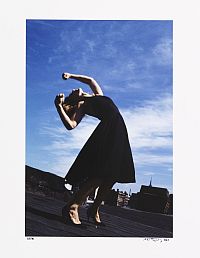 Robert Longo
Untitled (Janet, from the Men in the Cities Series)
Color photograph, 1981/2016
Estimate: € 1.200-1.800


Munich, 7 August 2017, (kk) -
Ketterer Kunst, a pioneer in internet-based art auctions, has good reason to celebrate, as Germany's top selling auction house made online auctions part of its business as early as in 2007.
"We were the first auction house to recognize the potential of internet auctions in the mid 2000s. It was clear from the start that the internet was a future market place for art auctions and that we had to follow the path", says company owner Robert Ketterer. He continues: "While there still was a lot of skepticism in the sector, we had strong faith in the success and were convinced that we would manage to serve a market of objects that cannot be offered in a conventional salesroom auction due to high catalog expenses and the logistic efforts".
Record proceeds – Merits of innovativeness
Meanwhile the prognosis has proven to be true and the company's pioneering spirit has paid off, as top hammer prices are knocked down regularly not only in Ketterer Kunst's salesroom auctions. More than 60 years of art market- and auction knowledge combined with ten year of online experience are extremely valuable. Both platforms benefit from the coexistence under one roof, as clients from either segment become aware of the other option. Resulting synergistic effects make for record prices on the internet-based market, too.
A number of factors must be taken into account for successful internet auctions. Experts at Ketterer Kunst know all of them. They know how to satisfy needs of new clients who just begin to discover the exciting field of online auctions, as well as those of longtime art players. Reliability and creativity are the cornerstones of the house's success - not only on the net.
Those who want to get an idea of the services offered should log in on
www.ketterer-internet-auctions.com
. The online auctions start every month on the 15th at 3 pm. and close the 15th of the following month at 3 pm.
Since it was founded in 1954, Ketterer Kunst has been on the forefront of auction houses dealing in Fine Art and Rare Books, with its headquarters in Munich, and a branch in Hamburg. Representatives' offices in Berlin, Heidelberg, Duesseldorf, the Benelux Union, France, Italy, Switzerland and the US have contributed substantially to the company's success. In addition, exhibitions, special thematic and charity auctions as well as monthly online auctions at www.ketterer-internet-auctions.com are regular events at Ketterer Kunst. Robert Ketterer is the company's managing director and owner.
| Press inquiries: | Client inquiries: |
| --- | --- |
| Ketterer Kunst | Ketterer Kunst GmbH und Co KG |
| Joseph-Wild-Str. 18 | Joseph-Wild-Str. 18 |
| 81829 Munich | 81829 Munich |
| Michaela Derra M.A. | |
| Phone:+49-(0)89-55244-152 | Phone:+49-(0)800-53883737 |
| Fax: +49-(0)89-552440 | Fax: +49-(0)89-55244-177 |
| e-mail: m.derra@kettererkunst.de | e-mail: service@ketterer-internet-auktion.de |