With Paper, Pencil and Scalpel - Exhibition at Ketterer Kunst in Berlin
Katharina Hinsberg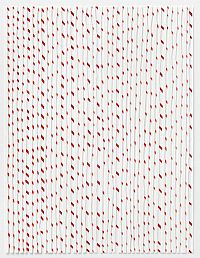 Katharina Hinsberg
Lacunae, 2017
India ink on paper, cut-out
21,4 x 17,2 cm
Foto: Achim Kukulies
Berlin, 2 May, 2017 (kk) - What is a line capable of and what's in its nature? The artist Katharina Hinsberg pursues these and other questions. The wide range of results she attains will be in the focus of an exhibition at Ketterer Kunst in Berlin. An overview of her work periods and series will be on display as of 26 June.

Ever since her time at the academy, Katharina Hinsberg has not paid more attention to any other artistic medium than the drawing. At the same time she continuously puts this genre to question and transcends traditional functions of drawings – sketch, preliminary and contour – with her impressive works. Paper, pencil and scalpel are the key utensils that the Karlsruhe native uses in a very unconventional manner: The line, executed on the sheet with a pen, is dug out or excavated, positive- and negative forms make her work three-dimensional. It is not so much the drawing she is occupied with, but the line, of which she explores all characteristics and means of expression.

For the exhibition at the Berlin premises of the auction house Ketterer Kunst, Hinsberg created an installation with long narrow strips of color paper that flow from the ceiling and create a three-dimensional drawing in the room.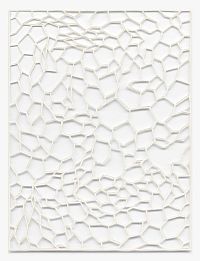 Katharina Hinsberg
Ajouré, 2015
Papercut, 15 x 11,5 cm
Foto: Niels Schabrod
Katharina Hinsberg, who also has post as professor for conceptual painting at the Saar Academy of Fine Arts has received numerous honors for her work, among them, first prize of the Art-in-Architecture-Competition of the Federal Ministry of Food and Agriculture in Berlin. She lives and works on the former rocket base Hombroich near Neuss.
On occasion of the opening reception of the exhibition in Berlin on 25 June at 11 a. m., the welcome words of Dr. Simone Wiechers from Ketterer Kunst Berlin, will be followed by a speech from Dr. Heinz Stahlhut, curator at Kunstmuseum Lucerne, Switzerland.
What ?
Sales exhibition with around 30 works by Katharina Hinsberg in cooperation with Galerie Fahnemann, Berlin
When ?
26 June - 17 September, 2017
Opening hours: Mon-Fri from 10 am to 6 pm and Sat. from 11 am to 4 pm.
extra opening hours during the Berlin Art Week
Where ?
Ketterer Kunst, Fasanenstr. 70, 10719 Berlin, Germany
Since it was founded in 1954, Ketterer Kunst has been on the forefront of auction houses dealing in Fine Art and Rare Books, with its headquarters in Munich, and a branch in Hamburg. Representatives' offices in Berlin, Heidelberg, Duesseldorf, the Benelux Union, France, Italy, Switzerland and the US have contributed substantially to the company's success. In addition, exhibitions, special thematic and charity auctions as well as monthly online auctions at www.ketterer-internet-auction.com are regular events at Ketterer Kunst. Robert Ketterer is owner and CEO of Ketterer Kunst.
| Press inquiries: | Client inquiries: |
| --- | --- |
| Ketterer Kunst | Ketterer Kunst |
| Joseph-Wild-Str. 18 | Fasanenstr. 70 |
| 81829 Munich | 10719 Berlin, Germany |
| Michaela Derra M.A. | |
| phone:+49-(0)89-55244-152 | phone:+ +49-(0)89-55244-152 |
| fax: +49-(0)89-552440 | fax: +49-(0)89-55244-177 |
| e-mail: m.derra@kettererkunst.de | e-mail: infoberlin@kettererkunst.de |