Jubilee Exhibition: "On the Road Between Munich and Berlin"
10 Years Ketterer Kunst - Representation in Berlin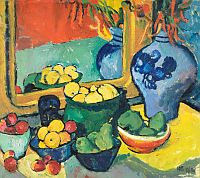 Part of the exhibition:
Hermann Max Pechstein
Weib mit Inder auf Teppich (front) Früchte II (rear) Oil on canvas, 1910 71.5 x 82.5 cm / 28.1 x 32.4 in)
With a result of around € 3.5 million this work provided a world record in 2011. Up until today it is the artist's most expensive work ever sold in an auction.
(Source www.artprice.com)

Berlin, 25 January 2017 (kk) - Ketterer Kunst will celebrate the tenth anniversary of its representation in the German capital with a special exhibition. Around 40 works from just as many artists will be on display from 25 February on. Works by those artists have enthused the audience in auctions at Ketterer Kunst as well as in important museum shows in Munich and Berlin.

"I am very delighted to celebrate this jubilee with such a wonderful exhibition, at the same time it is a journey through the activities of Ketterer Kunst in the capital over the past ten years", says Robert Ketterer. He continues: "Berlin has always mattered to me, as it is the epicenter for Contemporary Art, it provides the perfect setting for innovative ideas and allows us to observe latest trends from a close perspective".

Even though Ketterer Kunst held annual auctions of Contemporary and Modern Art in the capital between 1997 and 2000, it opened a permanent branch in representative premises on Fasanenstraße 70 in Charlottenburg only ten years ago.

Ever since there has been lively interaction between the Munich headquarter and the Berlin representation, as the exhibition's title "On the Road between Munich and Berlin - 10 Years of Ketterer Kunst in the Capital City" suggests. The artworks travel as much as the Ketterer Kunst staff does, making many thousand miles between Munich and Berlin every year.

At 7 pm on Friday, 24 February, Robert Ketterer, auctioneer and company owner, will deliver the exhibition's opening speech with anecdotes from Ketterer Kunst's time in Berlin.
What ?
Exhibition of around 40 works by artists such as Norbert Bisky, Willi Baumeister, Max Beckmann, Katharina Grosse, Gustav Klimt, Heinz Mack, Otto Mueller, Gabriele Münter, Emil Nolde, Wassily Kandinsky, Max Liebermann, Anselm Reyle, Pierre Soulages, Andy Warhol and Zao Wou-Ki.
When ?
25 February - 30 April 2017
Opening hours: Mon-Fri from 10 am to 6 pm and Sat. from 11 am to 4 pm.
Extra hours on the Gallery Weekend from 28-30 April 2017
Where ?
Ketterer Kunst, Fasanenstr. 70, 10719 Berlin, Germany
Prices ?
Except for three works by Stephan Balkenhol, Max Liebermann and Ernst Wilhelm Nay (prices upon request), all works in the exhibition are unsalable loans.
Since it was founded in 1954, Ketterer Kunst has been on the forefront of auction houses dealing in Fine Art and Rare Books, with its headquarters in Munich, and a branch in Hamburg. Representatives' offices in Berlin, Heidelberg, Duesseldorf, the Benelux Union, France, Italy, Switzerland and the US have contributed substantially to the company's success. In addition, exhibitions, special thematic and charity auctions as well as monthly online auctions at www.ketterer-internet-auction.com are regular events at Ketterer Kunst. Robert Ketterer is owner and CEO of Ketterer Kunst.
| Press inquiries: | Client inquiries: |
| --- | --- |
| Ketterer Kunst | Ketterer Kunst |
| Joseph-Wild-Str. 18 | Fasanenstr. 70 |
| 81829 Munich | 10719 Berlin, Germany |
| Michaela Derra M.A. | |
| phone:+49-(0)89-55244-152 | phone:+ +49-(0)89-55244-152 |
| fax: +49-(0)89-552440 | fax: +49-(0)89-55244-177 |
| e-mail: m.derra@kettererkunst.de | e-mail: infoberlin@kettererkunst.de |