Auction 434, Beastly Good - Rare Books Auction in Hamburg
€ 72,000* for a whole lot of Mammals
Hamburg, 23 November 2016, (kk) -

With total proceeds of around € 1.8 million*, the two-day auction of

Rare Books

at Ketterer Kunst in Hamburg on 21/22 November realized excellent results. Last year's figures were even exceeded by € 200,000*. Joachim Joh. Nepomuk Spalowsky's splendid natural history of mammals was particularly in demand.
Top 5


€ 72,000* calling price: € 28,000
No. 034: Joachim Joh. N. Spalowsky
Beytrag zur Naturgeschichte der vierfüßigen Thiere. Vienna 1794

€ 61,200* calling price: € 26,000
No. 113: Marc Chagall
Bible. Paris 1956

€ 38,400* calling price: € 34,000
No. 033: Maria Sibylla Merian Surinaamsche Insecten. Amsterdam 1730

€ 26,400* calling price: € 17,000
No. 042: Thomas L. McKenney
History of the Indian Tribes of North America.
Philadelphia after 1965

€ 26,400* calling price: € 16,000
No. 497: Missale von Mechelen
Pergament-manuscript. Mechelen around 1420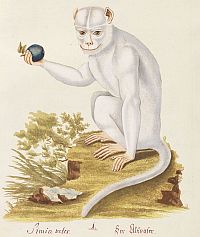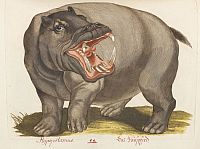 Joachim Joh. Nepomuk Spalowsky
Beytrag zur Naturgeschichte der vierfüssigen Thiere, 2 vols.
Paris around 1450

The only edition of Joachim Joh. Nepomuk Spalowsky's "Beytrag zur Naturgeschichte der vierfüssigen Thiere" (lot 34) was the top lot in the auction. Several written bids and three phones from Germany, Austria and the USA competed for the lavishly printed natural history of mammals. Called up at € 28,000 the bidding quickly picked up pace, eventually a collector from California made the race with a price of € 72,000*.

The list of written bids for Marc Chagall's "Eaux-fortes originales" (lot 113) was also quite long. The work with 105 original etchings was made in Paris in 1956. In preparation of this unique bible project, the artist visited Syria, Palestine and Egypt in order to get a feel for the oriental atmosphere. All the buyer from the US needed was a decisive bid, offering € 61,200* he was able to relegate the mostly German bidders in the saleroom and a tough British competitor on the phone to places second and beyond.

Unlike expected, the beautiful work on North American Natives by Thomas McKenney and James Hall (lot 42) did not find a new home on the other side of the Atlantic Ocean. With a result of € 26,400* an antiquarian book dealer from North Rhine-Westphalia showed the most bidding endurance.

Next to Friedrich Schiller's autographed manuscript fragment from "Phaedra" (lot 57), which went to a private German collector for a result of € 25,800*, the album amicorum by Georg Wilhelm Prahmer (lot 55) was also highly sought-after. In the case of the latter, a private collector from Hamburg succeeded and took the renowned album, which also carries an entry by Friedrich Schiller, home for a result of € 22,800*.

Max Ernst's "Histoire naturelle" (lot 105), one of the main works of Surrealism, went to a French dealer who had to pay € 19,200*, almost a five-fold of the starting price, in order to curb the competitors.

Bidding also perked up when two rare Programs (lot 90) of the Cabaret Fledermaus, founded by the Wiener Werkstätte in 1907, were called up at € 4,000. One of the 15 original lithographs from, among others, Kokoschka, Löffler, Jung and Zeymar, adorns the catalog's cover. Lively bidding with the participation of various phones from Austria and England as well as several international written bids was eventually stopped by a Northern German antiquarian in the saleroom at a result of € 17,400*.

A similarly good result of € 16.800* was realized for Jean de La Fontaine's "Fables choisis, mises en vers" (lot 60). A Southern German private collector granted a four-fold of the calling price of € 4.000 and was the lucky winner of a tough race against competitors from Germany, France, Holland and Taiwan.

The same American who had earlier won the day's top lot also stood his grounds against book lovers from around the world when Jean-Etienne Guettard's "Memoires sur différentes parties des sciences et arts" (lot 26) where called up with € 3,000. With a price of € 13,200* he also provided around a four-fold of the calling price.

Other lots that realized remarkable results:


Lot no.
Artist
Title
Calling
price
Result
684
Francisco de Goya
Caprichos
€ 11,000
€ 22,800*
032
Conrad Gesner
Vogel-, Thier-, Fisch- und Schlangenbuch
€ 13,000
€ 18,000*
010
Guillermus Parisiensis
Postilla super epistolas
€ 8,000
€ 16,800*
004
Psalterium feriatum
Pergament-Manuskript 15. Jahrhundert
€ 3,400
€ 15,600*
639
Moses Mendelssohn
Eigenhändiges Manuskript
€ 6,000
€ 13,200*
The auction of
Maritime and North German Art
, traditionally held in Hamburg right before the auction of Rare Books, also has some results worthwhile mentioning.
Here a small selection:
Lot no.
Artist
Title
Calling
price
Result
1480
Friedrich Kallmorgen
Der Brief aus Amerika
€ 3,500
€ 20,400*
1420
Johannes Holst
Schnelldampfer "Kaiserin Auguste Victoria"
€ 6,000
€ 13,200*
Unsold objects can be acquired in the post auction sale until 16 December 2016.

Since it was founded in 1954, Ketterer Kunst has been on the forefront of auction houses dealing in Fine Art and Rare Books, with its headquarters in Munich, and a branch in Hamburg. Representatives' offices in Berlin, Heidelberg, Duesseldorf, Italy and the US have contributed substantially to the company's success. In addition, exhibitions, special thematic and charity auctions as well as monthly online auctions at www.ketterer-internet-auction.com are regular events at Ketterer Kunst. Robert Ketterer is owner and CEO of Ketterer Kunst.

* The rounded result is the hammer + 20 percent buyer's premium

| Your press contact: | Your contact in the Rare Books department: |
| --- | --- |
| Ketterer Kunst | Ketterer Kunst |
| Joseph-Wild-Str. 18 | Holstenwall 5 |
| 81829 Munich, Germany | 20355 Hamburg, Germany |
| Michaela Derra | Christoph Calaminus / Christian Höflich |
| Phone: +49-(0)89-55244-152 | Phone: +49-(0)40-374961-11 /-20 |
| Fax: +49-(0)89-55244-177 | Fax: +49-(0)40-374961-66 |
| E-Mail: m.derra@kettererkunst.de | E-Mail: infohamburg@kettererkunst.de |