Auction of 19th Century Art in Munich
€ 300,000 for the Spring
Munich, 26 May 2016, (kk) - The auction of 19th Century Art marked the successful start of the spring auction season at Ketterer Kunst in Munich. The new concept, which puts the focus on art from the 19th and early 20th century, was well received. Accordingly, the overall result of around € 1.45 million* topped the figures of the last auction by more than € 500,000.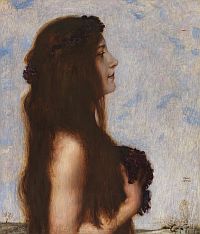 Franz von Stuck
Frühling, around 1900/1902
Oil on wood, 58 x 50 cm
(22.8 x 19.6 in)
Calling price: € 30.000
Result: € 300.000*
Top 5


€ 300.000* calling price: € 30.000
no. 092: Franz von Stuck
Frühling

€ 97.500* calling price: € 10.000
no. 009: Jan Chelminski
Parforcejagd

€ 92.500* calling price: € 24.000
no. 096: Franz von Stuck
Sonnenuntergang

€ 60.000* calling price: € 45.000
no. 123: Ludwig von Hofmann
Tanzende in weiter Landschaft

€ 57.500* calling price: € 15.000
no. 102: Franz von Stuck
Porträt Frau von Stuck


"The interest in this epoch is constantly increasing. A sales quota of 74% by lots, around 30% new clients and almost 40% that were active as first time buyers today deliver proof thereof. Eventually, each sold object realized a remarkable increase of 115%", says company owner Robert Ketterer.

The lucky winner of the race for the top lot, however, was no new client. Franz von Stuck's charming "Frühling" ("Spring") (lot 92) was popular around the world. After it had been called up at € 30,000 a long and heated bidding skirmish between bidders in the salesroom, numerous online bidders, around half a dozen written bids from Germany and Hong Kong, as well as almost a dozen phones with bidders from Austria, Great Britain, Russia and Switzerland began. It took a Bavarian collector an offer of € 300,000*, a ten-fold of the calling price, to stand his grounds against the tough competition and to carry the trophy home.

In general, works by the southern German artist were quite popular with the audience, all his works were sold with remarkable increases. For example, a southern German collector, who had lost the fight for lot 92, lifted Franz von Stuck's "Sonnenuntergang" (lot 96) from a calling price of € 24,000 to a result of € 92,500*, while the work "Porträt Frau von Stuck" (lot 102, calling price: 16,000) was sold to Great Britain for a price of € 57,500* against tough opposition from Germany, Italy and Switzerland.

A little earlier a student of Franz von Stuck had already realized a new world record price. With his oil painting "Dame im Park" (lot 100), Albert Weisgerber enthused half a dozen art lovers who had placed written bids, a number of online participants and the auction room, as well as nine phone bidders. The hot bidding fight was eventually halted by a collector from the south of Germany, his written bid, however, could have kept the battle going. He honored the enchanting work which shows the artist's wife on a stroll through a park with a result of € 42,500* - a five-fold of the starting price.

The first highlight took place shortly after the auction's beginning when lot number 9, Jan Chelminki's oil painting "Parforcejagd" from 1876, was called up and well around a dozen fellow countrymen of the artist were on the phones. On top, bidders from Germany and the USA, a good number of written bids and many online bidders entered the competition. In the end a collector from North Rhine-Westphalia carried the trophy home for a result of € 97,500* - a ten-fold of the calling price.

Fourth place in the top flight went to the Darmstadt artist Ludwig von Hofmann. Just as it was the case with the great success of a similar oil painting by the artist sold a couple of years ago, realizing more than the six-fold of the starting price, his work "Tanzende in weiter Landschaft" (lot 123), which enriched the range of offerings this time, was quite in demand with art lovers from Germany. Accordingly, it was no surprise that the colorful work in landscape format, entering the race at € 45,000, was sold to a collector from the south of Germany in the saleroom. He was most tenacious and relegated the tough competition to places second and beyond with his offer of € 60,000*.

Another very successful lot was Caspar David Friedrich's small feather drawing "Kirche von Lyngby" (lot 60), for which two phone bidders from the north of Germany and Hesse competed. Called up at € 28,000 they lifted the work from around 1795/1797 to a price of € 47,500*, providing a result of twice the starting price.

The four works from Alexander Koester, (lots 97,99,101,103) also made for good results, led by his painting "Enten im Teich (Enten am Bach)" which was sold for € 30,000*. While three paintings will remain in Germany, one will now go on a journey around the world, as it found a new home on the Australian east coast.

The results of the two works by Heinrich Bürkel also excelled expectations. Particularly his oil painting "Am Dorfbrunenn in den italienischen Bergen" soon soared sky-high when a collector from southern Germany got involved and won the work for a price of € 27.500* after it had been called up at € 12,000.

Excellent increases were also realized by, among others, the following lots:


| Lot no. | Artist (Technique) | Title | Starting price | Result |
| --- | --- | --- | --- | --- |
| 131 | Walter Leistikow (oil) | Grunewaldsee | € 35.000 | € 37.500* |
| 138 | Wilhelm Kuhnert (oil) | Löwe an der Tränke | € 22.000 | € 37.750* |
| 134 | Wilhelm Kuhnert (oil) | Liegender Löwe | € 7.000 | € 37.750* |
| 169 | Edouard Léon Cortès (oil) | Paris … | € 9.000 | € 22.500* |
| 048 | Albert Flamm (oil) | Via Appia | € 7.000 | € 21.875* |
Objects that remained unsold can be purchased in the post-auction sale until 22nd June 2016. The result list is available by phone on +49-(0)89-552440.

* The rounded result is the hammer price + 25 % commission for hammer prices up to € 500.000.
The share of the hammer price that exceeds € 500.000 is subject to a commission of + 20 % added to the commission charged for the share up to € 500.000.

Since it was founded in 1954, Ketterer Kunst has been firmly established in the front ranks of auction houses dealing in fine art and rare books, with its headquarters in Munich and a branch in Hamburg. Gallery rooms in Berlin as well as representatives in Heidelberg, Duesseldorf and Modena, Italy contribute substantially to the company's success. In addition, exhibitions, special theme and charity auctions as well as permanent online auctions on www.ketterer-internet-auctions.com are regular events at Ketterer Kunst. Robert Ketterer is owner and director of Ketterer Kunst. .
| Press inquiries: | Client inquiries: |
| --- | --- |
| Ketterer Kunst | Ketterer Kunst |
| Joseph-Wild-Str. 18 | Joseph-Wild-Str. 18 |
| 81829 Munich | 81829 Munich |
| Michaela Derra M.A. | |
| Phone:+49-(0)89-55244-152 | Phone:+49-(0)89-55244-444 |
| Fax: +49-(0)89-552440 | Fax: +49-(0)89-55244-177 |
| e-mail: m.derra@kettererkunst.de | e-mail: info@kettererkunst.com |