Rare Books Auction 430 in Hamburg
€ 36,000 for a "Kra"
Hamburg, 25 May 2016, (kk) - With total proceeds of more than € 1.65 million*, the two day auction of Rare Books at Ketterer Kunst in Hamburg on 23/24 May realized an excellent result. The amount topped last spring's figure by around € 250,000* and even slightly exceeded the last autumn result. One of the finest and most scarce works by Kurt Schwitters was particularly sought-after.

Top 5


€ 86.000* calling price: € 7.000
No. 992: Alexei Michailowitsch Remisow
The Seals of Obezvelvolpal. Paris 1934

€ 74.000* calling price: € 43.000
No. 027: John Hill
The vegetable system. London 1761-75

€ 36.000* calling price: € 4.000
No. 096: Kurt Schwitters und Käte Steinitz
Hahnepeter. Hannover 1924

€ 32.000* calling price: € 8.000
No. 117: Francis Ponge und Jean Dubuffet
Matière et m´moire ou les lithographes à l'école. Paris 1945

€ 30.000* calling price: € 20.000
No. 036: Louis Renard
Atlas de la navigation et du commerce ... Amsterdam 1739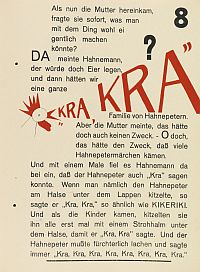 Kurt Schwitters and Käte Steinitz
HahnePeter. Familie Hahnepeter Nr. 1. Väterchen gewidmet First edition. Hannover 1924
Calling price: € 4.000
Result: € 36.000*
In cooperation with Käte Steinitz, Kurt Schwitters created an unusual children's book and at the same time a gem of Dada literature in 1924. The "HahnePeter" (lot 96), who says "Kra" when being tickled, fascinated a great number of art lovers. While three of them were bidding in the salesroom, five were represented on the phones and almost a dozen had placed written bids. Accordingly, the price soared to five digit realms in no time. The hammer went down at a result of € 36,000* and it showed that the first edition, published in a print run of only 100 copies as Merz issue no. 12, will remain in Germany.

The auction's top price was realized by Alexei Michailowitsch Remisow's autographed manuscript "The Seals of Obezvelvolpal". As expected, it found its new owner in the author's home country after the hot bidding skirmish was battled out by two Russians in the salesroom. Called up at € 7,000, the book with 21 original drawings soon climbed to € 20,000 from where it took a thrilling course in € 2,000 bidding steps to a result of € 86,400*.

Another top lot was John Hill's work "The vegetable system" (lot 27). Called up at € 43,000, the most elaborate and comprehensive botanic publications of the 18th century was sold to a European art trader for € 74,400*.

On contrast to today's fascination for Francis Ponge's "Matiére et mémoires ou les lithographes à l'école" (lot 117), the work was met with little enthusiasm at the time it was published in 1945. The very rare book with exquisite illustrations by Jean Dubuffet, published in just 50 numbered copies for commerce, entered the race with a starting price of € 8,000 and soon soared to a fourfold thereof. The scores of written bids placed by German book lovers were quickly topped by two art traders from England and France who fought the battle on the phone, eventually the Englishman won the trophy for a result of € 32,400*.

The splendid sea atlas from Louis Renard (lot 36), called up at € 14,000, also wet the book lovers' appetite. Despite committed bidding of some private collectors, the well-preserved copy went to the hands of a German art trader who stood his grounds against an English colleague with a result of € 30,000*.

Vienna will be the new home of the marvelous expressionist series "Van Zantens glückliche Zeit" (lot 99) by the Dresden painter Otto Lange. The collector, who had come to Hamburg just for the auction, won the 21 signed original woodcuts which were called up at € 7,500 with an offer of € 28,800*. Apart from a number of written bids, he had to fight competitors in the room, on the phones and online.

A similar competition was the case for Friedrich Schiller's first edition of his play "Die Räuber" (lot 56). An art trader from London present in the auction room lifted the price of the drama, which was already a sought-after classic at the end of the 18th century, from a calling price of € 8,000 to a result of € 20,400*.

Claude Lorrain's "Liber Veritatis" (lot 65), which entered the race with € 6,000, also caused a stir. Next to scores of written bids, a Westphalian collector on the phone also fought for the splendid work with plates. Eventually he was left with nothing, as the book with 300 numbered mezzotint plates will remain in Hamburg for a result of € 16,800*.

Other lots that realized remarkable results:


| Lot no. | Artist | Title | Calling price | Result |
| --- | --- | --- | --- | --- |
| 0103 | Hermann Hesse | Zwölf Gedichte | € 10.000 | € 24.000* |
| 1104 | David Hockney | Six Fairy Tales | € 9.000 | € 22.800* |
| 0064 | Francisco de Goya | Los desastres de la guerra | € 15.000 | € 21.600* |
| 0011 | Johannes Gallensis | Summa Collationum | € 9.000 | € 20.400* |
The auction of
Maritime and North German Art
, traditionally held in Hamburg right before the auction of Rare Books, also has some results worthwhile mentioning.
This is a small selection:
| Lot no. | Artist | Title | Calling price | Result |
| --- | --- | --- | --- | --- |
| 1264 | Johannes Holst | Viermastbark "Padua" … | € 4.100 | € 8.880* |
| 1270 | August Lasczky | Brigg "Hermine von Ueckermünde"... | € 5.000 | € 6.720* |
| 1210 | Gerhard Brandes | Steigender Drachen | € 1.600 | € 6.600* |
| 1219 | Griedrich Gotsch | Strohdachhaus im Frühling | € 4.200 | € 6.600* |
Unsold objects can be acquired in the post auction sale until 15 June 2016.

Since it was founded in 1954, Ketterer Kunst has been firmly established in the front ranks of auction houses dealing in fine art and rare books, with its headquarters in Munich and a branch in Hamburg. Gallery rooms in Berlin as well as representatives in Heidelberg, Duesseldorf and Modena (Italy) contribute substantially to the company's success. In addition, exhibitions, special theme and charity auctions as well as permanent online auctions on www.ketterer-internet-auctions.com are regular events at Ketterer Kunst.

* The rounded result is the hammer + 20 percent buyer's premium

| Your press contact: | Your contact in the Rare Books department: |
| --- | --- |
| Ketterer Kunst | Ketterer Kunst |
| Joseph-Wild-Str. 18 | Holstenwall 5 |
| 81829 Munich, Germany | 20355 Hamburg, Germany |
| Michaela Derra | Christoph Calaminus / Christian Höflich |
| Phone: +49-(0)89-55244-152 | Phone: +49-(0)40-374961-11 /-20 |
| Fax: +49-(0)89-55244-177 | Fax: +49-(0)40-374961-66 |
| E-Mail: m.derra@kettererkunst.de | E-Mail: infohamburg@kettererkunst.de |