Art Auction in Munich, Germany: The Avant-garde of the past 60 Years
Good Taste - A Private Collection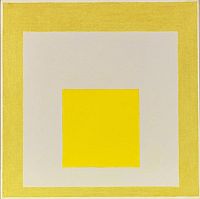 Josef Albers
Study for Homage to the Square: Two Yellows with Silvergray Oil on fiberboard, 1960, 1960
61 x 61 cm (24 x 24 in
Estimate: € 180.000-240.000
Munich, 8 November 2016 (kk) -

From Albers to Zimmermann: The small but exciting special

catalog "Good Taste – A private Collection"

comprises almost 50 select works of post-war and contemporary art. The artworks in this exquisite collection of a Southern German architect, most of them were acquired directly from the artists, will be sold in context of the

auctions

at Ketterer Kunst in Munich from 8 to 10 December.

The collector is not only acquainted with many gallery owners but also counts many of the artists represented in his collection among his circle of friends. Accordingly, it is no surprise that the collection is characterized by a clear avant-gardist leitmotif, especially since many of the works found their way into the collection through direct contact with the artist. This high-quality collection is particularly captivating for its puristic conciseness. It was compiled with a feel for the pulse of the times and reflects the unique sense of a man for decisive impulses and trend-setting tendencies in art. Every single object in this timelessly elegant collection shows that the selection was made with expert's eyes as well as with the eyes of an artist.

The range of acclaimed objects is led by "Study for Homage to the Square: Two Yellows with Silvergray" by

Josef Albers

. The oil painting was made in 1960 as part of the series "Homage to the Square", which marks the highlight of the artist's later period of creation and is considered the gist of his oeuvre. The estimate is at € 180,000-240,000.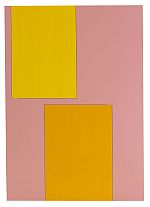 Imi Knoebel
Pure Freude 84
acrylic on aluminum, 2003
160,5 x 115 cm
Estimate: € 60.000-80.000
Next to Carl Andre's small wooden sculpture "Post, lintel & threshold exercise" from 1963, which will enter the race at € 80,000-120,000, the acrylic work on aluminum "Pure Freude 84" by Imi Knoebel, estimated with € 60,000-80,000, is another top lot in the auction.

An acrylic work by Sam Francis will be called up with an estimate of € 40,000-60,000. "SF 67-024" was made in 1967 during the highly interesting period of the "Edge Paintings", a time characterized by the artist's turn towards a clearly structured and reduced usage of color and form.

Alongside two works by Gerhard Richter (with estimates of up to € 60,000) from the 1990s, which emanate the artist's passion for the manipulative act, and a sculpture by the London artist Anthony Caro (estimate: € 35,000-45,000) from 1976/77, the range of offerings is enriched by Eugène Leroy's oil painting "Torse vert" (estimate: € 20.000-30.000). Through its abstract figurativeness it suggests a notion of liberation.

The extra catalog is completed by works from important and exciting contemporary artists such as Ulrich Erben, Roland Fischer, Günther Förg, Herbert Hamak, Wilhelm Mundt, Gerwald Rockenschaub, Benjamin Vautier and Peter Zimmermann.

In the section of Modern Art in the December auction other top lots come from, among others, Cuno Amiet, Otto Dix, Auguste Herbin, Karl Hofer, Alexej von Jawlensky, Ernst Ludwig Kirchner, Paul Klee, Otto Mueller, Emil Nolde, Hermann Max Pechstein, Georg Schrimpf, Marianne von Werefkin and Eugeniusz Zak. The department of Post War Art offers captivating works by Willi Baumeister, Enrico Castellani, Sam Francis, Helen Frankenthaler, Heinz Mack, Otto Piene, Günther Uecker and Victor Vasarely, while the section of Contemporary Art comprises art from interesting names like Martin Eder, Eberhard Havekost, Roman Kochanski, Stefan Kürten, David LaChapelle, Alex Mirutziu, Dasha Shishkin, Alexander Ernst Voigt and Cornelius Völker (see separate press releases).


Preview:

03-05 November Ketterer Kunst Holstenwall 5, 20355 Hamburg*
08/09 November Galerie elten & elten Wilfriedstr. 19, 8032 Zurich, CH*
14/15 November Galerie Schwind Fahrgasse 8, 60311 Frankfurt*
18-21 November Ketterer Kunst Malkastenstr. 11, 40211 Dusseldorf*
25 Nov.-02 Dec. Ketterer Kunst Fasanenstr. 70, 10719 Berlin*
04-09 December Ketterer Kunst Joseph-Wild-Str. 18, 81829 Munich**

* selected works ** all works

Auction: Modern Art / Post War/Contemporary Art from 8-10 December


Since it was founded in 1954, Ketterer Kunst has been on the forefront of auction houses dealing in Fine Art and Rare Books, with its headquarters in Munich, and a branch in Hamburg. Representatives' offices in Berlin, Heidelberg, Dusseldorf, Italy and the US have contributed substantially to the company's success. In addition, exhibitions, special thematic and charity auctions as well as monthly online auctions at www.ketterer-internet-auction.com are regular events at Ketterer Kunst. Robert Ketterer is owner and CEO of Ketterer Kunst.
| Press inquiries: | Client inquiries: |
| --- | --- |
| Ketterer Kunst | Ketterer Kunst |
| Joseph-Wild-Str. 18 | Joseph-Wild-Str. 18 |
| 81829 Munich | 81829 Munich |
| Michaela Derra M.A. | |
| phone: +49-(0)89-55244-152 | phone: +49-(0)552440 |
| fax: +49-(0)89-55244-177 | fax: +49-(0)89-55244-177 |
| e-mail: m.derra@kettererkunst.de | e-mail: infomuenchen@kettererkunst.de |