December Auction: Post War and Contemporary Art in Germany
USA in the Focus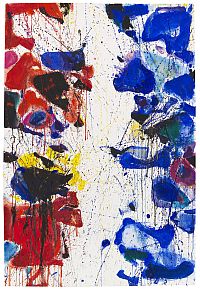 Sam Francis
White line, Gouache and watercolor, 1959
100,9 x 67,5 cm (39.7 x 26.5 in)
Estimate: € 150.000-200.000
Munich, 20. October 2016 (kk) -

Whether it is Sam Francis, Enrico Castellani, Roy Lichtenstein or Helen Frankenthaler - internationality is a priority at Ketterer Kunst. The focus of the

auctions from 8-10 December

is, among others, on top-class American art.

With an estimate of € 250,000-350,000, one of the top lots in the section of

Post War Art

is

Helen Frankenthaler

's large-size work "Marchioness". It is a real rarity on the European auction market (see separate press release).

Sam Francis

is even represented with five works from a higher-priced segment, the two gouache and water-color works "White line" and "Over orange" from the late 1950s are particularly captivating. The two objects in portrait format with their strong and brilliant color contrasts are characterized by the composition's poetry and have been estimated at € 150,000-200,000 each.

In the section of Pop Art the sought-after motif "Bedroom Collage" (estimate: € 25,000-35,000) from

Tom Wesselmann

, which is of a unique character owed to the collage work, as well as

Roy Lichtenstein

's "Yellow Vase" part of the "Interior series" from 1990 are especially worthwhile mentioning. The latter shows a deserted living space as a symbol of a reduced expression of modern life in America. The artist examines the classic genre of interior scenes which became established as an independent genre through Dutch 17th century painting, and makes the classic choice of motif subject to his modern style. The estimate is at € 60,000-80,000.

The 1954 oil painting "Female Nude Seated on Chair" (estimate: € 30,000-40,000) by

Allan Kaprow

, a contemporary of Jackson Pollock, is accompanied by other exciting works of US art from, among others,

Cy Twombly

("Natural History Part I, Mushrooms (portfolio comprising 9 of 10 sheets)", estimate: € 28,000-34,000),

Jim Dine

("Mid Summer Wall Study # 5 (Red bandana)", estimate: € 24,000-28,000) and

Louise Bourgeois

("Cunt I", estimate: € 20,000-30,000).

The top lot in the section, however, comes from

Günther Uecker

, a German artist whose oeuvre has become quite popular in the international art scene. The impressive "Spirale III" from 2002, estimated at € 400,000-600,000, fascinates the observer with a drawing power characterized by a sensitive and yet very powerful expression.

Additionally, the other two ZERO protagonists

Heinz Mack

and

Otto Piene

contribute around a dozen excellent works. While the first one mentioned is represented with an untitled oil painting from 1962 (estimate: € 200,000-300,000), the latter seduces with "Tandem" (estimate: € 150,000-200,000), a bright oil-, fire- and smoke work from the early 1980s.

ZERO surroundings also were home of

Enrico Castellani

, whose creation "Superficie bianca" from 1978 (estimate: € 300,000-400,000) comes from his key work group which largely made for his international renown, as well as for ever new record prices on the auction market.

While

Willi Baumeister

's "Phantom in Rot" will enter the race with an estimate of € 250,000-350,000, other important works in this section are

Victor Vasarely

's "Korna" (estimate: € 100,000-150,000) and a collage by

Afro Basaldella

(€ 80,000-120,000), as well as works by, among others, Günther

Förg

, Rupprecht

Geiger

, Gotthard

Graubner

, Asger

Jorn

, Imi

Knoebel

, Marino

Marini

, Henry

Moore

, Eduardo

Paolozzi

, Serge

Poliakoff

, Kazuo

Shiraga

, Hiroshi

Sugimoto

and Fritz

Winter

.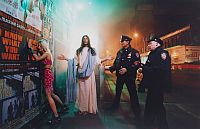 David LaChapelle
Intervention (from the series: Jesus is my Homeboy)
Color photograph, 2003, 157 x 241 cm (61.8 x 94.8 in
Estimate: € 30.000-40.000
In the section of Contemporary Art it is Keith Tyson's Diptychon "Geno/ Pheno Painting: Two Curves" (estimate: € 50,000-70,000) from 2004 that is particularly fascinating, as it is about a mathematical formula and the representation of its physical manifestation. Both must be regarded as equal expressions of one and the same curve formation, each illustrating the fundamental nature of the other. Works by the London artist are on display at, among others, the MoMA and the Whitney Museum in New York, as well as the LACMA in Los Angeles

The American David LaChapelle is guaranteed to make for enthusiasm in the section of photography, as his visionary and imaginary oeuvre shows the influence of Surrealism, Pop Art and the much-referenced "Postmodernism". An example thereof is "Intervention" from the six part series "Jesus is my Homeboy". Inspired by the words on a T-shirt, the artist began to create iconic scenes from the life of Christ in a modern interpretation in 2003. The estimate for this work is at € 30,000-40,000.

Next to a "Gum painting" by Dan Colen (€ 30,000-40,000), other top lots by, among others, Martin Eder, Eberhard Havekost, Nathan Hylden, Roman Kochanski, Joseph Kosuth, Stefan Kürten, Alex Mirutziu, Dasha Shishkin, Alexander Ernst Voigt and Cornelius Völker will be called up.


Previews in Germany and Switzerland:

03-05 November Ketterer Kunst Holstenwall 5, 20355 Hamburg*
08/09 November Galerie elten & elten Wilfriedstr. 19, 8032 Zurich, CH*
14/15 November Galerie Schwind Fahrgasse 8, 60311 Frankfurt*
18-21 November Ketterer Kunst Malkastenstr. 11, 40211 Dusseldorf*
25 Nov.-02 Dec. Ketterer Kunst Fasanenstr. 70, 10719 Berlin*
04-09 December Ketterer Kunst Joseph-Wild-Str. 18, 81829 Munich**

* selected works ** all works

Auction:

Modern Art (see separate press release)
Post War / Contemporary Art from 8 - 10 December

Since it was founded in 1954, Ketterer Kunst has been on the forefront of auction houses dealing in Fine Art and Rare Books, with its headquarters in Munich, and a branch in Hamburg. Representatives' offices in Berlin, Heidelberg, Dusseldorf, Italy and the US have contributed substantially to the company's success. In addition, exhibitions, special thematic and charity auctions as well as monthly online auctions at www.ketterer-internet-auction.com are regular events at Ketterer Kunst. Robert Ketterer is owner and CEO of Ketterer Kunst.
| Press inquiries: | Client inquiries: |
| --- | --- |
| Ketterer Kunst | Ketterer Kunst |
| Joseph-Wild-Str. 18 | Joseph-Wild-Str. 18 |
| 81829 Munich | 81829 Munich |
| Michaela Derra M.A. | |
| phone: +49-(0)89-55244-152 | phone: +49-(0)552440 |
| fax: +49-(0)89-55244-177 | fax: +49-(0)89-55244-177 |
| e-mail: m.derra@kettererkunst.de | e-mail: infomuenchen@kettererkunst.de |