December Auction of Modern Art in Germany
August Macke's Neighbor's Children
August Macke
Kinder am Brunnen II, 1910
Oil on canvas, 80,5 x 56,5 cm (31.6x 22.2 in)
Estimate: € 300.000-400.000
Munich, 20 October 2016 (kk) -

August Macke surely paid the ducal brewpub on Tegernsee one or the other visit. In 1910 he painted the children of the brewing assistant Meier, who lived in the same neighborhood as the Macke family. The inimitable oil painting will be called up with an estimate of € 300,000-400,000 in the

auctions

at Ketterer Kunst in Munich from

8 - 10 December 2016

.

This work is one of two versions

August Macke

made. "Kinder am Brunnen I" used to be part of the acclaimed collection of Bernhard Köhler, who was an early patron of August Macke and Franz Marc. This version, however, was de-stroyed in an air raid on Berlin in World War II.

1910, the year of origin of the work, was of crucial importance for August Macke's oeuvre, as he had just found the peace necessary to unfold his artist personality in the calm of the Tegernsee region. Works from these days are characterized by a tremendous clarity, as this oil painting shows in a most wonderful way. What else is particularly charming is the compelling arrangement of the composition. The girl in left with both feet on the ground holds the jug with a firm hand, while the boy sitting rim of the well in right seems to rest his eyes on the water's surface. Macke captures the characters in their surrounding almost like in a still life. This way the contemplative basic concept that the work emanates remains undisturbed.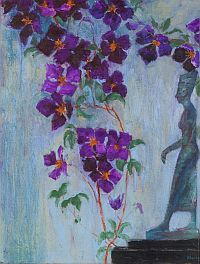 Emil Nolde
Figur und Clemaits, 1935
Oil on canvas, 89 x 67,5 cm (35 x 26.5 in)
Estimate: € 500.000-700.000
One of the other top lots in the section of Modern Art is Emil Nolde's oil painting "Figur und Clematis" that has been estimated with € 500,000-700,000. The artist rendered plant and object in a subtle dialog, with great ingenuity he created a very special magical drawing power that also comes to life in the color explosions of his watercolors. The deep blue into which the "Landschaft (Marschlandschaft in der Dämmerung)" is immersed or the lucent red of "Schwüler Abend" (€ 100,000-150,000 and € 70,000-90,000) are especially captivating.

The colors' radiant powers are at the core of Hermann Max Pechstein's oil painting "Rote Häuser". The small-size work from 1932 has been estimated with € 200,000-300,000 and is offered on the art market for the first time. The coloring of "Wintermorgen" (estimate: € 80,000-100,000), on the contrary, is rather modest leaning towards more objectiveness.

A balanced coloring is also a characteristic trait of Gabriele Münter's oil painting "Murnau, Hauptstrasse am Sonntag im Mai" from 1924. This composition's unusual dynamic is accounted for by the bold perspective, with an estimate of € 140,000-180,000 it is guaranteed to make for some excitement in the salesroom.

Alongside Georg Schrimpf's oil painting "Im Hof/Geschwister" (estimate: € 80,000-120,000), and several lots by Otto Dix, Karl Hofer, Ernst Ludwig Kirchner and Paul Klee, other fascinating works come from, among others, Cuno Amiet, Auguste Herbin, Alexej von Jawlensky, Wassily Kandinsky, Otto Mueller, Georg Tappert, Marianne von Werefkin and Eugeniusz Zak.

Works from the departments of Post War and Contemporary Art, also called up in the auctions from 8-10 December in Munich, are presented in a separate press release.


Previews in Germany and Switzerland:

03-05 November Ketterer Kunst Holstenwall 5, 20355 Hamburg*
08/09 November Galerie elten & elten Wilfriedstr. 19, 8032 Zurich, CH*
14/15 November Galerie Schwind Fahrgasse 8, 60311 Frankfurt*
18-21 November Ketterer Kunst Malkastenstr. 11, 40211 Dusseldorf*
25 Nov.-02 Dec. Ketterer Kunst Fasanenstr. 70, 10719 Berlin*
04-09 December Ketterer Kunst Joseph-Wild-Str. 18, 81829 Munich**

* selected works ** all works


Since it was founded in 1954, Ketterer Kunst has been on the forefront of auction houses dealing in Fine Art and Rare Books, with its headquarters in Munich, and a branch in Hamburg. Representatives' offices in Berlin, Heidelberg, Dusseldorf, Italy and the US have contributed substantially to the company's success. In addition, exhibitions, special thematic and charity auctions as well as monthly online auctions at www.ketterer-internet-auction.com are regular events at Ketterer Kunst. Robert Ketterer is owner and CEO of Ketterer Kunst.
| Press inquiries: | Client inquiries: |
| --- | --- |
| Ketterer Kunst | Ketterer Kunst |
| Joseph-Wild-Str. 18 | Joseph-Wild-Str. 18 |
| 81829 Munich | 81829 Munich |
| Michaela Derra M.A. | |
| phone: +49-(0)89-55244-152 | phone: +49-(0)552440 |
| fax: +49-(0)89-55244-177 | fax: +49-(0)89-55244-177 |
| e-mail: m.derra@kettererkunst.de | e-mail: infomuenchen@kettererkunst.de |