Auction in Munich – 19th Century Art
Myths and Mysteries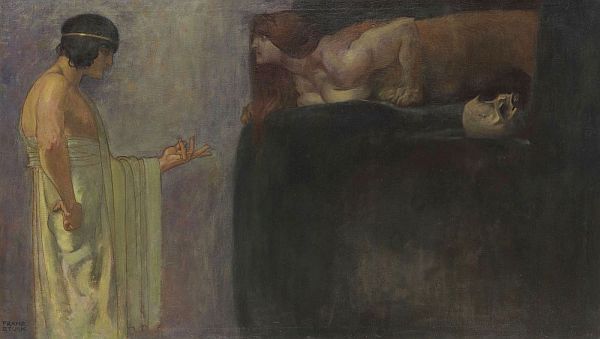 Franz von Stuck Ödipus löst das Rätsel der Sphinx, oil on canvas, 1891, 86 x 147 cm (33.8 x 57.8 in)
Estimate: € 180.000-240.000


Munich, 28 October 2016, (kk) -

Quacking ducks, fighting fauns, a meditating monk and an old needlewoman, as well as a mysterious sphinx are among the motifs of the exciting works offered in the auction of

19th Century Art

at Ketterer Kunst in Munich on 25 November.

The range of high-quality offerings is led by the oil painting "Ödipus löst das Rätsel der Sphinx" by

Franz von Stuck

. The artist, who was fascinated by antiquity, illustrates the legend's turning point in his large-size work, the moment when Oedipus phrases the solution. The sphinx' wide open eyes show her horror about her nemesis right before she casts herself into the abyss. The work from 1891 already adorned the "Villa Shatterhand" of the famous author Karl May and will now be called up with an estimate of € 180,000-240,000. For those lovers of Franz von Stuck who don't want to dig that deep in their pockets, the color relief "Kämpfende Faune", with an estimate of € 18,000-24,000, is an affordable alternative.

Next to

Antonio Joli

's oil painting "Der Golf von Baia mit dem Venustempel und der Festung des Don Pedro de Toledo" (estimate: € 140,000-180,000), which is one of the best variants to which the artist was inspired by the surroundings of Naples,

Leo Putz

is represented with the oil painting "Tanzende Negerinnen" from 1904, which is an expression of his lust for life and his fancy for exotic subjects. The estimate for the two ladies in peacock's feathers is at € 25,000-35,000.

A panorama view by

Adolf Heinrich Lier

carries the same estimate. The artist found inspiration for the oil painting "Am Strand von Scheveningen" from 1873 on a journey through Holland.

While

Fritz von Uhde

rendered a wonderful image of a peaceful old age in his oil painting "Die alte Näherin" from 1891,

Carl Blechen

's atmospheric work "Mönch auf der Terrasse" is particulaly captivating. With dimensions of 11.7 x 15.8 cm (4.6 x 6.2 in), the small oil painting delivers outstanding proof of the artist's mastery. Both works have been estimated at € 20,000-30,000 each.

Karl Schuch

is represented with the work "Landschaft bei Bernried am Starnberger See" (estimate: € 15,000-20,000), made in the early 1870s, just around the same time he met

Karl Hagemeister

with whom he went on several journeys. The latter contributes the beautiful oil painting "Wasserrosen" (estimate: € 9,000-12,000) to this auction.

The range of works on offer is completed by, among others, several paintings of duck scenes, virtuously staged in late-Impressionist manner by

Alexander Koester

(with estimates of up to € 24,000), two works by

Wilhelm Trübner

, a distinguished album with several pasted drawings by

Friedrich Preller the Elder

and several drawings by Ludwig von

Hofmann

, originating from the estate of both artists, as well as by works from Paul

Baum

, Otto

Dill

, Max

Klinger

, Peder Mørk

Mønsted

and Carl

Spitzweg

.

Preview

03/04 November Ketterer Kunst Malkastenstr. 11, 40211

Düsseldorf

*

07/08 November Ketterer Kunst Holstenwall 5, 20355

Hamburg

*

14/15 November Ketterer Kunst Fasanenstr. 70, 10719

Berlin

*

18-24 November Ketterer Kunst Joseph-Wild-Str. 18, 81829

Munich

**

* selected works ** all works

Auction

19th Century Art on 25 November in Munich, Germany



Since it was founded in 1954, Ketterer Kunst has been on the forefront of auction houses dealing in Fine Art and Rare Books, with its headquarters in Munich, and a branch in Hamburg. Representatives' offices in Berlin, Heidelberg, Duesseldorf, in the Benelux Union, France, Italy, Switzerland, as well as in Los Angeles (USA) have contributed substantially to the company's success. In addition, exhibitions, special thematic and charity auctions as well as monthly online auctions at www.ketterer-internet-auction.com are regular events at Ketterer Kunst. Robert Ketterer is owner and CEO of Ketterer Kunst.

| Press inquiries: | Client inquiries: |
| --- | --- |
| Ketterer Kunst | Ketterer Kunst |
| Joseph-Wild-Str. 18 | Joseph-Wild-Str. 18 |
| 81829 Munich | 81829 Munich |
| Michaela Derra M.A. | |
| phone: +49-(0)89-55244-152 | phone: +49-(0)552440 |
| fax: +49-(0)89-55244-177 | fax: +49-(0)89-55244-177 |
| e-mail: m.derra@kettererkunst.de | e-mail: infomuenchen@kettererkunst.de |