Auction 434, Rare Books, Manuscripts, Autographs, Decorative Prints in Germany
Pocahontas and the Chiefs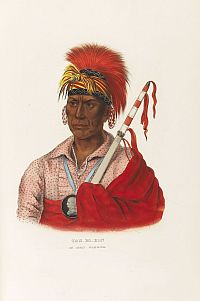 Thomas McKenney and James Hall
History of the Indian Tribes of North America, Around 1873
Estimate: € 20.000
Hamburg, 20 September 2016 (kk) -

It must be one of the finest works on North American natives. On 21/22 November the unique "History of the Indian tribes of North America" by Thomas McKenney and James Hall will be called up in the auction of

Rare Books

at Ketterer Kunst with an estimate of € 20,000.

The very rare edition comprises 80 splendid color portraits of chiefs, warriors and women, among them Pocahontas, as well as bison hunting scenes and war dances. Published in 1873, the second folio edition with the exquisite plates is a precious pictorial document of North American natives from the early 19th century.

A similar journey around the globe, however, in two-dimensional space, is possible with the "Atlas de la navigation et de du commerce" by

Louis Renard

from 1739. The splendid sea atlas is based on sea maps by Frederik de Wit. Every map was thoroughly revised and corrected where necessary. The atlas also contains an additional world map in two hemispheres. All maps are in excellent printing condition and have a fresh coloring. The estimate is at € 20,000.

Great poets such as

Friedrich Schiller

, who quotes from a poem by Gottfried August Bürger about the pursuit of happiness, made their contributions to Georg Wilhelm Prahmer's Album amicorum. The theologist's distinguished album has entries from acclaimed scholars from almost all important German centers of intellectual life at around the time of the French Revolution, among them names like

Matthias Claudius

,

Johann Gottfried Herder

,

Friedrich Gottlob Klopstock

and

Christoph Martin Wieland

. It has also been estimated at € 20,000.

Longer than

Friedrich Schiller

's entry in Prahmer's Album amicorum is a manuscript fragment by the poet from the corrected version of his translation of Jean Baptiste Racine's tragedy "Phaedra", it is one of just a few dramas preserved as manuscript. After Schiller's death his souvenirs were in high demand, which presumably is the reason why his descendants decided to cut the few preserved original texts up and to give the fragments to the admirers of the deceased poet. The estimate for the fragment from 1804 is at € 25,000.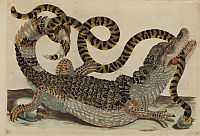 Maria Sibylla Merian
Verandering der Surinaamsche Insecten, 1730
Estimate: € 40.000
The work "Beytrag zur Naturgeschichte der vierfüssigen Thiere" from Joachim Spalowsky is offered with an estimate of € 35,000. The only edition of the complete and splendid work on natural history, published in two volumes, by the Viennese physician is of utmost rareness. Additionally, it is a dedication copy for Charles Theodore, Elector of Bavaria and his wife.
Next to Maria Sibylla Merian's gorgeous illustrated book "Surinaamsche Insecten" from 1730 (estimate: € 40,000) the first edition of the famous travelog "Voyage de découvertes aux Terres australes" by the physician and natural scientist François Auguste Péron is another top lot in the auction. It was released in three volumes between 1807 and 1816. Together with the naturalist and painter Charles-Alexandre Lesueur, who made more than 2,000 drawings, Péron documented more than 100,000 zoological species on a French expedition to the South Seas under Nicola Baudin. Some 2,500 species had been unknown until then. The estimate for this well-preserved copy from the library of the Grand Duke of Oldenburg is at € 12,000.

The same price has been estimated for the very rare first edition of the "Summa Johannis", the German translation of the "Summa confessorum" by Johannes von Freiburg from 1472. The "Summa" is considered the highlight of penance literature. It comprises a catalog of sins and the respective ecclesiastical disciplines.

The range of offerings is topped off by, among others, an interpretation of the "Gospel of Matthew", a portfolio by Otto Dix from 1961 (estimate: € 12,000) as well as Gottfried Benn's very rare and only edition of "Zweiundzwanzig Gedichte" (estimate: € 20,000), an illegal publication that Benn had printed towards the end of the war despite the ban to write that had been imposed on him. He gave the work to only nine close friends and relatives.

Next to Rare Books, Manuscripts, Autographs and Decorative Prints, the auction also comprises works of Maritime and Northern German Art. While the latter comes up with, among others, works by Friedrich Kallmorgen ("Der Brief aus Amerika (I)", estimate: € 4,000) and Paula Modersohn-Becker "Die Frau mit der Gans", estimate: € 2,500), the section of Maritime Art has works like Anton Erik Christian Thorenfeld's "Die Küste mit Schiffen auf See" (estimate: € 2,800) and Anton Melbye's "Dampfsegler und Dreimaster auf bewegter See" (estimate: € 2.500) on offer.
Preview
09-11/14-19 November Ketterer Kunst Holstenwall 5, 20355
Hamburg
Auction
21/22 November Ketterer Kunst Holstenwall 5, 20355 Hamburg


Since it was founded in 1954, Ketterer Kunst has been on the forefront of auction houses dealing in Fine Art and Rare Books, with its headquarters in Munich, and a branch in Hamburg. Representatives' offices in Berlin, Heidelberg, Dusseldorf, Italy and the US have contributed substantially to the company's success. In addition, exhibitions, special thematic and charity auctions as well as monthly online auctions at www.ketterer-internet-auction.com are regular events at Ketterer Kunst. Robert Ketterer is owner and CEO of Ketterer Kunst.

| Press Contact: | Contacts in the Rare Books Department: |
| --- | --- |
| Ketterer Kunst | Ketterer Kunst |
| Joseph-Wild-Str. 18 | Holstenwall 5 |
| 81829 Munich | 20355 Hamburg |
| Michaela Derra M.A. | Christoph Calaminus / Christian Höflich |
| phone: +49-(0)89-55244-152 | phone: +49-(0)40-374961-11 /-20 |
| fax: +49-(0)89-55244-177 | fax: +49-(0)40-374961-66 |
| email: m.derra@kettererkunst.de | email: infohamburg@kettererkunst.de |