A Collection of Modern Art
On the Auction Market for the First Time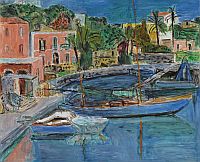 Hans Purrmann
Der Hafen von Porto d'Ischia, 1955/57
Oil on canvas, (23.7 x 28.8 in)
Estimate: € 60.000-80.000
Munich, 17 May 2016 (kk) -
A Modern Art collection of 47 high quality artworks that are absolutely new on the market will be offered in the auctions at Ketterer Kunst from June 9 to 11 June. It is presented in an extra catalog.
With a sure eye for quality and aesthetics, the works have been compiled over a period of forty years. It is a unique collection, which, in best tradition of company collections, has adorned the premises of a German company. A member of the directorate, whose expertise and passion is for German Expressionism, was in charge of the collection.
Alongside several paintings by Hans Purrmann and Otto Modersohn, works on paper are the focal point of this small but very fine collection. Those who will fall for its charm have an excellent opportunity to buy works with moderate estimates by internationally acclaimed German expressionists. Next to the aforementioned, the collection comprises works by Georges Braque, Marc Chagall, Otto Dix, Erich Heckel, Ernst Ludwig Kirchner, Otto Mueller, Hermann Max Pechstein and Karl Schmidt-Rottluff.
Preview
18/19 May
Galerie elten & elten
Wilfriedstr. 19, 8032 Zurich CH*
23/24 May
Ketterer Kunst
Malkastenstr. 11, 40211 Düsseldorf*
27 May-03 June
Ketterer Kunst
Fasanenstr. 70, 10719 Berlin*
05-10 June
Ketterer Kunst
Joseph-Wild-Str. 18, 81829 Munich**
* selected works ** all works
Auctions in Munich from 9 to 11 June


- Modern Art with a separate catalog for
- A Collection of Modern Art
- Post War Art
- Contemporary Art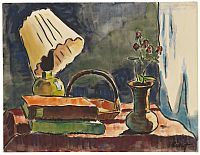 Karl Schmidt-Rottluff
Stillleben mit Lampe, 1930
Watercolor, (19.4 x 25.2 in)
Estimate: € 18.000-24.000
Since it was founded in 1954, Ketterer Kunst has been on the forefront of auction houses dealing in Fine Art and Rare Books, with its headquarters in Munich, and a branch in Hamburg. Representatives' offices in Berlin, Heidelberg, Dusseldorf, Italy and the US have contributed substantially to the company's success. In addition, exhibitions, special thematic and charity auctions as well as monthly online auctions at www.ketterer-internet-auction.com are regular events at Ketterer Kunst. Robert Ketterer is owner and CEO of Ketterer Kunst.
| Press inquiries: | Client inquiries: |
| --- | --- |
| Ketterer Kunst | Ketterer Kunst |
| Joseph-Wild-Str. 18 | Joseph-Wild-Str. 18 |
| 81829 Munich | 81829 Munich |
| Michaela Derra M.A. | |
| phone: +49-(0)89-55244-152 | phone: +49-(0)552440 |
| fax: +49-(0)89-55244-177 | fax: +49-(0)89-55244-177 |
| e-mail: m.derra@kettererkunst.de | e-mail: infomuenchen@kettererkunst.de |