Ketterer Kunst widens its Focus on the 19th Century
Auctions of 19th Century Art
Munich, 8 March, 2016, (kk) -
There's a fresh spring breeze, because from now on the leading auction house Ketterer Kunst puts the focus on paintings, drawings and prints from the 19th to the first two decades of the 20th century.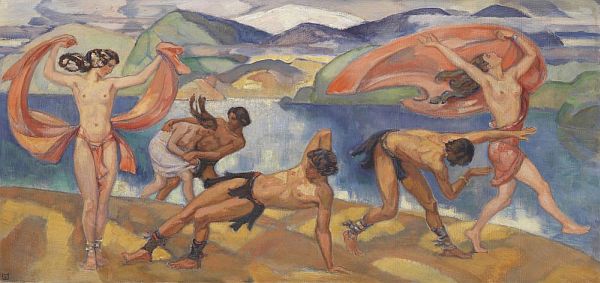 Ludwig von Hofmann
* Tanzende in weiter Landschaft * Oil on cancas * Around 1910 * 70 x 148 cm (27.5 x 58.2 in) * Estimate: € 50.000-60.000

"The interest in this era has been continuously increasing for some time now, which is also proven by more than 20% new clients in every auction. As far as the upward growth rate and the increasing sales quotas are concerned, the decision to sharpen the focus on this segment is a logic consequence", says company owner and CEO Robert Ketterer.
The department can now rely on the additional support of the art historian Andreas Geffert, who joined Ketterer Kunst in 2013 after he had already been active in the Munich art trade for some time. Together with the expert Sarah Mohr, he now attends to his passion of 19th Century Art.
The department's focus is on works from Romanticism by artists such as Carl Blechen and Carl Dahl, the Munich and Düsseldorf Art Schools with works from their main representatives Carl Spitzweg, Franz von Defregger, Eduard von Grützner, Johann Wilhelm Schirmer and Oswald Achenbach, as well as works from around the turn of the century with the big names of, amongst others, Symbolism and Art Nouveau: Ludwig von Hofmann, Franz von Stuck and Franz von Lenbach. The department's profile is completed by, for instance, the mountain- and landscape panoramas by Edward Theodore and also Edward Harrison Compton and, naturally, by graphic works from acclaimed artists like Honoré Daumier, Paul Gauguin and Henri de Toulouse-Lautrec.
Ketterer Kunst has already been entrusted with some treasures for the upcoming auction on 25 May. Highlights are the large-size painting of dancing beauties by Ludwig von
Hofmann
(estimate: € 50,000-70,000) and a triptych by Ferdinand Georg
Waldmüller
(estimate: € 25,000-35,000) as well as Franz von
Stuck
's "Sonnenuntergang" (estimate: € 25,000-35,000), Alexander
Koester
's "Sieben Enten am Graben" (estimate: € 20,000-30,000), virtuously executed in late-impressionist manner, and, last but not least, several works by Wilhelm
Kuhnert
with estimates up to € 35,000.
Alongside Hermann
Corrodi
, who is represented with the view "Kalifengräber von Kairo" (estimate: € 10,000-12,000) in landscape format, other important names are, among others, Jan
Chelminski
, Max
Clarenbach
, Edward Theodore
Compton
, August
Gaul
, Friedrich August von
Kaulbach
, Peder Mørk
Mønsted
, Adolf
Schreyer
, Josef
Wenglein
, Aloys
Zötl
and Heinrich von
Zügel
.
Preview
03/04 May Ketterer Kunst Holstenwall 5, 20355
Hamburg
*
09/10 May Ketterer Kunst Fasanenstr. 70, 10719
Berlin
*
12/13 May Ketterer Kunst Malkastenstr. 11, 40211
Düsseldorf
*
20-24 May Ketterer Kunst Joseph-Wild-Str. 18, 81829
Munich
**
* selected works ** all works
Auction
25 May Ketterer Kunst Joseph-Wild-Str. 18, 81829 Munich


Since it was founded in 1954, Ketterer Kunst has been on the forefront of auction houses dealing in Fine Art and Rare Books, with its headquarters in Munich, and a branch in Hamburg. Representatives' offices in Berlin, Heidelberg, Dusseldorf, Italy and the US have contributed substantially to the company's success. In addition, exhibitions, special thematic and charity auctions as well as monthly online auctions at www.ketterer-internet-auction.com are regular events at Ketterer Kunst. Robert Ketterer is owner and CEO of Ketterer Kunst.

| Press inquiries: | Client inquiries: |
| --- | --- |
| Ketterer Kunst | Ketterer Kunst |
| Joseph-Wild-Str. 18 | Joseph-Wild-Str. 18 |
| 81829 Munich | 81829 Munich |
| Michaela Derra M.A. | |
| phone: +49-(0)89-55244-152 | phone: +49-(0)552440 |
| fax: +49-(0)89-55244-177 | fax: +49-(0)89-55244-177 |
| e-mail: m.derra@kettererkunst.de | e-mail: infomuenchen@kettererkunst.de |