Auction 430, Rare Books Auction
Around the Globe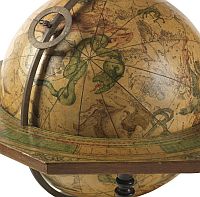 Johann Gabriel Doppelmayr
Two table globes. Around 1790
Estimate: € 40.000
Hamburg, 12 April, 2016 (kk) - The two masterpieces from the Doppelmayr workshop that will be called up at Ketterer Kunst in the auction of Rare Books on 23/24 May are true rarities. The two table globes are in remarkably good condition and will be called up with an estimate of € 40,000.

With a diameter of 32 cm (12.5 in) each, the pair of globes from the 18th century counts among the largest terrestrial and celestial globes the Nuremberg astronomer, geographer and mathematician Johann Gabriel Doppelmayr ever made.

A similar journey around the globe, however, in two-dimensional space, is possible with the "Atlas de la navigation et de du commerce" by Louis Renard from 1739. The splendid sea atlas is based on sea maps by Frederik de Wit. Every map was thoroughly revised and corrected where necessary. The atlas also contains an additional world map in two hemispheres. All maps are in excellent printing condition and have a fresh coloring. The estimate is at € 20,000.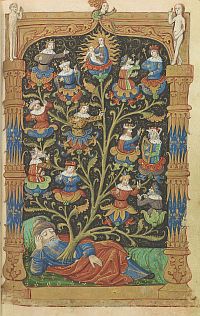 Horae B.M.V.
Latin-French Book of Hours for the use of Rouen, around 1480
Estimate: € 65.000
The same estimate has been tagged to a Book of Hours from the print-shop of Germain Hardouyn. Made in Paris in 1533, the book has a very noble provenance, as it carries the hand-written ownership entry of the elector and archbishop of Mainz, Georg Friedrich von Greiffenclau zu Vollrads. Another book of hours, made in the Netherlands around 1470 (estimate: € 25,000) comes from the collection Alfred Trapnell. The range of horae offered in the auction is crowned by a version in Latin and French for the use of Rouen from around 1480. It is adorned by numerous lavishly executed detailed miniatures, among them a very rare Tree of Jesse illustration on black ground, as well as two illustrations of a lady in a red robe, which presumably shows the sponsor or the owner of the book. The estimate price is at € 65,000.

Hans Sebald Beham's "Biblische Historien" is guaranteed to make for an intense bidding. The series of large images by the student of Albrecht Dürer is particularly captivating for the unusually fine old coloring. With its rich nuances and gilt-heightened parts, it will enter the race with an estimate of € 10,000.

The same price has been estimated for the very rare first edition of Friedrich Schiller's "Die Räuber". It is Schiller's first drama, which he published anonymously, and one of the most sought-after works of classic literature. Made in 1781, the book comes from the estate of the writer Ruth Andreas-Friedrich. The resistance fighter became famous for her diaries which Peter Suhrkamp published under the title "Der Schattenmann" in 1947. After the National Socialists had seized power, Ruth Andreas-Friedrich and her spouse, the conductor Leo Borchard, initiated the resistance group "Onkel Emil". By taking a high personal risk they predominantly helped Jews and people of partly Jewish descent with hiding places, food and documents.

The extraordinarily rare early edition of the "Struwwelpeter" (Shockheaded Peter), still published under the title "Lustige Geschichten und drollige Bilder" and from the same estate may be available for estimated € 10,000.

One of the most beautiful and comprehensive herbals and medicine books from the 15th and early 16th century could perhaps change hands for a price of € 12,000. The Hortus sanitatis, adorned with numerous expressive woodcuts, covers medical substances extracted from plants, animals, rocks and metals. Under the caption "operationes" it explains their respective medicinal benefits.

The potential buyer of John Hill's "The Vegetable System", the most elaborate botanic publication of the 18th century, will have to dig a little deeper into his pocket, as the famous and complete series has been estimated at € 60,000. The comprehensive work with 1544 colored copper plates delivers extensive account of 26,000 different plants. Even the great Carl von Linné, founding father of modern taxonomy, was awestruck and noted: "I almost fainted in the light of Hill's grand accomplishment".

The range of offerings is completed by, among others, Kurt Schwitters' "Hahnepeter" (estimate: € 6,000) from 1924 and Otto Lange's print series "Van Zantens Glückliche Zeit" with 21 signed color woodcuts, as well as by an autographed manuscript from Alexei Michailowitsch Remisov "The seals of Obezvelvolpal" (estimae: € 8,500) and by "The American Woods" from Romeyn Beck Houghs (estimate: € 5,000), which contains more than 940 wood samples. A vast collection of pomologic works and magazines from the 18th to the 20th century will make the hearts of botany lovers beat faster.


Next to Rare Books, Manuscripts, Autographs and Decorative Prints, the auction also comprises works of Maritime and Northern German Art. While the latter offers works by, among others, Friedrich Karl Gotsch ("Strohdachhaus im Frühling", estimate: € 5,000) and Fritz Overbeck ("Bergkuppe im Engadin2, estimate: € 3,000), the section of Maritime Art includes works such as August Lasczky's "Brigg 'Hermine von Ueckermünde' unter Kapitän R. Franck" (estimate: € 6,000), Johannes Holst's "Viermastbark 'Padua' der Reederei F. Laeisz. Hamburg" and Anton Melbye's "Dampfsegler auf rauer See" (estimate: € 4,500 each).
Preview
29/30 April Ketterer Kunst Malkastenstr. 11 40211
Düsseldorf
*
09-10 May Ketterer Kunst Fasanenstr. 70 10719
Berlin
*
11-13/ 17-20 May Ketterer Kunst Holstenwall 5 20355
Hamburg
**
21 May Ketterer Kunst Joseph-Wild-Str. 18 81829
Munich
*
22 May by arrangement, Ketterer Kunst Holstenwall 5 20355
Hamburg
**
* selected works ** all works
Auction
23/24 May Ketterer Kunst Holstenwall 5 20355 Hamburg


SSince it was founded in 1954, Ketterer Kunst has been on the forefront of auction houses dealing in Fine Art and Rare Books, with its headquarters in Munich, and a branch in Hamburg. Representatives' offices in Berlin, Heidelberg, Dusseldorf, Italy and the US have contributed substantially to the company's success. In addition, exhibitions, special thematic and charity auctions as well as monthly online auctions at www.ketterer-internet-auction.com are regular events at Ketterer Kunst. Robert Ketterer is owner and CEO of Ketterer Kunst.

| Press Contact: | Contacts in the Rare Books Department: |
| --- | --- |
| Ketterer Kunst | Ketterer Kunst |
| Joseph-Wild-Str. 18 | Holstenwall 5 |
| 81829 Munich | 20355 Hamburg |
| Michaela Derra M.A. | Christoph Calaminus / Christian Höflich |
| phone: +49-(0)89-55244-152 | phone: +49-(0)40-374961-11 /-20 |
| fax: +49-(0)89-55244-177 | fax: +49-(0)40-374961-66 |
| email: m.derra@kettererkunst.de | email: infohamburg@kettererkunst.de |