Sales exhibition in Berlin: Guido Mangold
You only see what you know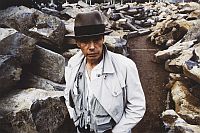 Guido Mangold
Joseph Beuys, documenta 7, Projekt "Stadtverwaldung", Kassel 1982
color photograph, 44 x 64 cm, one of ten copies
Berlin, 13 January 2016 (kk) - True visual perception and profound knowledge are the cornerstones of the art of the internationally acclaimed photographer Guido Mangold. Both his portraits as well as his landscape pictures are exciting artworks and important contemporary documents. Ketterer Kunst shows a selection of works from his vast oeuvre at its gallery in Berlin, Germany from 12 February.

"You only see what you know" - this line from Goethe and the exhibition's title is the credo of the photographer Guido Mangold who was born in Ravensburg, Germany. His great knowledge of the rules of composition in art, the technical mastery, as well as his unique eye for people and situations, his empathy and planing reliability have made him one of those unique photographers whose works you will never forget.

Besides shots of famous people like Louis Armstrong, Konrad Adenauer, Willy Brandt, Hans Jochen Vogel, Queen Elisabeth II as well as Jackie and John F. Kennedy, Guido Mangold also portrayed well-known artists such as Georg Baselitz, Joseph Beuys, Rupprecht Geiger, Duane Hanson, Niki de St. Phalle, George Segal, Daniel Spoerri and Lambert Maria Wintersberger. He was the one who discovered the legendary cover girl Uschi Obermaier. His photo story "Ein Mädchen allein in Afrika" (A girl alone in Africa) made for her international breakthrough as a top model in 1968. No matter who is in front of his lens, Guido Mangold always succeeds in making his portraits psychologically deep snap-shots, many of them have become contemporary documents.

When color photography became more and more common in the late 1960s, the photo artist began making landscape pictures and travel reports. On behalf of the magazines Geo and Merian he realized more than 70 reports including countless books.

Guido Mangold shows a cross section of his works from the 1960s to the 1990s at Ketterer Kunst in Berlin, among them two previously unreleased photos shot during John F. Kennedy's visit to Germany in 1963. Three likewise unpublished photos show scenes of Berlin made in the third week of August 1961, immediately after construction of the Berlin Wall had begun.

The artist will be present at the opening reception on 11 February at 6 pm After a welcome address from Robert Ketterer, owner of Ketterer Kunst, the art theorist Dr. Tobias Wall from Stuttgart will induct into Guido Mangolds work.

In context of the Gallery Weekend Berlin Christiane Breustedt, former chief editor of Geo International, Hamburg, will talk with Guido Mangold about art and his life on 29 April at 6 pm.


What?
Sales exhibition with around 90 photographs by Guido Mangold
When ?
Exhibition: 12 February to 1 May, 2016,
Mon - Fri 10 am - 6 pm, Sat. 11 am - 4pm ,
Artist talk: 29 April, 6 pm
Where ?
Ketterer Kunst, Fasanenstr. 70, 10719 Berlin-Charlottenburg Germany
Prices ?
Prices range between € 2,000 and € 8,000
Since it was founded in 1954, Ketterer Kunst has been firmly established in the front ranks of auction houses dealing in fine art and rare books, with its headquarters in Munich and a branch in Hamburg. Gallery rooms in Berlin as well as representatives in Heidelberg, Duesseldorf and Modena (Italy) contribute substantially to the company's success. In addition, exhibitions, special theme and charity auctions as well as permanent online auctions on www.ketterer-internet-auctions.com are regular events at Ketterer Kunst. Robert Ketterer is owner and director of Ketterer Kunst.
Press inquiries:
Michaela Derra
Ketterer Kunst
phone: +49-(0)89-55244-152
Joseph-Wild-Str. 18
fax: +49-(0)89-55244-177
81829 Munich
e-mail: m.derra@kettererkunst.de
| Client inquiries: | |
| --- | --- |
| Ketterer Kunst | phone: +49-(0)30-886 75 363 |
| Fasanenstr. 70 | fax: +49-(0)30-886 75 643 |
| 10719 Berlin-Charlottenburg | e-mail: infoberlin@kettererkunst.de |