Leading European Auction House for Modern and Contemporary Art Increases International Expansion
Ketterer Kunst announces its new representative in the US
Munich, 7 March, 2016, (kk) -
Ketterer Kunst will now have a representative in America. Stella Michaelis has joined the house to manage the US operation from the new Los Angeles office.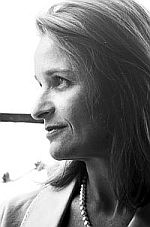 Stella Michaelis
Ketterer Kunst U.S. representative
"I have been wanting to re-open our house to new overseas clients for a while now, and to offer our American buyers and sellers a more comprehensive and personalized service", says company owner and CEO Robert Ketterer.
As one of the leading auction houses for Expressionist Art, Ketterer Kunst kept an office in New York already in the 1970s and 1980s. With Los Angeles now being the new top location for Contemporary Art, the firm has decided to open its US branch on the West Coast.
While the focus in New York is on the art market, art aficionados in Los Angeles are more interested in the content; this keeps attracting both younger and evolving, as well as highly acclaimed and established artists. Galleries are following, creating an exciting art scene. Many museums and art spaces have opened up only over the last few decades, and their innovative approach is paving the way to the top.
Robert Ketterer appreciates being so close to this current hotspot of the arts, as well as to his American clients: "Our new office on the West Coast will serve all of America, assisting both consignors and buyers alike. I am particularly pleased that we were able to win over the expert Stella Michaelis, whose experience and knowledge of the art market will help with this challenging task".
The Stuttgart native, and daughter of the former ZEIT newspaper editor Rolf Michaelis, has been active as an art expert on the American market for a many years. Thus, US clients of Ketterer Kunst can now benefit from her expertise for appraisals and evaluations of art from the 19th through the 21st centuries, as well as Rare Books. She will also be pleased to assist with any questions regarding the acquisition of art, as well as establishing and curating collections.
Since it was founded in 1954, Ketterer Kunst has been on the forefront of auction houses dealing in Fine Art and Rare Books, with its headquarters in Munich, and a branch in Hamburg. Representatives' offices in Berlin, Heidelberg, Dusseldorf, Italy and now the US have contributed substantially to the company's success. In addition, exhibitions, special thematic and charity auctions as well as monthly online auctions at www.ketterer-internet-auctions.com are regular events at Ketterer Kunst. Robert Ketterer is owner and CEO of Ketterer Kunst.
Press inquiries:
Ketterer Kunst
Joseph-Wild-Str. 18
81829 Munich
Michaela Derra M.A.
phone: 089-55244-152 (fax: -177)
e-mail: m.derra@kettererkunst.de

Client inquiries:
Ketterer Kunst U.S.A.
Michaelis ART, LLC
Stella Michaelis
U.S.A.
phone: +1 310-386-6432
e-mail: s.michaelis@kettererkunst.com