Exhibition in Munich, Germany
Hildegard Auer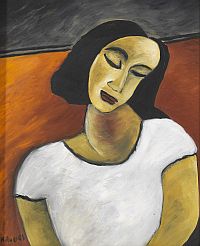 Hildegard Auer
Frau mit weißem Pullover
Oil on canvas, 1993
60,3 x 50,3 cm (23.7 x 19.8 in)
Munich, 18 July, 2016 (kk) - Emotional, candid and natural – this is what characterizes Hildegard Auer's work best. A selection of paintings from the oeuvre of the Stuttgart native will be exhibited at Ketterer Kunst's Munich location as of September 12.

To Hildegard Auer art is, above all, one thing: very personal. She only paints things she has experienced and that touched her deep inside. By means of a realistic, naive style she ties in with the art of New Objectivity and succeeds in deploying her very own magic. The self-taught artist manages to render a deep-rooted truth.

The quest for fulfilling an ideal, which was extremely important to the artists of the "Blauer Reiter", is what she shares with her role model Gabriele Münter. Additionally, her art is characterized by an expressiveness that directly touches and deeply moves the observer.

A pdf catalog with all works on display will be released on occasion of the exhibition that honors the artist who passed away in 2015 at the age of 86. It will be available as of 1 September on www.kettererkunst.com.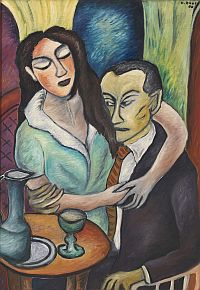 Hildegard Auer
Umarmung
Oil on canvas, 1988
100,5 x 70,5 cm (39.5 x 27.7 in)
What ?
Sales exhibition with around 30 works by Hildegard Auer from the 1970s to the 1990s
When ?
From 12 September to 4 October, 2016
Where ?
Ketterer Kunst, Joseph-Wild-Str. 18, Munich
Opening hours: Mon-Fri from 9 a. m.- 6 p. m.
Prices ?
The range is between € 1,400 and € 2,200
Since it was founded in 1954, Ketterer Kunst has become established as one of Germany's biggest auction houses dealing in Fine Art and Rare Books, with its headquarters in Munich and a branch in Hamburg. Representative offices in Berlin, Heidelberg, Dusseldorf, as well as in Modena (Italy) and Los Angeles (USA) have substantially contributed to the company's success. In addition, exhibitions, special thematic and charity auctions, as well as monthly online auctions at www.ketterer-internet-auction.com are regular events at Ketterer Kunst. Robert Ketterer is owner and CEO of Ketterer Kunst.
| Press inquiries: | Client inquiries: |
| --- | --- |
| Ketterer Kunst | Ketterer Kunst |
| Joseph-Wild-Str. 18 | Joseph-Wild-Str. 18 |
| 81829 Munich | 81829 Munich |
| Michaela Derra M.A. | |
| Phone:+49-(0)89-55244-152 | Phone:+49-(0)89-55244-444 |
| Fax: +49-(0)89-552440 | Fax: +49-(0)89-55244-177 |
| e-mail: m.derra@kettererkunst.de | e-mail: info@kettererkunst.com |