Sale: 430 / Rare Books, May 23./24. 2016 in Hamburg

Lot 506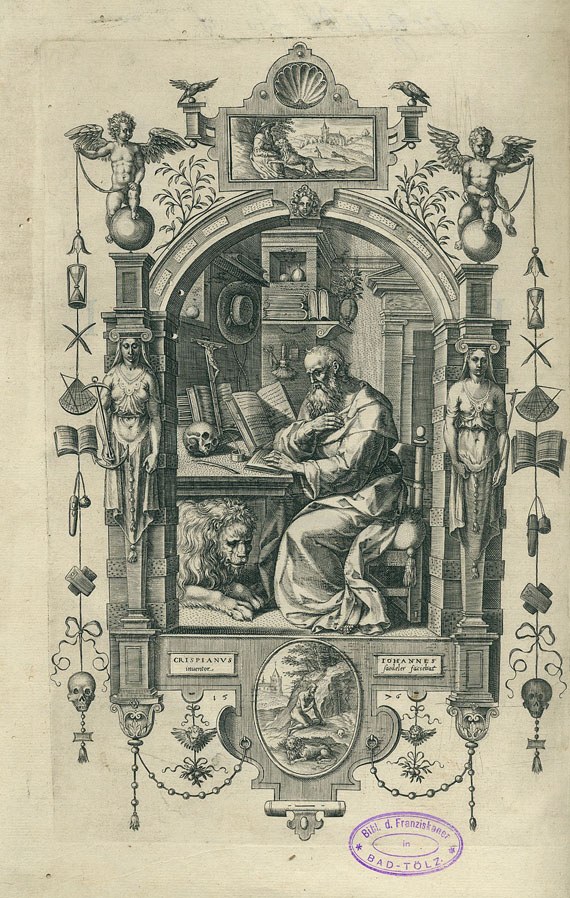 506
Sophronius Eusebius Hieronymus, Opera. Bd. 1 u. 8 in 1 Bd. 1579
Sold:

€ 336 / $ 389
(incl. 20% surcharge)
Lot description
Hieronymus, Sanctus, Opera per Marianum Victorum Reatinum ex manuscriptis codicibus multo labore emendata. Bd. I und VIII (von 8) in 1 Bd. Mit schönem gest. Hieronymus-Porträt in Renaissance-Rahmen von J. Sadeler, gest. figürl. Titelbordüre und 2 Holzschnitt-Druckermarken . Antwerpen, Chr. Plantin 1579. Zeitgenöss. Schweinsldr. auf 6 Bünden mit reicher Blind- und Rollenprägung sowie 2 Messingschließen. Folio. 32 Bll., 637 S.; 95 nn. Bll.

Bd. I enthält die Epistolae et libri contra haereticos , Bd. VIII den Index locupletissimus in omnes tomos operum . - Vereinz. gebräunt, anfangs mit geringen Wurmspuren, die beiden Kupfer mit Klosterstempel im weißen Rand, sonst schöner zweispaltiger Druck mit Holzschnitt-Initialen in einem zeitgenöss. Holzdeckeleinband.

Voet III, 1333.

Vols. I and VIII in 1 volume. With fine engr. portrait by J. Sadeler, engr. fig. title-border and 2 woodcut printer's devices. Contemp. blindtooled pigskin over wooden boards on 6 raised bands and 2 brass-clasps. - Here and there browned, minor worming at beginning, the engravings with monastery stamp in lower margin, else fine printing.


506
Sophronius Eusebius Hieronymus, Opera. Bd. 1 u. 8 in 1 Bd. 1579
Sold:

€ 336 / $ 389
(incl. 20% surcharge)