Sale: 414 / Rare Books, May 19./20. 2014 in Hamburg

Lot 177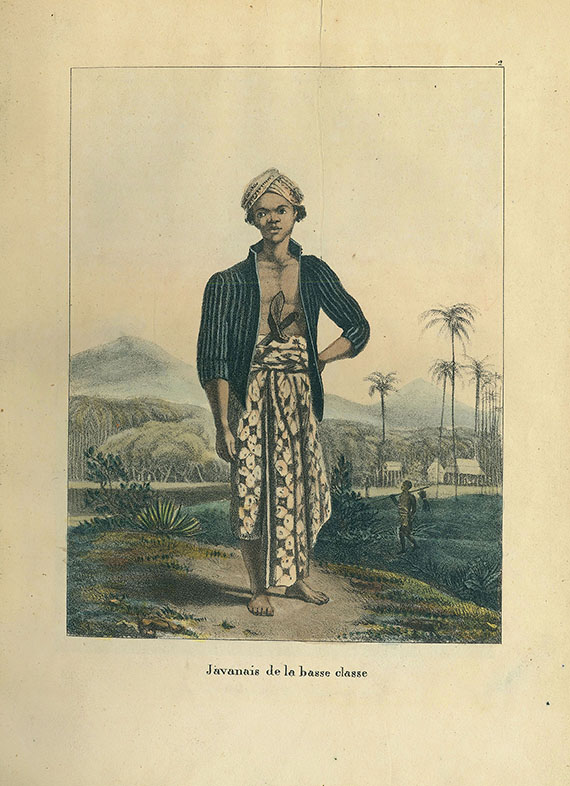 177
Description de Java. 1824
Sold:

€ 600 / $ 702
(incl. 20% surcharge)
Lot description
Raffles, [Th. S.], Description géographique, historique et commerciale de Java et des autres îles de l'archipel Indien. Traduit de l'Anglais par M. Marchal.Mit 2 kolor. lithogr. Faltkarten und 46 lithogr. Tafeln (2 beidseit. bedruckt; 10 kolor.). Brüssel, H. Tarlier und Jobard 1824. Spät. HLdr. im Stil d. 19. Jhs. mit goldgepr. Deckeltitel. 4to. XIX, 364 S.

Erste französische Ausgabe. - Sir Thomas Stamford Raffles (1781-1826) war Verwaltungsbeamter und Agent der East India Company und beförderte mit seinen umfassenden Berichten maßgeblich die britischen Kolonisierungsbemühungen auf Java und Sumatra zu Beginn des 19. Jhs. in Rivalität mit Frankreich und den Niederlanden; ferner gilt er als Begründer des heutigen Singapur. - Für die engl. Erstausgabe der Standardwerks zu Java, The History of Java 1817, wurde Raffles zum Ritter ernannt. - Die farbigen Tafeln zeigen Eingeborene in typischen Trachten, die übrigen Tafeln Artefakte, Bauwerke, Skulpturen, Münzen u. a. - Etw. stockfleckig, Titel mit Sammler-Trockenstempel. Einbd. erneuert.

Howgego R3. - Lipperheide Ld 17. - Hiler S. 732. - Vgl. Abbey, Travel 554 (engl. EA) und Tiele 896 (erste niederl. Ausg. 1836).


177
Description de Java. 1824
Sold:

€ 600 / $ 702
(incl. 20% surcharge)
You might also be interested in