Sale: 405 / Rare Books, May 27./28. 2013 in Hamburg

Lot 406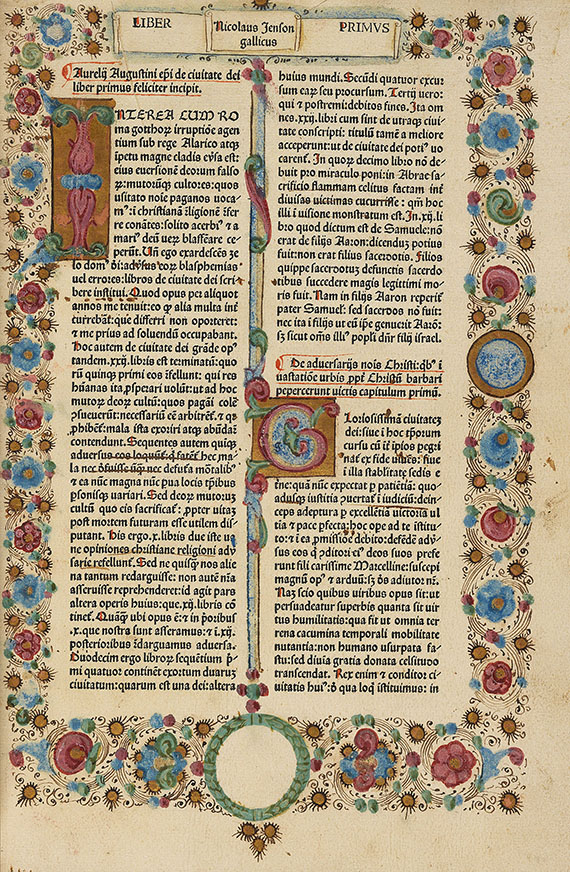 406
De civitate dei. 1475
Estimate:
€ 7,000 / $ 7,000
Sold:

€ 6,000 / $ 6.000
(incl. 20% surcharge)
Augustinus, A., De civitate dei. Mit 2 farb. Initialen auf Goldgrund und vierseitiger Blütenbordüre in Gold und Farben auf dem ersten Textblatt, ferner mit zahlr. eingemalten Lombarden alternierend in Rot und Blau. Venedig, Nicolaus Jenson, 2. Okt. 1475. Spät. Pergamentband. Folio. 302 nn. Bll. (st. 306, ohne die 4 w. Bll.). Got. Type. 2 Spalten. 46 Zeilen.

Frühe und höchst seltene Inkunabelausgabe bei dem berühmten Venetianischen Drucker Nicolaus Jenson, druckgeschichtlich bedeutend, da hier erstmals der Name des Druckers zu Beginn des Textes erscheint. - Insgesamt die sechste Ausgabe des einflußreichen Werkes. "Die großen Symbole dieses Werkes haben das Denken und die Phantasie von Jahrhunderten stark beeinflußt. Es enthält die erste konsequent durchgeführte Geschichtsphilolosophie: eine Philosophie der Weltgeschichte vom Standpunkt der Offenbarung aus" (KLL II, 663).
Zustand: Gereinigtes Exemplar, tls. noch mit leichten Feuchtigkeitsspuren, einige blaue Lombarden etw. verwaschen, 4 Bll. mit Abklatsch der Eingangsbordüre, erste 2 Bll. mit ergänztem Randabschnitt im Fußsteg, Lagen im Bund verstärkt, wenige Bll. mit kl. Wurmspur im w. R., erste 4 Bll. mit alten Marginalien (meist beschnitten). Buchblock etw. verzogen, Rücken unter Verwendung des alten Materials erneuert. Innendeckel mit dem schönen emblemat. Exlibris (gest. von Syrang nach F. Dallinger) von Emanuel Ernst von Waldstein, Bischof von Leitmeritz (1716-1789).

GW 2879. - Hain/Cop. 2051. - Goff A 1235. - BMC V, 175. - BSB A-858. - Ges. f. Typenkunde 316.

Early and rare edition by Jenson. Using a smaller Gothic type with plain capitals, the great French craftsman here introduced the innovation of printing his name in the headline of the first text leaf. With 2 initials in colors on gilt ground and four-sided border in the same style on first text leaf, as well as numerous lombards in alternating red and blue. Later vellum. 302 nn. leaves, lacking the 4 blanks. 2 columns. - Cleaned copy, with traces of faint dampstains, some blue lombards slightly washed out, 4 leaves with off-setting of the painted border, first 2 leaves remargined at bottom and side, quires strengthened in the gutter, few leaves with wormtrace in white margins, first 4 leaves with early marginalia (mostly trimmed). Bookblock somewhat askew, spine renewed using the old material. Engr. emblematical bookplate of Emanuel Ernst von Waldstein, bishop of Leitmeritz (1716-89).


406
De civitate dei. 1475
Estimate:
€ 7,000 / $ 7,000
Sold:

€ 6,000 / $ 6.000
(incl. 20% surcharge)
You might also be interested in
Aurelius Augustinus - lots sold by Ketterer Kunst