Sale: 397 / Rare Books, Nov. 19./20. 2012 in Hamburg

Lot 525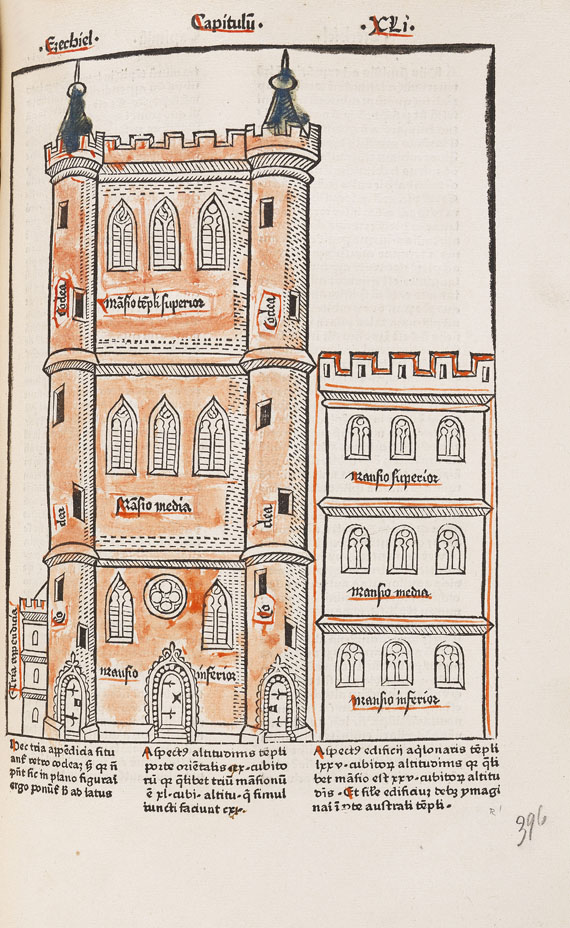 525
Postilla super totam Bibliam. 4 Bde. Um 1485. MK 13
Estimate:
€ 5,000 / $ 5,850
Sold:

€ 4,800 / $ 5.616
(incl. 20% surcharge)
Lot description
Nicolaus de Lyra, Postilla super totam Bibliam. Mit Beig. von Paulus Burgensis und Guillelmus Brito. Hrsg. Matthias Doering. 4 Bde. Mit großer Eingangs-Initiale in Rot und Grün, zahlr. eingemalten Lombarden in Rot sowie 28 tls. ankolor. Textholzschnitten (von 38). [Köln, Ulrich Zell, um 1485]. Zeitgenöss. blindgepr. Kalblederbände über Holzdeckeln, tls. mit Messing-Beschlägen. Folio. Got. Type. 2 Spalten. 52 Zeilen, überwieg. rubriziert.

Vollständige Gesamtausgabe der Postillen des Nicolaus de Lyra, die erste in Köln gedruckte. Lyras Postillen gehören zu den ersten gedruckten Bibelerklärungen des ausgehenden Mittelalters und hatten großen Einfluß auf die theologische Entwicklung der frühen Neuzeit. So sind die Postillen auch von Luther benutzt worden, daher die frühe Redewendung: "Si Lyra non lyrasset, Lutherus non saltasset" (Hätte Lyra nicht gespielt, so hätte Luther nicht getanzt).
Kollation: 546 (st. 554) nn. Bll. (das erste weiß); 443 (st. 444) nn. Bll. (davon 2 weiß); 594 (st. 610) nn. Bll.; 588 nn. Bll. (davon 3 weiß). - Es fehlen insges. 25 Bll. mit 10 Holzschnitten, davon im ersten Band 8 Bll. mit 9 Holzschnitten; im zweiten Band 1 Bl.; sowie im dritten Band 16 Bll. mit 1 Holzschnitt. - Stellenw. etw. stockfleckig und wasserrandig (meist im Randbereich, wenige Bll. deutlicher), vereinz. kl. Randschäden (tls. hinterlegt, meist erste Bll.), erstes Textbl. in Bd. III mit Eckschaden (etw. Textverlust). Einbde. beschabt und tls. mit Bezugsdefekten, Rücken und einige Vorsätze erneuert. Insges. guterhaltenes Exemplar. Aus der Slg. Detlef Mauss (Vorsätze mit dessen Blindstempel).

Hain/Cop. 10368. - GW M26502. - Goff N 136. - BSB N-115. - Polain 2819. - Schramm VIII, S. 3 und Taf. 1-13. - Schreiber 4844. - Nicht im BMC.

Scarce complete collected edition in 4 volumes, printed by Ulrich Zell. With large painted initial at beginning in red and green, numerous painted lombards in red and with 28 (of 38) partly colored woodcuts in text. Contemp. blind-tooled calf over wooden boards (rubbed and some damages, spine and endpapers mostly renewed). Folio. Gothic type, 2 columns, 52 lines. Mostly rubricated. - Lacking in general 25 leaves with 10 woodcuts. Partly some foxing or waterstaining in the margins, here and there small marginal defects (partly backed, mostly affecting first leaves), first text leaf in vol. 3 with corner damage (some loss of text). Else good copy with broad margins. From the coll. D. Mauss (endpapers with his blindstamp).


525
Postilla super totam Bibliam. 4 Bde. Um 1485. MK 13
Estimate:
€ 5,000 / $ 5,850
Sold:

€ 4,800 / $ 5.616
(incl. 20% surcharge)
More Images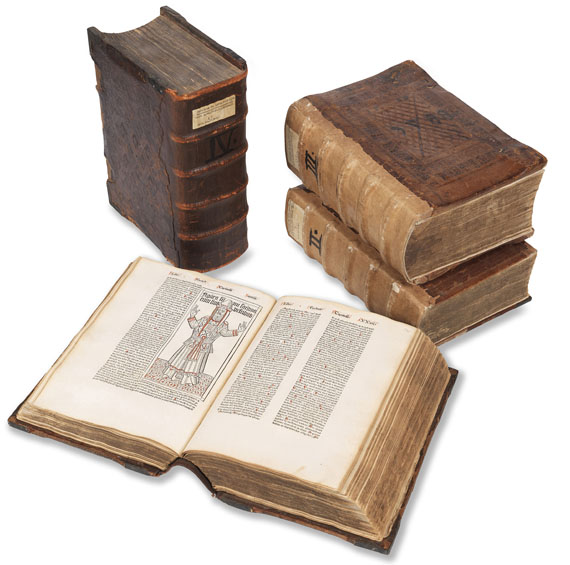 More offers for Nicolaus de Lyra

You might also be interested in