Sale: 397 / Rare Books, Nov. 19./20. 2012 in Hamburg

Lot 672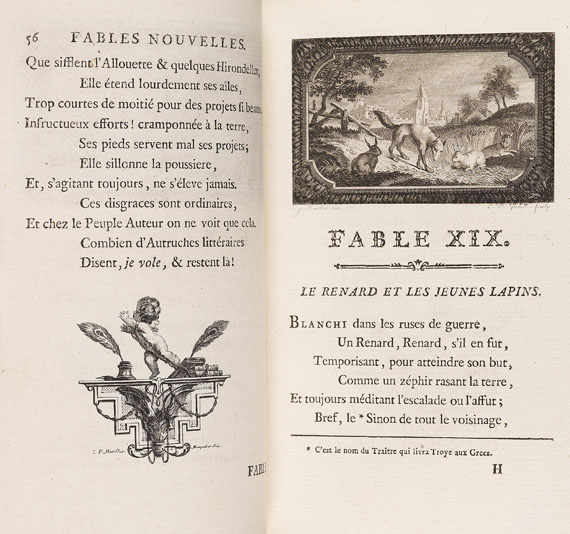 672
Fables nouvelles. 1773
Sold:

€ 456 / $ 547
(incl. 20% surcharge)
Lot description
Dorat, [C. J.], Fables nouvelles. 2 Tle. in 1 Bd. Mit 2 Kupfertiteln, 1 gest. Titelvignette und 1 Kupfertafel (st. 2) sowie 198 gest. Kopf- und Schlußvignetten nach C. P. Marillier von N. de Launay, E. de Ghendt, D. Néc, Y. le Gouaz, L. J. Masquelier, P. Duflos, Godefroy, Ponce u. a. Den Haag, Delalain 1773. Roter Maroquin d. 19. Jhs. (sign. Schneider) mit reicher floraler RVerg., dreifacher goldgepr. Deckelfilete mit Eckfleurons, Steh- und breiter Innenkantenverg. sowie GGoldschnitt. 4to. XXII S., 1 Bl., 309 S., 1 Bl.

Erster Druck der ersten Ausgabe. - "Cet ouvrage .. est le chef-d'oeuvre de Marillier, sous le rapport de la finesse de l'exécution et de l'esprit qui règne dans tous les jolis sujets qui l'ornent" (Cohen/R.). - "Wir haben es .. mit einem Illustrator zu tun, der zu stechen verstand, wenn er auch leider diese Kenntnis nicht oft genug ausübte. Er blieb in der Qualität am gleichmäßigsten unter den großen Meistern des Jahrhunderts, solange er sich im Rahmen der Vignette hielt .. Die Fables gelten mit Recht als die schönste Leistung des Künstlers. Sie nehmen es an Vollendung und persönlicher Gestaltung mit jeder zeitgenössischen Schöpfung auf .." (Fürstenberg S. 104). - Mit den bei Reynaud beschriebenen Merkmalen des ersten Druckes. Die Ausgabe wurde auf 3 verschiedenen Papiersorten gedruckt, vorliegend die Variante auf normalem Papier. S. 162 mit der Textkorrektur (vgl. Cohen/R.). - Die beiden Kupfertitel gest. von de Ghendt nach Marillier, die Tafel gest. von de Launay nach Marillier. - Ohne die wdh. Kupfertafel in Tl. II. - Erste Lage gelockert. Kanten vereinz. leicht berieben. Dekoratives, innen sauberes Exemplar mit klaren Abdrucken der Kupfer.

Cohen/Ricci Sp. 313ff. - Reynaud Sp. 138ff. - Lewine S. 150 ff. - Fürstenberg Kat. 77. - Sander 508.

2 parts in 1 volume. First edition, first issue, on ordinary paper. Marillier's masterpiece, with 2 engr. titles, 1 engr. title vignette, 1 copperplate (of 2) and 198 head and tail vignettes by N. de Launay, E. de Ghendt and others. 19th cent. red morocco with richly floral gilt spine, gilt triple fillets with corner florets, inside broad gilt border and gilt edges (signed Schneider). - Lacking the repeated copperplate in second part. First quire loosened. Edges minim. rubbed in places. Fine, inside clean copy, the engravings in clear impressions.


672
Fables nouvelles. 1773
Sold:

€ 456 / $ 547
(incl. 20% surcharge)
You might also be interested in
Claude-Joseph Dorat - lots sold by Ketterer Kunst