Sale: 391 / Rare Books, May 21. 2012 in Hamburg

Lot 9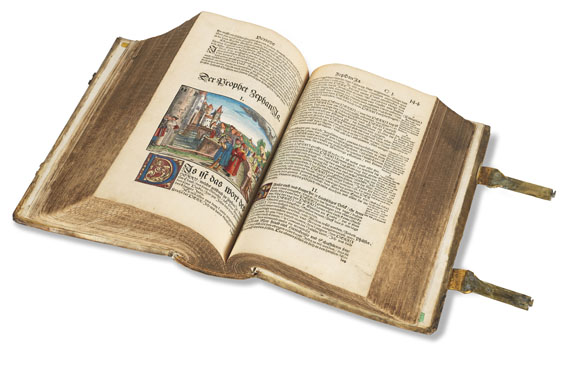 9
Biblia germanica, altkoloriert. 1547.
Estimate:
€ 40,000 / $ 42,400
Sold:

€ 34,800 / $ 36,888
(incl. 20% surcharge)
Biblia germanica. - Biblia: Das ist: Die gantze Heilige Schrifft, Deudsch, Auffs new zugericht. D. Mart. Luth. Begnadet mit Kurfürstlicher zu Sachsen Freiheit. 2 Tle. in 1 Bd. Mit 2 altkolor. Titelholzschnitten , ganzseit. altkolor. Porträt des Kurfürsten Johann Friedrich und 128 großen altkolor. Textholzschnitten von Lucas Cranach d. J. sowie sehr zahlr. altkolor. figürl. Holzschnitt-Initialen . Wittenberg, Hanns Lufft 1547 (Tl. II: 1546). Zeitgenöss. Pergamenteinband über Holzdeckeln mit blindgepr. Eckfleurons und Deckelvignette, gepunztem Goldschnitt und 2 Messing-Schließen. Folio. 8 nn., 349 (st. 350) num. Bll., 2 w. Bll.; 407 (st. 408) num. Bll.

VD 16, B 2722. - Bibelslg. Württ. Landesbibl. E 361. - BM STC, German Books S. 89. - Prachtvoll koloriertes und guterhaltenes Exemplar von Luthers maßgeblicher Wittenberger Bibelausgabe .
Zweite posthume Ausgabe, eine Titelauflage von Luthers vollständiger Bibelübersetzung aus dem Vorjahr; nur das Titelblatt des ersten Teils ist geändert, das Titelblatt zum zweiten Teil (Die Propheten alle Deudsch ) mit Jahreszahl 1546 wurde beibehalten. "Nach dem Tod Luthers erschienene Gesamtausgabe seiner Bibelübersetzung, in der noch von ihm selbst gewünschte Korrekturen enthalten sind. - Seit dem Druck des Septembertestaments hatte Luther, wenn Gesundheit und Geschäfte es ihm gestatteten, an der Verbesserung der Bibel gearbeitet: In ihr gründeten die Ideen der Reformation, sie sollte reformatorischen Gedanken Ausdruck verleihen, sie verständlich machen in öffentlicher Lesung und bei der Lektüre im Haus. Die Bedeutung des Buchs der Bücher ließ Luther nicht zur Ruhe kommen, auch nach der 1544 abgeschlossenen Revision hatte er die Absicht, das ganze Neue Testament noch einmal durchzusehen. Dazu kam es nicht mehr. Besserungen, die 1544 erarbeitet, aber nicht in den Druck von 1545 aufgenommen waren, berücksichtigte der engste Mitarbeiter Luthers und langjährige Bibelkorrektor Georg Rörer (1492-1557) nun für die posthume Edition .." (Reinitzer 107 zur Ausgabe 1546).
Die prächtig kolorierten Illustrationen entsprechen denen der Ausgabe letzter Hand von 1545, die wiederum die Bilder der ersten Vollbibel von 1534 verwenden - und nicht etwa die der Lufft-Ausgabe 1540 mit den Holzschnitten Lembergers zum AT (vgl. Schmidt, Illustr. der Lutherbibel S. 217 und 222 sowie Abb. 133-153).
Fehlt Bl. A1 im ersten Tl. und Bl. Yy3 im zweiten Tl. Ferner ohne die letzten beiden weißen Bll. - Vereinz. leicht wasserrandig und fingerfleckig (zu Beginn deutlicher), Titelbl. von Tl. 1 bis an die Einfassungslinie ausgeschnitten und aufgezogen, wenige Bll. mit hinterl. oder ergänzten Randläsuren (meist am Anfang u. am Ende), 1 Bl. mit Einriß, 2 Initialen mit Abrieb. Vorsätze und tlw. Schließen erneuert, Einbd. etw. fleckig und bestoßen, Rücken unter Verwendung des alten Materials erneuert. Insgesamt gut erhalten, das Kolorit leuchtend und frisch.

Magnificently colored and well preserved copy of Luther's relevant Wittenberg bible edition. With 2 title woodcuts in old coloring, full-page portrait in old coloring of elector Johann Friedrich and 128 large woodcut in text in old coloring by Lucas Cranach the Younger as well as very many fig. woodcut initials in old coloring. Contemp. vellum binding over wooden boards with blind-tooled corner fleurons and vignette, punched gilt edges and 2 brass clasps. Folio. 8 unnumb., 349 (of 350) numb. ll., 2 blank ll.; 407 (of 408) numb. ll. Lacking A1 in first part and Yy3 in second. Also lacking two last blank leaves. - Slight isolated water stains and thumbing (at beginning more obvious), title leaf of part 1 trimmed to neatline and mounted, few ll. with rebacked or mended marginal blemishes (most at beginning and end), 1 l. with tear, 2 initials rubbed. Endpapers and claps partly renewed, binding somewhat stained and scuffed, spine renewed using old material. All in all well preserved, coloring lucent and fresh.


9
Biblia germanica, altkoloriert. 1547.
Estimate:
€ 40,000 / $ 42,400
Sold:

€ 34,800 / $ 36,888
(incl. 20% surcharge)
You might also be interested in
Martin Luther - lots sold by Ketterer Kunst