Sale: 391 / Rare Books, May 21. 2012 in Hamburg

Lot 56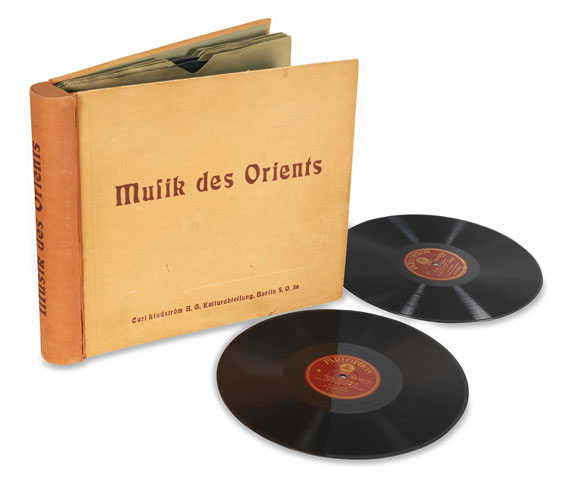 56
Hornbostel, E., Musik des Orients, 12 Parlaphon-Schallplatten. 1928.
Sold:

€ 432 / $ 505
(incl. 20% surcharge)
Lot description
Musik des Orients. Hrsg. von der Carl-Lindström AG. Mit Kommentar von E. M. von Hornbostel. Mit 12 Schellackplatten und einigen fotogr. Abbildungen. Berlin [1928]. OHLwd. mit OBrosch. (Kommentarheft) in Einstecklasche. Quer-4to. 1 Bl., 25 S.

MGG VI, 722. - Musikethnologisches Projekt der Berliner Schallplatten-Firma Carl Lindström AG unter Mitwirkung des österreichischen Musikwissenschaftlers Erich Moritz von Hornbostel (1877-1935). Auf 8 Odeon- und 4 Parlophon-Schellackplatten finden sich insgesamt 24 Beispiele mit Musik der Völker Asiens und Nordafrikas. "Die Auswahl wurde von der Absicht bestimmt, in engstem Rahmen eine möglichst vollständige Übersicht über die wesentlichen musikalischen Erscheinungen aller orientalischen Hochkulturen zu geben" (Vorwort). Darunter Kunstgesang und Volkslieder aus Japan, Musik des klassischen und modernen chinesischen Dramas, javanischer Gesang, Musik zum balinesischen Schattenspiel und für religiöse Zeremonien, siamesisches Musikdrama, indischer Kunstgesang, Volksgesang aus Persien und arabische Kunstmusik aus Ägypten und Tunis. Der Kommentar zusätzl. mit Darstellung einiger orientalischer Instrumente und Notenbeispielen. - Von Hornbostel galt als Pionier der Musikethnologie und hat sich vor allem um die Niederschrift der Musik fremder Völker verdient gemacht. - Vord. Außengelenk der Mappe eingerissen, ansonsten komplett und von tadelloser Erhaltung.

Musical-ethnological project by the Berlin record company Carl Lindström. With 12 Schellack records with oriental music and several photographs of instruments etc. Orig. half cloth with orig. wrappers. (Commentary booklet) in insert flap. - Front outer joints of portfolio torn, else complete and in mint condition.


56
Hornbostel, E., Musik des Orients, 12 Parlaphon-Schallplatten. 1928.
Sold:

€ 432 / $ 505
(incl. 20% surcharge)
Musik - lots sold by Ketterer Kunst