Sale: 391 / Rare Books, May 21. 2012 in Hamburg

Lot 17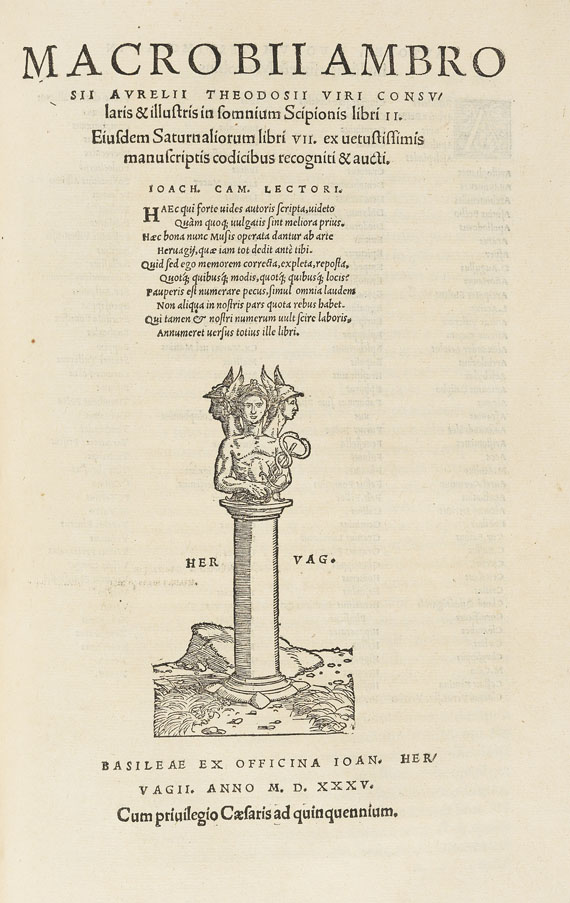 17
Genealogias deorum. 1532.
Estimate:
€ 4,000 / $ 4,800
Sold:

€ 4,680 / $ 5.616
(incl. 20% surcharge)
Lot description
Boccaccio, G., Peri genealogias deorum, libri quindecim, cum annotationibus Iacobi Micylli. Eiusdem de montium, sylvarum, fontium, lacuum, fluviorum, stagnorum, & marium nominibus .. Mit 2 Holzschnitt-Druckermarken, zahlr. figürl. Holzschnitt-Initialen und 13 ganzseit. genealog. Textholzschnitten . Basel, Joh. Herwagen 1532. 34 Bll., 504 S., 2 Bll. - Angeb.: Macrobius, A. T. , In somnium Scipionis libri II. Eiusdem Saturnaliorum libri VII ex vetustitssimis manuscriptis codicibus recogniti & aucti. Mit 2 Holzschnitt-Druckermarken, zahlr. figürl. Holzschnitt-Initialen, 1 Holzschnitt-Weltkarte im Text und 8 schemat. Textholzschnitten. Ebd. 1535. 20 Bll., 334 S., 1 Bl. - Roter Maroquinband des 17. Jhs. auf 4 Bünden mit RVerg., goldgepr. Deckelbordüre mit Eckfleurons sowie GGoldschnitt; Deckel mit goldgepr. Wappensupralibros von Felipe Ramirez de Guzman , Herzog von Medina de las Torres, und seiner Ehefrau Anna Carafa. Folio.

Prachtvoll gebundener Sammelband mit zwei sehr schönen, inhaltlich bedeutenden Baseler Drucken aus der Offizin von Johann Herwagen. Eleganter Antiqua-Druck mit griechischen Passagen und Einsprengseln sowie zahlr. figürlichen Holzschnitt-Initialen.
I: VD 16, B 5846 und 5847. - Adams B 2173. - BM STC, German Books S. 129. - Heckethorn S. 123, 37. - Erste in Basel gedruckte Ausgabe . - "Das mit wissenschaftlichem Anspruch und großer philologischer Akribie geschriebene Kompendium der mythologischen Überlieferungen markiert den Höhepunkt von Boccaccios humanistischer Gelehrsamkeit, die nach der Abfassung des Decamerone das Hauptfeld seiner schriftstellerischen Betätigung wird" (Kindler II, 832). Vorliegende Ausgabe mit Boccaccios Anhang De montibus, silvis, fontibus etc., das erste gedruckte geographische Lexikon dieser Art mit Auflistung der Berge, Flüsse, Quellen, Wälder, Seen und Meere, die in den Schriften antiker Autoren erwähnt sind.
II: VD 16, M 48. - Adams M 64. - BM STC, German Books S. 584. - Dibdin II, 220. - Vgl. Shirley 13. - Einzige Baseler Ausgabe des 16. Jahrhunderts . - Macrobius, bedeutender Neuplatoniker des 5. Jhs., erläutert an ausgewählten Abschnitten aus Ciceros berühmten Somnium Scipionis die neuplatonische Seelenlehre, Astronomie und Musiktheorie. Berühmt ist das Werk vor allem durch seine Weltkarte. Sie liegt in dieser Ausgabe in einer völlig neuen Fassung vor, von Shirley unzureichend beschrieben: "There was also a Basle edition of 1535 where the outline of Africa has been updated according to more modern concepts". Vielmehr handelt es sich um eine völlig neue Karte, aus der der mythische Südkontinent (Terra australis ) völlig verschwunden ist. Die alte Welt ist kartographisch fast richtig dargestellt, auf Australien verweist nur eine übermäßig nach Süden heruntergezogene Darstellung der Halbinsel Malakka.
Zustand: Stellenw. gleichmäßig schwach gebräunt, wenige Bll. zu Beginn mit kl. Wasserrand, Vorsätze leimschattig, erster Titel und vorletztes Bl. mit altem Stempel "Ex libris Virira Pinto". Einbd. gering bestoßen, ob. und unt. Rückenfeld mit wenigen Wurmlöchern. Schönes Exemplar aus der Bibliothek des span. Herzogs Felipe Ramirez de Guzman (1600-1668), Vizekönig von Neapel.

Splendid anthology in magnificent binding with two very nice Basle prints from the studio of Johann Herwagen. With 2 woodcut printer's devices, numerous figurative woodcut initials and 13 fullpage genealogical woodcuts in the text. - Bound in work, only 16th century Basle edition, with 2 woodcut printer's devices, fig. woodcut initials, 1 woodcut world map and 8 woodcuts in text. - Red 17th morocco on 4 bands with gilt spine, gilt-tooled borders on boards with corner fleurons as well as gilt edges; boards with gilt-tooled armorial centerpiece of Felipe Ramirez de Guzman, Duke of Medina de las Torres, and his wife Anna Carafa. Folio. - Faint even browning, few ll. with small waterstains at the beginning, endpapers glue-stained, first title and one but last l. with old stamp "Ex libris Virira Pinto". Binding slightly scuffed, top and bottom field of spine with minor worming. Fine copy from library of Duke Felipe Ramirez de Guzman (1600-1668), vice king of Naples.


17
Genealogias deorum. 1532.
Estimate:
€ 4,000 / $ 4,800
Sold:

€ 4,680 / $ 5.616
(incl. 20% surcharge)
More Images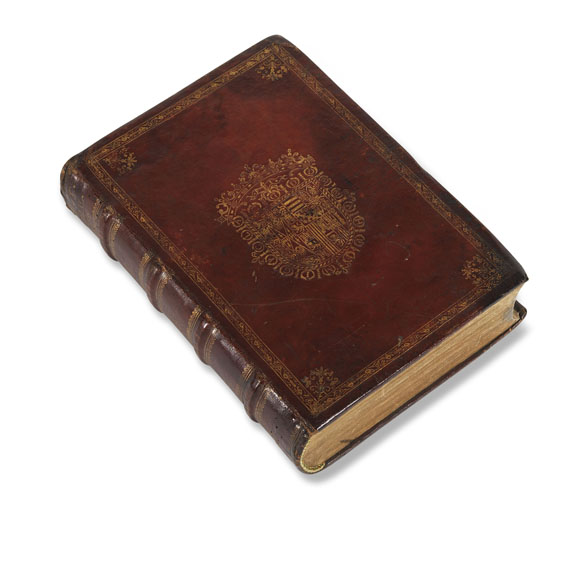 Cover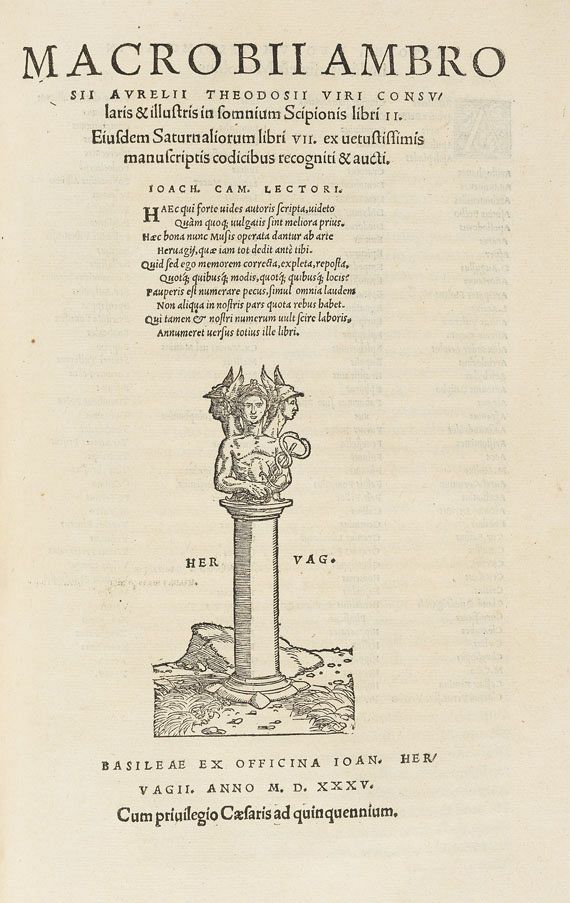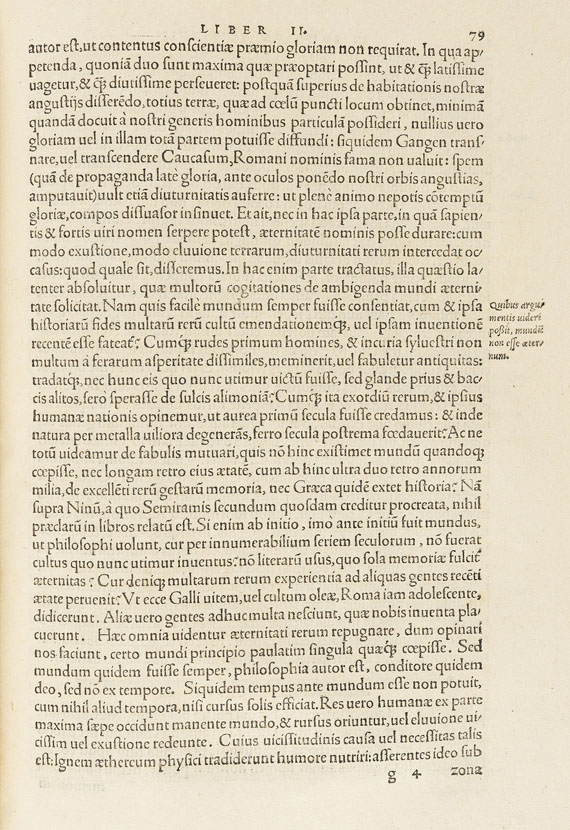 More offers for Giovanni Boccaccio
You might also be interested in
Giovanni Boccaccio - lots sold by Ketterer Kunst