Sale: 385 / Rare Books, Nov. 21. 2011 in Hamburg

Lot 18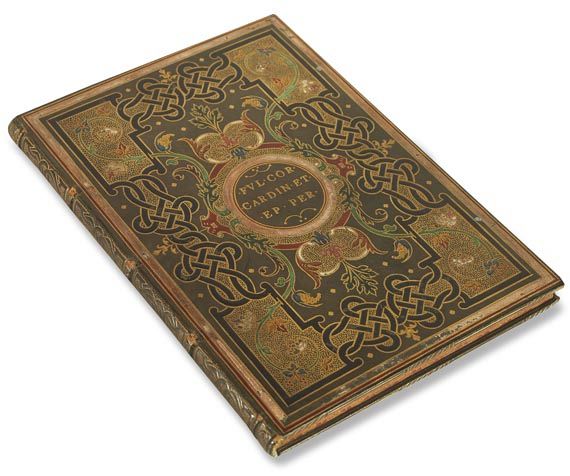 18
Monotessaron seu concordantiae evangelistarum. (C12), 1478.
Estimate:
€ 12,000 / $ 14,040
Sold:

€ 12,000 / $ 14.040
(incl. 20% surcharge)
Lot description
Gerson, Joh., Monotessaron seu Concordantiae evangelistarum. Mit zahlr. eingemalten Lombarden in Rot . [Köln, Drucker des Dialogus Salomonis et Marcolphi (Ludwig von Renchen?), nicht nach 1478]. Prachtvoller Lederband des 19. Jhs. im Grolier-Stil (von Hagué) mit mit reicher goldgepr. und farb. ornamentaler Deckel- und Rückengestaltung, ferner mit gepunztem Gold- und Farbschnitt. Folio. 66 nn. Bll. (ohne das erste u. letzte weiße Bl.). Got. Type. 40 Zeilen, mit regliertem Textspiegel.

GW 10773. - Hain/Cop. 7719. - Goff G 236. - BMC I, 260. - BSB G-181. - Fairfax Murray 180. - Zweite Ausgabe, erstmals um 1473 bei Arnold ter Hoernen erschienen. Zugleich einer von 8 bekannten Drucken dieses Kölner Dialogus-Druckers. Von großer Seltenheit , kein Exemplar im JAP, in den letzten 30 Jahren nur das vorliegende im ABPC (Sotheby's, 6. Dez. 2000). - Nach Severin Corsten soll es sich bei dem Dialogus-Drucker und noch drei weiteren Druckern lediglich um bloße Verleger handeln, die alle einen anonymen Lohndrucker beauftragt hätten. Dieser Lohndrucker wird von Corsten mit Ludwig von Renchen identifiziert, "wobei aber die Frage unbeantwortet bleibt, warum der 'Lohndrucker' für jeden dieser drei 'Verleger' jeweils andere Typen verwendet hat" (Geldner I, 99). - "Type von ausgesprochen kölnischem Charakter, aber eigenartiger Typenmischung; die meisten Majuskeln sind in mehreren Formen vorhand, besonders merkwürdig ist ein R." (Ges. f. Typenkunde 144) - Ränder tls. leicht stockfleckig, nahezu durchgeh. kl. Braunfleck im Fußsteg. Sonst guterhaltenes und breitrandiges, außerordentlich dekorativ gebundenes Exemplar aus der Sammlung Ritman (Bibliotheca Hermetica).

Second edition, the first around 1473 by Arnold ter Hoernen. At the same time one of eight known prints by this Cologne Dialogus printer. Of highest rarity, no copy in JAP, in the ABPC just proof for this copy for the last 30 years (Sotheby's, 6 Dec., 2000). With numerous drawn-in lombards in red. Splendid 19th century calf in Grolier style (von Hagué) with rich gilt-tooling and ornamental decorations on boards and spine, also with punched gilt and color edges. Folio. 66 unnumb. ll. (lacking the first and last blank leaf). Gothic type. 40 lines, with slugged text area. Margins slightly foxed in places, with small browning almost allthe way through tail gutter. Else well-peserved and broadmargined, particularly decoratively bound copy from the collection Ritman (Bibliotheca Hermetica).


18
Monotessaron seu concordantiae evangelistarum. (C12), 1478.
Estimate:
€ 12,000 / $ 14,040
Sold:

€ 12,000 / $ 14.040
(incl. 20% surcharge)
More Images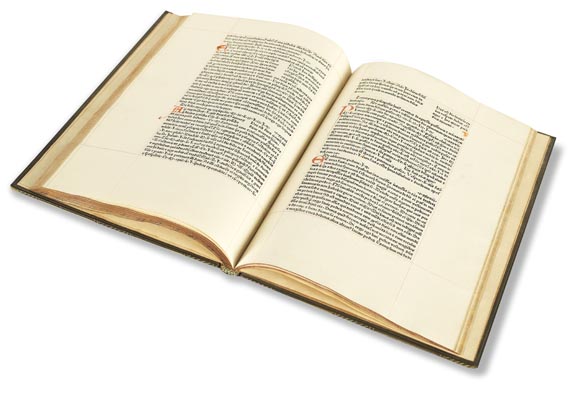 You might also be interested in

Johannes Gerson - lots sold by Ketterer Kunst