Sale: 385 / Rare Books, Nov. 21. 2011 in Hamburg

Lot 625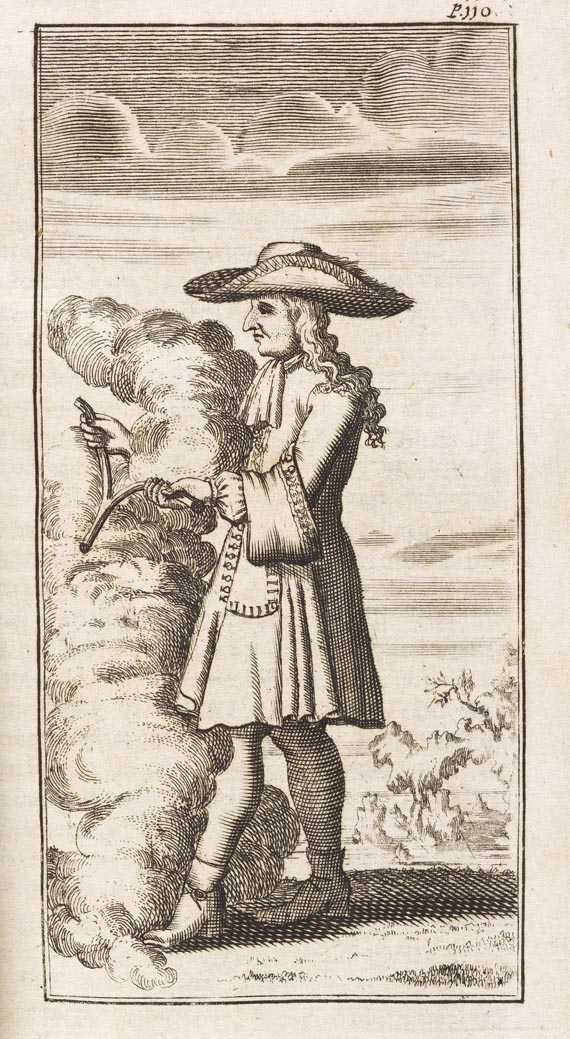 625
Vallemont, Pierre Le Lorrain d, Der heimliche und unerforschliche Natur-Kündiger. 1694
Sold:

€ 876 / $ 998
(incl. 20% surcharge)
Lot description
Alchemie und Okkulta. - [Vallemont, P. le Lorain de], Der heimliche und unerforschliche Natur-Kündiger, oder: Accurate Beschreibung von der Wünschel-Ruthe, darinnen enthalten der besondere Nutz bey Entdeckung der Wasser-Quellen, Metallen, vergrabenen Schätze, flüchtiger Diebe und Mörder. Dabey solche Lehrsätze mit eingebracht, welche die allerdunckelsten Phaenomena der Natur erklären .. Aus dem Frantzösischen .. Auch mit einem absonderlichen curieusen Tractat Matthiä Willen, von der Wünschelruthen vermehret. Mit gest. Frontispiz und 23 Kupfertafeln . Nürnberg, A. Otto 1694. Ldr. d. Zt. mit blindgepr. Rücken, RSch. und GGoldschnitt. 8vo. 7 Bll., 530 (recte 528) S.

Klinckowstroem 56. - Graesse, Magica S. 37. - VD 17, 39:115678Y. - Vgl. Duveen 595; Caillet 10984; Neu 4162. - Nicht bei Fromm. - Erste deutsche Ausgabe . Klassiker der Wünschelrutenliteratur, erstmals 1693 unter dem Titel Traité de la Baguette Divinatoire erschienen. - "Vallemonts Buch ist das ausführlichste und bekannteste. Er hat die Korpuskulartheorie, auf Gassendi und Descartes fußend, am eingehendsten ausgearbeitet und beschreibt bereits die gleiche Art der Tiefenbestimmung, wie sie noch heute üblich ist" (Klinkowstroem 54). - Die hübschen Kupfer zeigen Wünschelrutengänger, Hygrometer, Camera obscura, Laterna magica etc. - Oberes Kap. mit unbedeut. Läsur. Schönes, innen sauberes Exemplar .

First German edition of this classic on divining rod. With engr. frontispiece and 23 copperplates depicting diviners, Camera obscura etc. Contemp. calf with label and gilt edges. - Upper spine end slightly chipped. Fine, inside clean and crisp copy.


625
Vallemont, Pierre Le Lorrain d, Der heimliche und unerforschliche Natur-Kündiger. 1694
Sold:

€ 876 / $ 998
(incl. 20% surcharge)
You might also be interested in

Alchemie und Okkulta - lots sold by Ketterer Kunst