Sale: 385 / Rare Books, Nov. 21. 2011 in Hamburg

Lot 24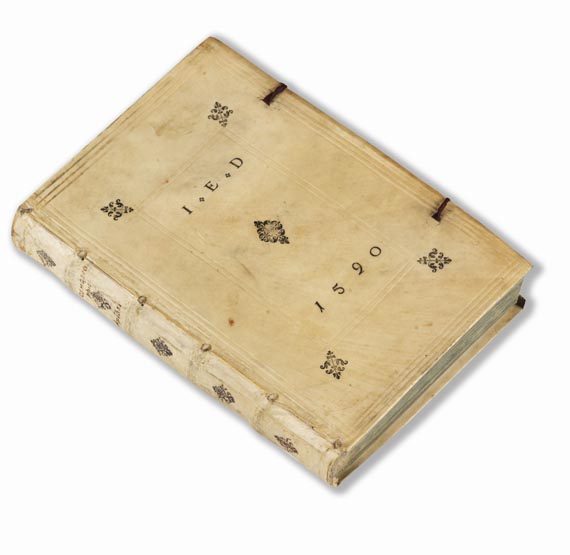 Cover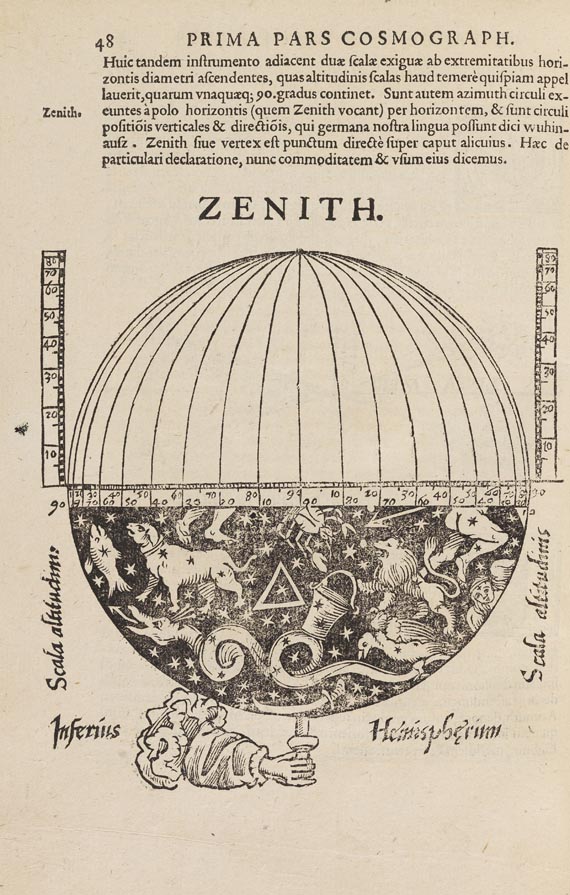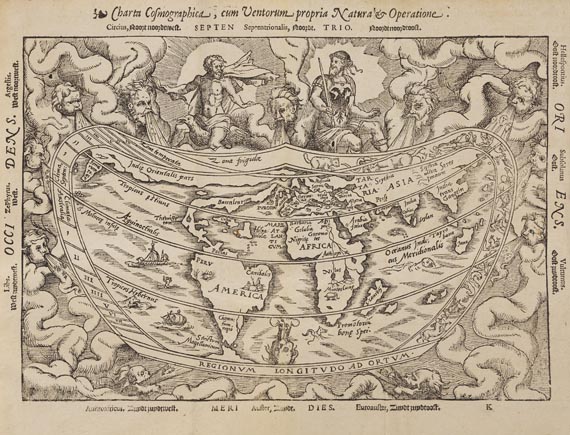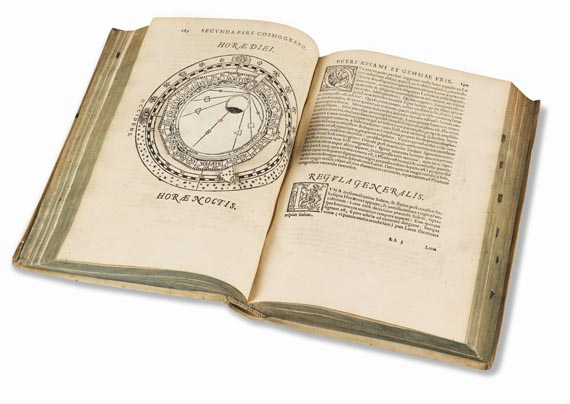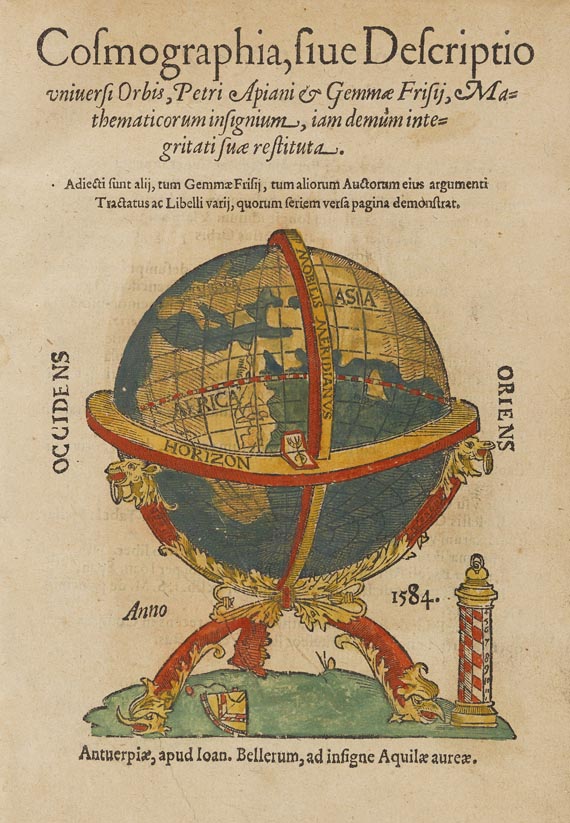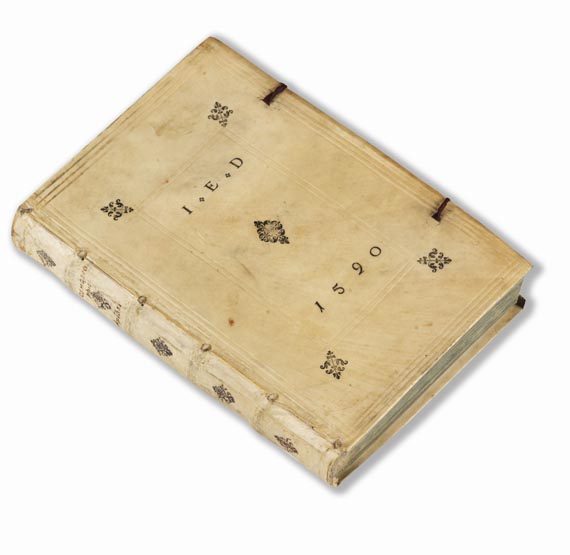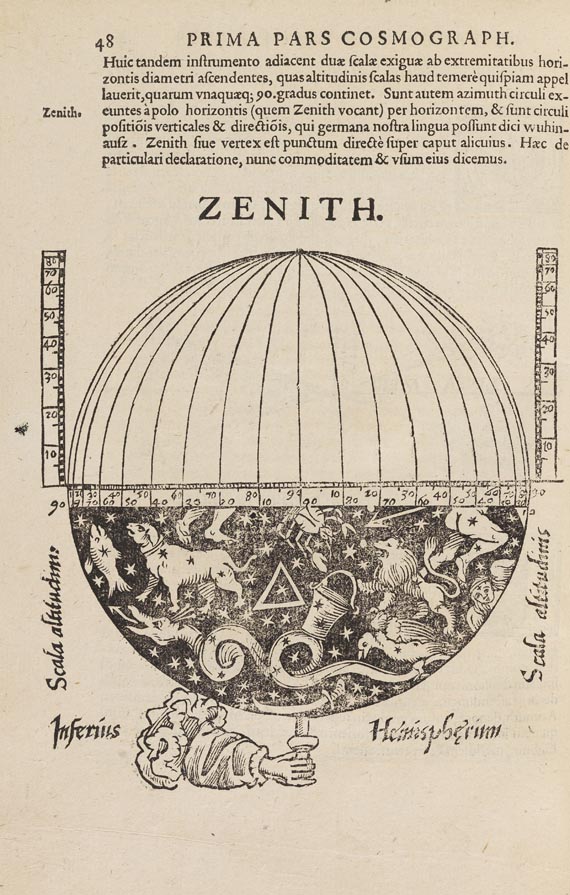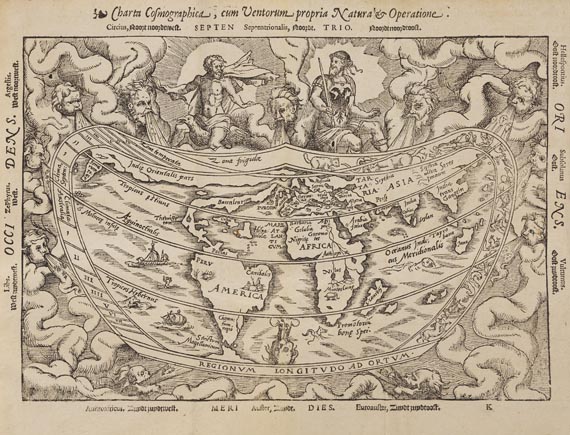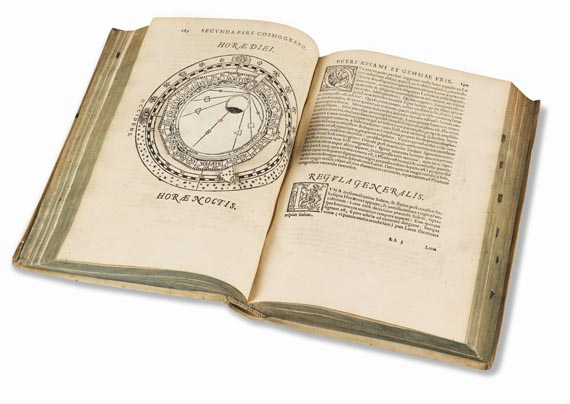 24
Cosmographia. Antwerpen 1584.
Estimate:
€ 12,000 / $ 13,920
Sold:

€ 13,200 / $ 15.311
(incl. 20% surcharge)
Apian, P. und G. Frisius, Cosmographia, sive descriptio universi orbis. Adiecti sunt alii, tum G. Frisii, tum aliorum auctorum eius argumenti tractatus ac libelli varii .. Mit altkolor. Titelholzschnitt (Globus), 1 gefalt. Holzschnitt-Weltkarte und zahlr. Textholzschnitten, davon 4 mit beweglichen Teilen . Antwerpen, Joh. Withagen für Joh. Beller 1584. Zeitgenöss. Pergamentband mit Fleurons zwischen den Bünden, blindgepr. Deckelfileten, schwarzgepr. Eckfleurons sowie Monogramm "I. E. D." und Datum "1590"; ferner mit Schließbändern und Blattweisern. 4to. 8 Bll., 478 (recte 465) S., 1 Bl.

Index Aurel. 106.467. - Adams A 1286. - BM STC, Dutch Books S. 12. - Houzeau/Lanc. 2392. - Van Ortroy, Apian 59. - Shirley 82. - Stark erweiterte lateinische Ausgabe , eine von drei kollationsgleichen Varianten (vgl. van Ortroy 59-61). - Apians Hauptwerk in der Bearbeitung durch Gemma Frisius , ein bedeutendes und seinerzeit beliebtes Lehrbuch der Kosmographie mit der schönen, in Herzform gedruckten Weltkarte (hier vom 2. Block gedruckt; vgl. Shirley). Bekannt ist das Werk zudem durch seine Nachrichten über Amerika, in welchen insbesondere die Entdeckung Perus beschrieben wird. Der neue Kontinent, vor allem dessen südlicher Teil, ist sowohl in der Weltkarte als auch in einem Globus-Holzschnitt eingezeichnet. - Enthält neben Apians Text mit zahlr. (tlw. erstmals veröffentlichten) Anmerkungen von Frisius auch Beiträge anderer Astronomen, darunter in dieser Ausgabe erstmals von J. Schöner Coelestis globi compositio (S. 249-281) sowie einen weiteren umfangreichen Text von Frisius: De astrolabo catholico liber (S. 345-478). - S. 73-81, 326-329 und 426-429 übersprungen, S. 318-321 dopp. paginiert. - Vollständiges und prachtvoll erhaltenes Exemplar in einem schönen zeitgenöss. Pergamenteinband , so sehr selten. Gest. Wappen-Exlibris Fr. Xav. de Hieber, 1775 (Warnecke 843).

Beautiful copy of the enlarged Latin edition, contains for the first time a long, hitherto unpublished text by Gemma Frisius (see van Ortroy, Apian for details). With title woodcut (globe) couloured by contemp. hand, folding cordiform woodcut world map and numerous woodcuts in the text, 4 with volvelles. Contemp. vellum with black stamped corner florets, triple fillet border, monogram "I. E. D." and date "1590", thongs and pagemarker. - Complete and well-preseved. Engr. heraldic bookplate.


24
Cosmographia. Antwerpen 1584.
Estimate:
€ 12,000 / $ 13,920
Sold:

€ 13,200 / $ 15.311
(incl. 20% surcharge)
Peter Apian - lots sold by Ketterer Kunst