Sale: 385 / Rare Books, Nov. 21. 2011 in Hamburg

Lot 741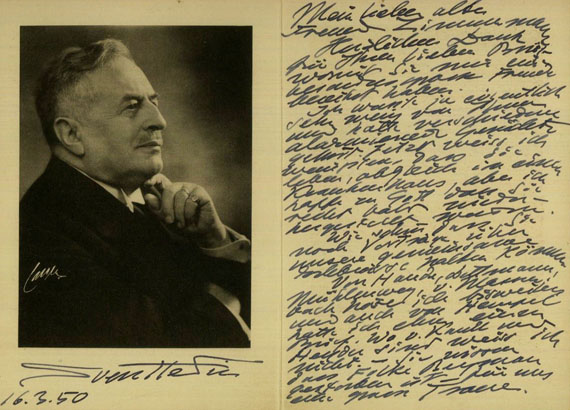 741
1 eigh. Grußkarte m. U. 1950. Dabei (1 Umschl. m. eigh. Adresse u. chines. Schriftzeichen 1927).
Sold:

€ 204 / $ 242
(incl. 20% surcharge)
Lot description
Hedin, Sven, Forschungsreisender, 1865-1952. Eigh. Grußkarte m. U. und fotografischem Porträt. O. O. [wohl Stockholm], 16. III. 1950. 2 S. Kl.-8vo.

Ausführliche Grußzeilen an Eduard Zimmermann (1881-1969), Major a. D., Freund und früherer Reisegefährte während der großen Chinesisch-Schwedischen Asien-Expedition, die Hedin 1927-1935 leitete. Hedin antwortete auf ein Schreiben Zimmermanns, mit dem sich dieser nach längerer Unterbrechung bei Hedin anläßlich dessen 85. Geburtstages (19. Februar) gemeldet hatte. ".. Ich wusste ja eigentlich sehr wenig von Ihnen und hatte verschiedene alarmierende Gerüchte gehört. Jetzt weiss ich wenigstens, dass Sie leben, obgleich in einem Krankenhaus .. Wie schön, daß Sie noch Vorträge über unsere gemeinsamen Erlebnisse halten können .. Das grosse Werk, die Serie unserer Resultate, geht weiter. Band 33 ist eben erschienen. Es fehlen noch etwa 25 Bände. " (Die wissenschaftl. Auswertung der Expeditionsergebnisse, die seit 1937 als Reports from the scientific expedition to the north-western provinces of China in bisher 49 Bdn. veröffentlicht wurden, ist bis heute nicht abgeschlossen). Desweiteren über die große Anteilnahme an seinem besonderen Geburtstag: ".. Dazu hatte ich 750 Briefe und 277 Telegramme zu beantworten. Etwa 200 Briefe sind noch nicht geöffnet .." - Die schwarzweiße Fotoreproduktion zeigt Hedin im Profil in nachdenklicher Pose. - Dabei: 1 eigh. von Hedin adressierter Umschlag "Swedish Mission - Hempel - Pantuchen", Peking, 25. V. 1927 (Poststempel). Im rechten Rand mit eigh. (?) chinesischen Schriftzeichen. - Claus Hempel war Pilot und Teilnehmer bei der großen Expedition.


741
1 eigh. Grußkarte m. U. 1950. Dabei (1 Umschl. m. eigh. Adresse u. chines. Schriftzeichen 1927).
Sold:

€ 204 / $ 242
(incl. 20% surcharge)
Sven Hedin - lots sold by Ketterer Kunst