Sale: 380 / Modern Art, June 04. 2011 in Munich

Lot 6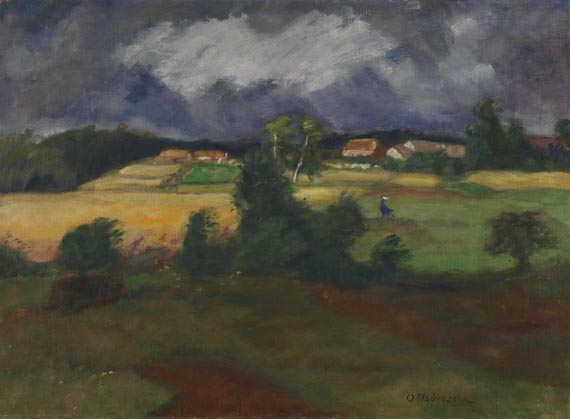 6
Gewitterlandschaft (Nach dem Gewitter), 1930.
Oil on canvas
Estimate:
€ 20,000 / $ 21,200
Sold:

€ 31,720 / $ 33,623
(incl. 22% surcharge)
Oil on canvas
Signed lower right. Signed and titled "Gewitterlandschaft" and "Vor dem Gewitter" on stretcher, as well as inscribed "Alter Hof". 59 x 81 cm (23,2 x 31,8 in)
With another work in same technique on verso. It shows a farmstead on a lake in sunset.

We are grateful to Mr. Rainer Noeres, Otto Modersohn Museum, Fischerhude, for his kind expert advice.

PROVENANCE: Private collection Lower Saxony.

EXHIBITION: Kunstverein Hanover (with two labels on stretcher).

The Modersohn family moved from Soest to Münster in 1884, where Otto discovered his interest in art while still at high school. After graduating from school he went to the Akademie in Düsseldorf, but he did not agree with the teaching methods here. After a short stay in Munich Otto Modersohn hoped to find artistic inspiration at the Akademie in Karlsruhe, but was once again disappointed. A summer trip through northern Germany together with Mackensen in 1888, however, inspired Modersohn to a series of small paintings, one of the first highlights in his early years. Another joint trip with Mackensen to Worpswede in 1889 resulted in Modersohn's decision to stay in the artist colony. Modersohn soon began to disagree with his friends' ideas. He wrote "Quiet, quiet grandness is my true goal" and he would rather "say much with very little [..]". He sent eight works to the first group exhibition of the Worpswede artists at the Kunsthalle in Bremen in 1895. The reactions to the exhibition varied, but the following participation in the international Glaspalast exhibition in Munich was to be a great success for Modersohn. Paula Becker, who married Modersohn in 1901, visited Worpswede for the first time in 1897. At this time the painter was considering leaving the colony. The following period is determined by numerous trips and various sojourns in Germany and France, mostly undertaken together with his wife. The Modersohns returned to Worpswede in the spring of 1907, where Paula died in November after giving birth to a daughter. Modersohn moved to Fischerhude, where "a new time began" for him in 1908. The artist studied nature in this rural surrounding and always returned here even after repeated visits in Worpswede and Berlin in 1917. "Simplicity, reduction of form and color is one of the main goals" of his art in the 1920s.

In the late 1920s Otto Modersohn painted over his works from the Fischerhude days for lack of material and shortage of money. As it was the case with this work, he also used the rear of the canvas of discarded paintings to paint on, he painted the old composition over in blue in order to mark it as discarded. This landscape in thunderstorm, in which the artist masterly captured the moment of change in the weather pattern and the moved landscape in a contrasting coloring. The location presumably is the Surheide, an area with forest and heath not far from, where singly farmsteads can be found. Next to the early landscapes it is particularly the atmospheric landscapes from the mature Fischerhude years that are among the most sought after works by Modersohn on the international auction market. As early as in 1925 it was Emil Waldmann, who, being director of the Kunsthalle Bremen, acquired a Modersohn painting. He said: "The only one of the old Worpswede artists who was in a continuous process of artistic development, was Otto Modersohn. He increase his sense for colors, and painted pictures that went far beyond his earlier works as far as the colors even rhythm is concerned." (Translation of quote after: Otto Modersohn 1865-1943. Der Zeichner und Maler einer Landschaft vor dem Hintergrund seiner Zeit, ex. cat. Worpsweder Kunsthalle Friedrich Netzel/Otto Modersohn-Nachlass-Museum Fischerhude 1977, p. 314).

Important sources of inspiration were Holland and the Allgäu, where he bought a house in 1930. When the painter turned blind on one eye he abandoned his trips to the Allgäu and spent his time painting in his Fischerhude studio. Otto Modersohn died seven years later after a surprising, short illness. [JS].


6
Gewitterlandschaft (Nach dem Gewitter), 1930.
Oil on canvas
Estimate:
€ 20,000 / $ 21,200
Sold:

€ 31,720 / $ 33,623
(incl. 22% surcharge)
Otto Modersohn - lots sold by Ketterer Kunst