Sale: 379 / Rare Books, May 23. 2011 in Hamburg

Lot 166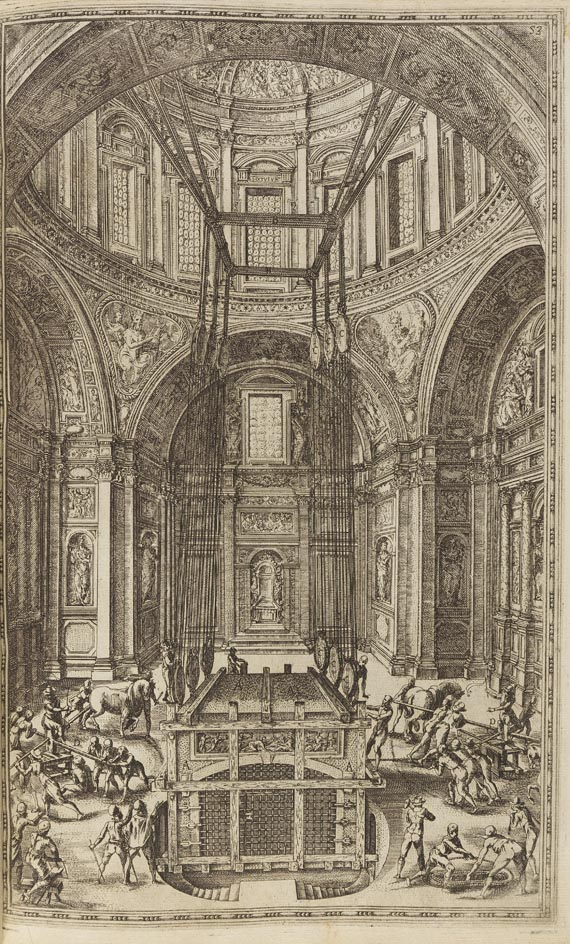 166
Della trasportatione. 1590
Estimate:
€ 2,500 / $ 2,975
Sold:

€ 2,640 / $ 3.141
(incl. 20% surcharge)
Lot description
Fontana, D., Della trasportatione dell' obelisco Vaticano et delle fabriche di nostro Signore Papa Sisto V. Libro primo. Mit gest. Titel, gest. Porträt und 38 (2 doppelblattgr., 1 gefalt.) Kupfertafeln und 1 gest. Textvignette. Rom, D. Basa 1590. Ldr. d. 20. Jhs. unter Verwendung der alten Deckelbezüge mit goldgepr. Wappensupralibros der "Bücherei des kaiserlichen Patentamtes". Folio. 108 (recte 112) num. Bll. (Tafeln mitpag.), 4 nn. Bll.

Millard Coll. 40. - Fowler 124. - Cicognara 3736. - Ornamentstich-Slg. Bln. I, 2652. - Mortimer 193. - Riccardi I, 466. - UCBA I, 576. - Seltene erste Ausgabe, angereichert mit 20 Kupfertafeln (mit 21 Kupfern; 3 doppelblattgr, 1 gefalt.); 19 zu dem zweiten Teil, der erstmals 1604 in Neapel erschien und 1 dreifach gefalt. Kupfertafel mit Grund- und Aufriß des Mausoleums Philipp II. (Ornamentstich-Slg. Bln. 3192). - Berühmte Beschreibung der Versetzung des Obelisken auf dem Petersplatz in Rom. Die schönen von A. Specchi nach Fontanas Zeichnungen angefertigten Kupfer illustrieren das gigantische technische Unterfangen sehr anschaulich. "Besides its great graphic virtues, then, this book by Fontana is an important source for the history of architecture. It is differentiated from contemporary theoretical publications by its dominant technical and pragmatic approach to architectural problems, and specifically by its interest in the organization of the construction site, its vast vision, and its research in architectural typology" (Millard). - Die angebundenen Tafeln des zweiten Teils zeigen Entwürfe Fontanas zu anderen Bauwerken, darunter Grund- und Aufrisse des Sanctoriums, 11 Portale, Mausoleum des Conte de Lemos sowie 1 Brückenkonstruktion. - Erste ca. 50 Bll. stärker wasserrandig (bes. Titel und Frontisp. im Fußsteg stark betroffen, mit kl. hinterl. Läsuren), vereinz. etw. fleckig, Inhaltsverzeichnis am Schluß im Kopfsteg mit stärkeren Feuchtigkeitsspuren im Kopfsteg, Titel mit Stempel des kaiserlichen Patentamtes. Deckelbezüge etw. beschabt. - Seltenes berühmtes Werk mit kräftigen Kupfern.

Scarce fine edition. Engraved title, engr. portrait and 38 (3 double-page, 1 folding) engr. copperplates. 20th cent. calf, using old calf covering. - With additional 20 plates with 21 engravings (20 engr. from the second part of Fontana, showing portals and mausoleums etc.). - First ca. 50 leaves stronger waterstained (especially title and frontisp. in the tail margin; with some backed marginal defects), here and there staining, table of contents at the end stronger stained by damp in the head margin, title stamped by the "Kaiserliches Patentamt". Covering slightly scraped.


166
Della trasportatione. 1590
Estimate:
€ 2,500 / $ 2,975
Sold:

€ 2,640 / $ 3.141
(incl. 20% surcharge)
You might also be interested in

Domenico Fontana - lots sold by Ketterer Kunst