Sale: 379 / Rare Books, May 23. 2011 in Hamburg

Lot 23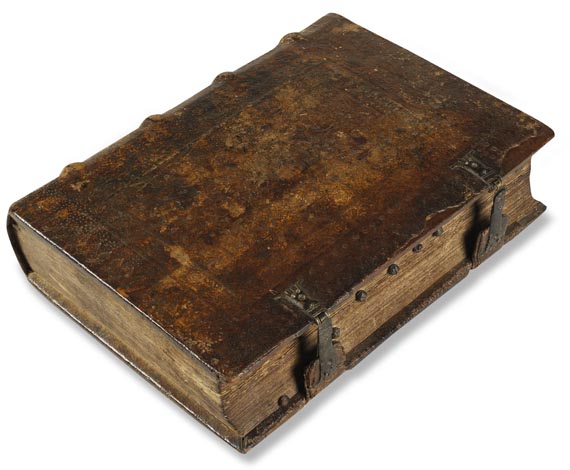 Cover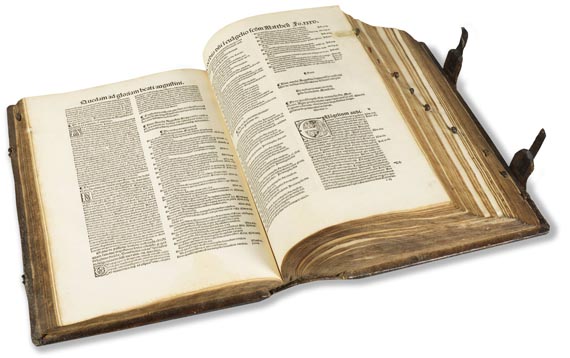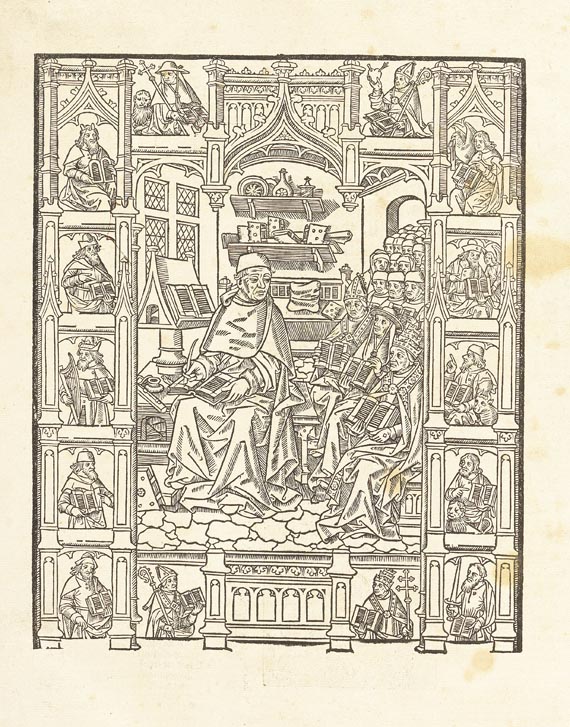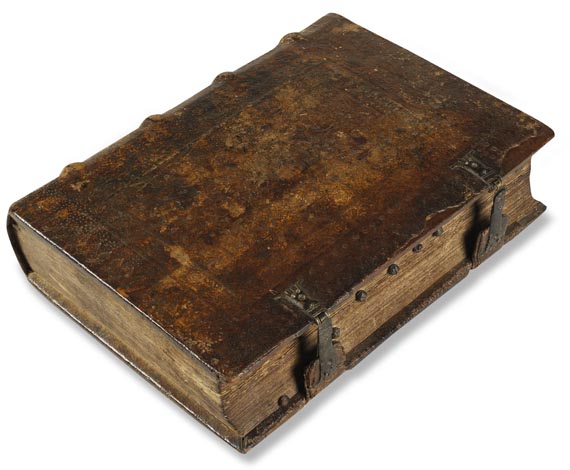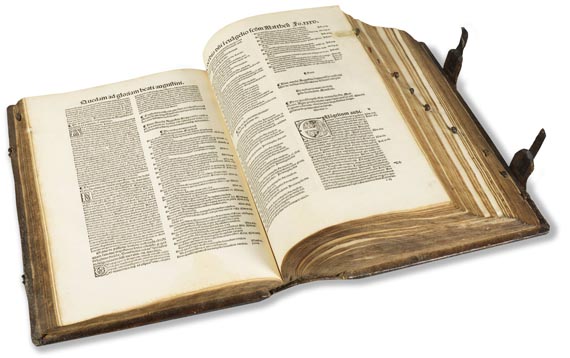 23
Sermones. 1498
Estimate:
€ 6,000 / $ 6,000
Sold:

€ 9,000 / $ 9.000
(incl. 20% surcharge)
Augustinus, A., Sermones. Mit Beigabe von Sebastian Brant. Mit 1 blattgr. Textholzschnitt , Metallschnitt-Druckermarke auf dem Titel, 10 großen figürl. Metallschnitt-Initialen und zahlr. kleineren, tls. figürl. Metallschnitt-Initialen. Paris, Ulrich Gering und Berthold Rembolt [um 1499]. Zeitgenöss. Schweinslederband über Holzdeckeln mit reicher Blind- und Rollenprägung sowie 2 Messing-Schließen. Folio. 414 Bll. (44 nn., 367 röm. num., 3 nn. Bll.), mit Blattweisern. Got. Type. 2 Spalten. 74 Zeilen mit gedruckten Randnoten und Kolumnentitel.

GW 2921. - Hain/Cop. 2007 (= Hain 2006). - Goff A 1309. - BSB A-893. - Polain 407. - Nicht im BMC. - Prachtvoller Pariser Frühdruck von Gering und Rembolt , deren einzige Sermones-Ausgabe. Sauberer zweispaltiger Druck in verschiedenen Schriftgrößen mit schönen Schrotschnitt-Initialen, beide Seitenränder mit gedruckten Noten sowie kl. gedruckten Fingerzeigern und Holzschnitt-Leisten zur Markierung wichtiger Textpassagen. - Der prächtige Holzschnitt zeigt Augustinus sitzend in einer Gelehrtenstube, ein Buch schreibend, rechts von ihm hohe Würdenträger der Kirche, ringsherum in Nischen Patriarchen des Alten und Neuen Testaments. - Titel mit der schönen Schrotschnitt-Druckermarke Rembolts: Weinstock, darunter Schild von zwei Löwen gehalten (Polain 156; Meyer 149). - Innendeckel sowie erste und letzte 2 Bll. im Unterrand mit wenigen Wurmspuren, Fußsteg stellenw. leicht braunfleckig oder wasserrandig, sonst nur wenige Bll. leicht fleckig. Einbd. fleckig, an den Kanten mit wenigen Fehlstellen im Bezug. Insgesamt sehr gut erhaltenes und vollständiges Exemplar mit einigen zeitgenöss. Marginalien.

Not in BMC. - Splendid early print from Paris by Gering and Rembolt, their only sermones edition. With 1 full-page woodcut in the text, metalcut printer's device on title, 10 large figurative metalcut initials and numerous small partly figurative metalcut initials. Contemp. pigskin over wooden boards with rich blind- and roll-tooling as well as 2 brass clasps. Folio. 414 ll. (44 unnumb., 367 Roman numb., 3 unnumb. ll.), with page markers. Gothic type. 2 columns. 74 lines with printed marginalia and column title. - Pastedown as well as first and last 2 ll. with few traces of worming in lower margin, slightly browned or with waterstains in places of tail margin, else just few ll. stained. Binding stained, edges with few defective spots in covering. All in all very well-preserved and complete copy with some contemp. marginalia.


23
Sermones. 1498
Estimate:
€ 6,000 / $ 6,000
Sold:

€ 9,000 / $ 9.000
(incl. 20% surcharge)
You might also be interested in
Aurelius Augustinus - lots sold by Ketterer Kunst