Sale: 379 / Rare Books, May 23. 2011 in Hamburg

Lot 683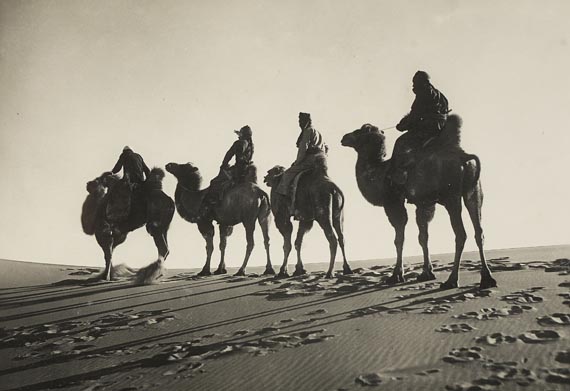 683
E. Zimmermann, Durch Asiens Wüsten. 2 Fotoalben, 1926-1930
Estimate:
€ 4,000 / $ 4,760
Sold:

€ 74,400 / $ 88.536
(incl. 20% surcharge)
Lot description
Hedin. - Zimmermann, E., Mit Sven Hedin durch Asiens Wüsten 1926-1930 (Deckeltitel). 2 Bde. Mit ca. 380 Orig.-Fotografien. 1926-1930. OLwd. mit seitl. Kordelbindung. Quer-Folio. 37; 33 Bll.

Interessante Sammlung von Fotografien von Zentralasien mit zahlr. Landschaftsansichten, Alltags- und Reiseimpressionen und Darstellungen der einheimischen Kultur und Bevölkerung sowie der Expeditionsteilnehmer. Zusammengestellt von einem Teilnehmer der Schwedisch-Chinesischen Expedition nach Zentralasien in den Jahren 1926-35 unter der Leitung von Sven Hedin. Die Expedition mit deutschen, schwedischen und chinesischen Wissenschaftlern verschiedenster Fachrichtungen gilt als eine der größten Expeditionsunternehmungen der Neuzeit. Das Ergebnis war u. a. eine umfassende geowissenschaftliche Erforschung und kartographische Erschließung der Gobi, des Tienschan-Gebirges mit dem Tarimbecken im westlichen China und von Nord-Tibet. - Der Major a. D. und Pilot Eduard Zimmermann (1881-1969) hielt sich von 1925-30 in China auf und war u. a. mit den Vorbereitungen und der Organisation der Expedition betraut; während der zwei Jahre, die er am Rande der Gobi verbrachte, führte er zahlr. magnet. Messungen durch und fertigte Aufzeichnungen über Wind- und Wetterverhältnisse an, die die Möglichkeit von Flügen über das Wüstengebiet bis nach China und vor allem nach Japan überprüfen sollten. Die Fotografien im Format zwischen 8 : 11, 5 und 21 : 27, 5 cm geben eine schönen Eindruck von der beeindruckenden Kargheit und Weite der Landschaften und den einfachen Reise- und Lagerverhältnissen wieder, aber auch von der Vielfältigkeit und Fremdartigkeit der asiatischen Alltagskultur und der Begegnung mit den Einheimischen mit durchaus humorvollen Aspekten. - 13 der Fotogr. lose beiliegend. Ein VDeckel mit kl. Riß im Bezug.

Remarkable collection of about 380 orig. photogr. of a member of the Swedish-Chinese expedition to Central Asia under the direction of Sven Hedin. With impressions of the landscape, customs and culture of the local population and the difficulties and restrictions of the travels and the camp life. Orig. cloth with gilt title on boards. - One front board with a small tear, else well preserved.


683
E. Zimmermann, Durch Asiens Wüsten. 2 Fotoalben, 1926-1930
Estimate:
€ 4,000 / $ 4,760
Sold:

€ 74,400 / $ 88.536
(incl. 20% surcharge)
More Images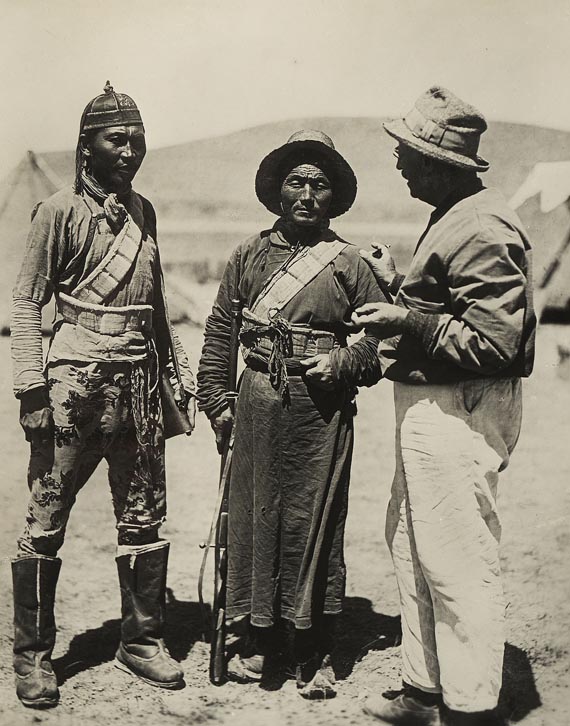 Sven Hedin - lots sold by Ketterer Kunst