Sale: 379 / Rare Books, May 23. 2011 in Hamburg

Lot 133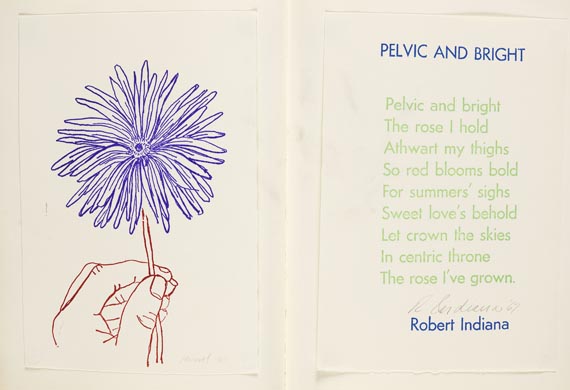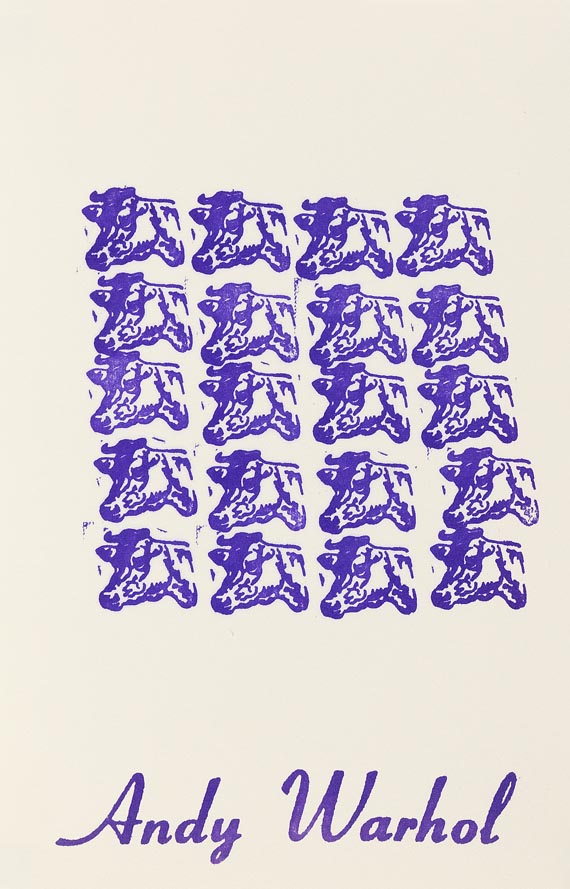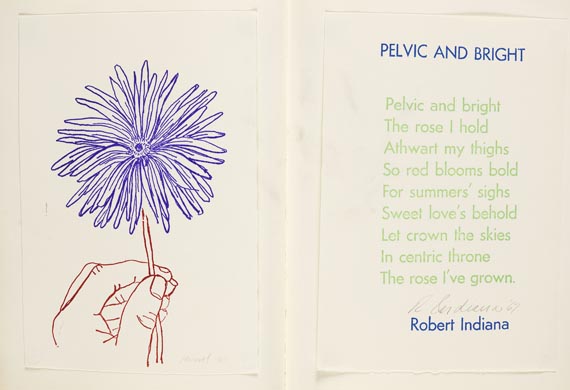 133
Stamped indelibly. 1967
Estimate:
€ 5,000 / $ 4,700
Sold:

€ 6,720 / $ 6,316
(incl. 20% surcharge)
Stamped indelibly. A collection of rubberstamp prints. Hrsg. von R. Indiana und W. Katz. Mit 16 (13 farb., 13 sign.) mont. Stempeldrucken von Tom Wesselmann, Robert Indiana, Allen Jones, Andy Warhol u. a. New York, W. Katz 1967. OLwd. 4to.

Vgl. Feldman/Schellmann II.17A. - 1 von 110 Exemplaren (GA 225). - Entstanden aus der Kollaboration führender Künstler der US-amerikanischen Pop Art-Bewegung unter der Leitung des Designers William Katz. Katz arbeitete bereits seit Anfang der 60er Jahre mit Robert Indiana zusammen und konnte für seine Kollektion von gestempelten Kunstwerken Künstler und Dichter wie A. Jones, T. Wesselmann , A. Warhol, C. Oldenburg , A. Ginsberg, R. Creeley, R. Grooms und K. Koch, Marisol, J. Levi, G. Malanga, P. Saul und J. Willenbecher hinzugewinnen. Das Ergebnis ist eine farbenfroh verspielte Sammlung von Stempeldrucken, die in ihrer reduzierten Linienführung und der pointierten Text- und Bildsprache ein Konzentrat US-amerikanischer Pop-Art ist. - Von R. Indiana und C. Oldenburg stammen jeweils 2 Stempeldrucke. Beiliegend die Doublette des sign. Stempeldrucks von J. Willenbecher.

1 of 110 copies (complete print run 225). - Originating from the co-operation of leading American Pop artists, such as A. Jones, T. Wesselmann, A. Warhol, C. Oldenburg, A. Ginsberg. With 16 (13 in colors, 13 signed) mounted stamp prints. rig. cloth. - With 2 prints each by R. Indiana and C. Oldenburg. The doublet of the signed print of J. Willenbecher attached.


133
Stamped indelibly. 1967
Estimate:
€ 5,000 / $ 4,700
Sold:

€ 6,720 / $ 6,316
(incl. 20% surcharge)
You might also be interested in
Robert Indiana - lots sold by Ketterer Kunst