Sale: 373 / Rare Books including Marine Art, Nov. 22. 2010 in Hamburg

Lot 645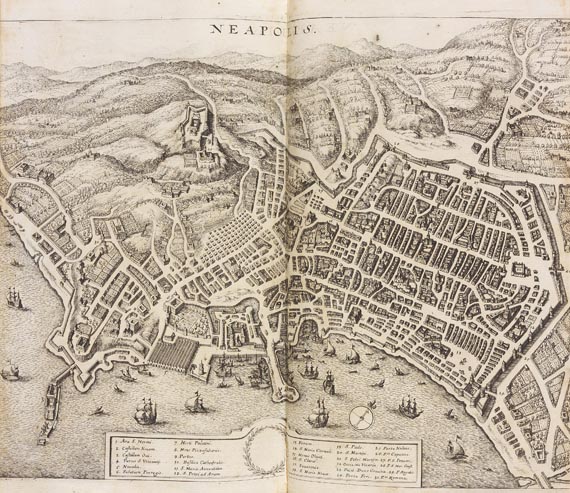 645
Newe Archontologia cosmica. 1638.
Estimate:
€ 4,500 / $ 5,355
Sold:

€ 9,600 / $ 11.424
(incl. 20% surcharge)
Lot description
Gottfried, J. L., Neuwe Archontologia cosmica, das ist Beschreibung aller Kayserthumben, Königreichen und Rebublicken der gantzen Welt. Mit gest. Titelvignette und 30 Kupferkarten und 62 Kupfertafeln (st. 71; 6 mehrf. gefalt.). Frankfurt, M. Merian 1638. Schweinsldr. d. Zt. über Holzdeckeln auf 5 Bünden mit reicher Blind- und Rollenprägung, mit RSch. und mit 1 Metall-Schließe (von 2). Folio. 21 Bll., 760 S., 12 Bll.

Wüthrich III, 321ff. - Jantz 1135. - Erste deutsche Ausgabe. - Umfangreiche Cosmographie, die neben Europa auch über Asien, Afrika und Amerika berichtet. "Das erste größere Werk zugleich geographischen, historischen und politischen Charakters, daß M. Merian 1638 publizierte - vier Jahre vor dem ersten Topographieband." (Wüthrich). - Der Text folgt dem französischen Werk Les états du Monde von Pierre d'Avity von 1613. Die schönen Kupfer mit der doppelblattgr. Weltkarte (Shirley 345) und den Karten von Amerika, Afrika, Griechenland, Deutschland u. a. sowie mit vereinz. mehr als doppelblattgr. Ansichten von Rom, Prag, Frankfurt, Ulm, Augsburg, Köln, Speyer, Mainz, Innsbruck, Heidelberg, Straßburg, Paris, Sevilla, Neapel, Mailand, London, Venedig, Konstantinopel, Jerusualem u. v. m. Nach dem Buchdruckverzeichnis mit 98 Kupfern fehlen 7 Ansichten (Stockholm, Wien, Würzburg, Leipzig, Breisach, Krakau sowie - auf 1 Bl. - Ragusa u. Negroponte), daneben sind mit Hamburg und La Valetta zwei der häufig, aber nicht immer hinzugefügten Kupfertafeln hier nicht vorhanden; ferner fehlt der Kupfertitel. - Text gebräunt und stockfleckig, die Kupfertafeln meist nur im Rand stockfleckig, die mehrfach gefalteten Panoramen fleckig, knittrig und bis auf Konstantinopel mit Randläsuren (2 Bll. mit Ausriß), reparierten Falzrissen (Venedig mit Fehlstelle) und Einrissen tlw. bis in die Darstellung,die Deutschlandkarte mit reparierten Falzriß, die Ansicht von Genua in der Mitte entzweigerissen, Drucktitel neu angefalzt, restauriert und mit Eckabriß. 1 Metallschließe entfernt, ansonsten sehr schöner zeitgenössischer Schweinslederband. - Mit gest. Wappen-Exlibris des Reichsritters Joseph Max Philipp Konhauser, Edler von Sternfeld (Hofkammerrat aus Salzburg).

First German edition. - Comprehensive cosmography, reporting on Europe as well as on Asia, Africa and America. With engr. title vignette and 30 copper maps and 62 copper plates (of 71, 6 folding). Contemp. pigskin over wooden boards on 5 bands with rich blind- and roll tooling with label on spine and 1 metal clasp (of 2). Folio. 21 ll., 760 pp., 12 ll. - Text browned and foxed, copper plates mostly foxed in margins, multiple folding panorame views stained, creased and with marginal blemishes, except for Constantinople (2 ll. with tear), mended folding splits (Venice with defective spot) and tears, partly affecting image, map of Germany with repaired folding tear, view of Genua torn in center, printing title newly mounted on extended guard, restored and with defective corner. 1 metal clasp removed, else very nice contemporary pigskin binding. - With engr. armorial bookplate of the Imperial Knight Joseph Max Philipp Konhauser, Edler von Sternfeld.


645
Newe Archontologia cosmica. 1638.
Estimate:
€ 4,500 / $ 5,355
Sold:

€ 9,600 / $ 11.424
(incl. 20% surcharge)
Johann Ludwig Gottfried - lots sold by Ketterer Kunst