Sale: 379 / Rare Books, May 23. 2011 in Hamburg

Lot 180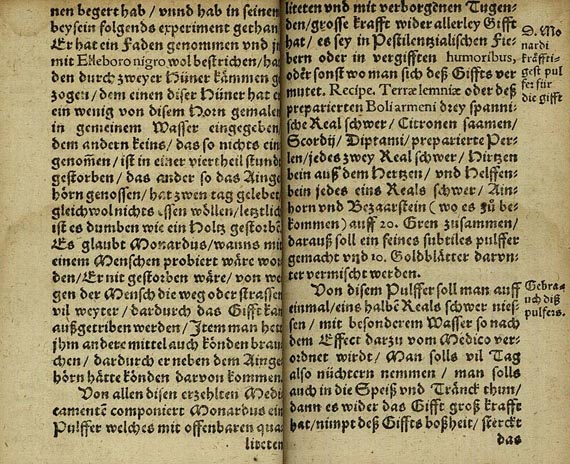 180
Tractat Von der aller fürtrefflichsten ... Arzney. 1589
Sold:

€ 528 / $ 580
(incl. 20% surcharge)
Lot description
Hieblin (Hyeble), C., Tractat, Von der aller (fürtrefflich)sten und kräfftigsten (Artzney wi)der allerley Gifft, wel(ches der) Stein Bezaar ist. In welchem seine wunderbarliche Würckungen und Tugenden mit der heylung in den Gifften angezeigt wirdt. Mit Wappenholzschnitt in Rot und Schwarz auf dem Titel. Konstanz, L. Straub 1589. Mod. HPgt. Kl.-8vo. 40 Bll. (d. l. w.)

VD 16, H, 3462. - Vgl. Durling 2518 (2. Ausgabe). - Nicht im BM STC und bei Adams. - Erste Ausgabe dieser ausgesprochen seltenen Schrift des Konstanzer Stadtarztes. Fehlt in den meisten medizinischen Sammlungen. Laut KVK nur 2 Exemplare nachweisbar (München und Mailand). - Behandelt die magische und entgiftende Wirkung des Bezoar- oder sogen. Magensteins. - Titel in Rot und Schwarz. - Etw. wasserfleckig, erste und letzte Bll. im Bund verstärkt bzw. ergänzt, Titel mit ergänzten Randabrissen (vo. und rc. etw. Textverlust, tlw. von Hand ergänzt).

First edition, scarce. Lacks in the most medical collections. Title with armorial woodcut in red and black. Mod. half vellum. - Some waterstaining, first and last leaf reinforced in the gutter, title with marginal torn outs (vo. and rc. loss of printed matter, partly supplied by hand).


180
Tractat Von der aller fürtrefflichsten ... Arzney. 1589
Sold:

€ 528 / $ 580
(incl. 20% surcharge)