Sale: 366 / Rare Books including Marine Art, May 17./18. 2010 in Hamburg

Lot 102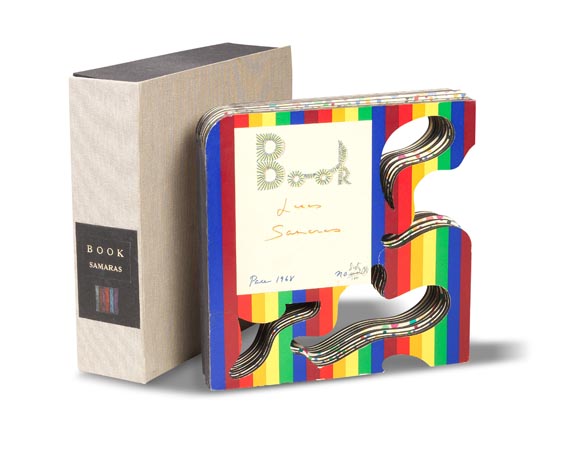 102
Book. 1968., 1936.
Estimate:
€ 2,500 / $ 2,975
Sold:

€ 3,480 / $ 4.141
(incl. 20% surcharge)
Lot description
Samaras, L., "Book". Buchobjekt mit 18 Orig.-Graphiken und -Collagen. [New York], Pace Editions 1963. 10 Kartonbll., mit Leinenstreifen zusammengefügt. Kl.-4to. (25,5 : 25,5 cm). In OLwd.-Kassette (sign. "T. C. Ely"), das mont. RSch. mit kl. Orig.-Farbstiftzeichnung von Ely.

1 von 100 num. Exemplaren, vom Künstler auf dem Titelschild num. und monogrammiert. - Das Buchobjekt besteht aus 10 Bll. Karton, gestaltet mit montierten Miniaturbroschüren und Faltobjekten. Als Drucktechniken wurden Lithographie, Serigraphie, Prägedruck, Thermographie und Farbschnitt verwendet. - Der US-amerikanisch-griechische Künstler Lucas Samaras (geb. 1936) wird der New Jersey School (C. Oldenburg) oder auch New Brunswick School of Painting (G. Segal) mit Künstlern wie Allan Kaprow, George Segal, George Brecht, Robert Whitman, Robert Watts, Geoffrey Hendricks and Roy Lichtenstein im Umkreis der Rutgers University in New Brunswick zugerechnet. Er war u. a. 1972 und 1976 auf der Documenta 5 und 6 als Künstler vertreten. Sein künstlerisches Spektrum umfaßt neben Malerei u. Bildhauerei auch Perfomance Art und Fotografie, bei der er sich auf verfremdete Selbstporträts spezialisiert, sowie Multimedia-Collagen. Ein Catalogue raisonné ist in Vorbereitung. - Erstes Kartonbl. mit 2 Knicken und kl. Einrissen im Bezug, das Faltobjekt auf dem 2. Karton mit kl. Einriß und einigen Knickfalten.

1 of 100 numb. copies, with number and monogr. by the artist. Book object with 18 orig. prints by L. Samaras with mounted miniature books and paper fold-outs. In orig. clamshell box (signed T. C. Ely) with small orig. drawing by Ely on label mounted on spine. - First leaf (with title label) with 2 creases and tears of paper, fold-out on the second leaf with small tear and a few creases.


102
Book. 1968., 1936.
Estimate:
€ 2,500 / $ 2,975
Sold:

€ 3,480 / $ 4.141
(incl. 20% surcharge)
More Images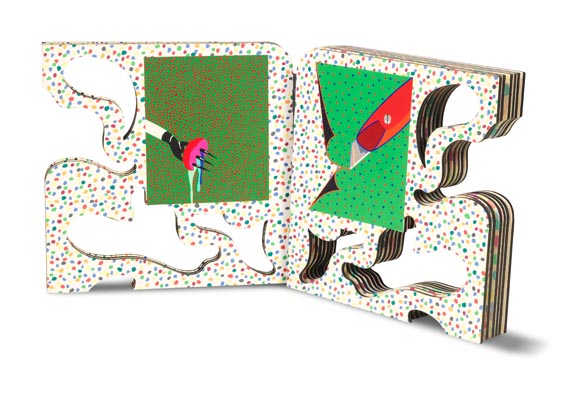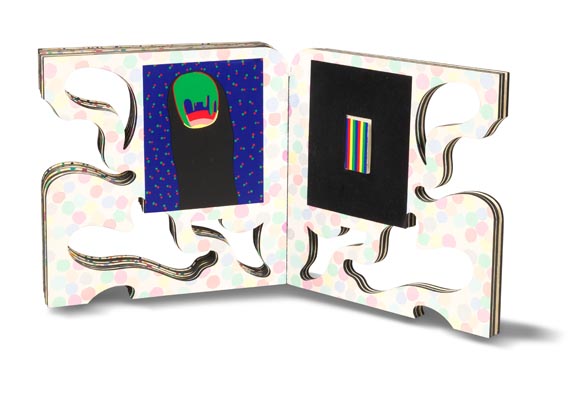 You might also be interested in