Sale: 366 / Rare Books including Marine Art, May 17./18. 2010 in Hamburg

Lot 30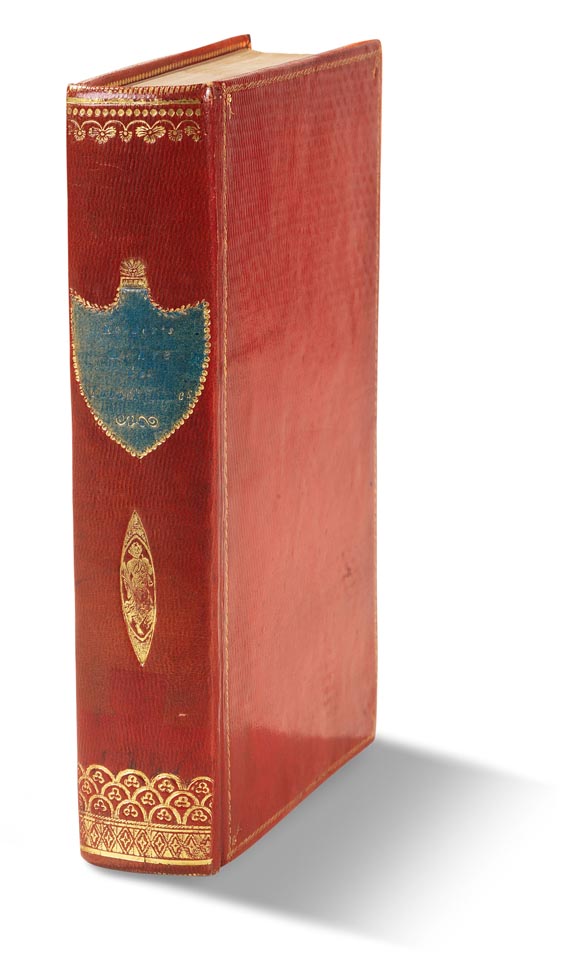 30
Lehre des Tabacksbaues. 1824
Sold:

€ 780 / $ 889
(incl. 20% surcharge)
Lot description
Reider, J. E. von, Die Lehre des Tabacksbaues und der gesammten Tabacksfabrikation. Ein Lehr- und Handbuch für Landwirthe, Fabrikanten, Kaufleute u. s. w. und alle, welche sich mit Tabacksbau, Tabacksveredlung und Tabacksverkauf abgeben. 2 Tle. in 1 Bd. Nürnberg und Leipzig, C. H. Zeh 1824. Zeitgenöss. roter Maroquinband mit RVerg., blauem RSch., goldgepr. Deckelbordüre, Steh- und Innenkantenverg. sowie Goldschnitt. 8vo. XII, 132 S.; IV, 208 S.

Arents 1315. - Nicht bei Dochnahl. - Erste Ausgabe. - Prachtexemplar dieses äußerst seltenen Handbuchs über Tabackanbau und Tabackverarbeitung. Kein Exemplar im JAP und im ABPC. - Behandelt im ersten Teil die verschiedenen Arten von Tabakspflanzen, Samen, Aussaat, Boden, Düngung, Aussetzen der Pflanzen, Feldfolge, Schädlinge und deren Bekämpfung, Bearbeitung, Witterung, Ernte und Erträge. Der zweite Teil über die Fabrikation mit Kapiteln zu Fermentieren, Sortieren, Blättermischungen, Beizen, Schneiden, den richtigen Zeitpunkt der Verarbeitung, Kennzeichen eines guten Tabaks, Fabrikation des Rauchtabaks, Dürren und Rösten, Saucieren und Saucierrezepte, Lagerung, Verpacken, Spinnen, Zigarrenherstellung, Färben, Schnupftabak, Puppen aus Tabak, Karottieren, Aufbewahrung, Maschinen und Instrumente bei der Tabakherstellung, Ingredienzen bei der Veredlung u. a. m. - Der Landgerichtsassessor und Gutsbesitzer zu Nedersdorf bei Staffelstein Jakob Ernst von Reider "war einer der fruchtbarsten Schriftsteller über Landwirthschaft und Gartenbau" (ADB XXVII, 683). - Tlw. minim. stockfleckig, Titel mit 2 alten Stempeln. Sehr gut erhaltenes Exemplar auf starkem, leicht bläulichem Papier. - 1 Beigabe (Brief eines Mitarbeiters vom United States Department of Agriculture, dat. 4. Sept. 1899; an einen "Collegen" bezügl. biochemischer Vorgänge beim Fermentieren).

Extremely rare handbook on the cultivation and manufacture of tobacco. First edition. Magnificent copy on strong, slightly blueish paper, bound in contemp. red morocco with gilt spine, col. label, inside gilt border and gilt edges. - Title with 2 old stamps, here and there minor foxing. - 1 addition (letter from 1899 concerning biochemical processes of fermentation).


30
Lehre des Tabacksbaues. 1824
Sold:

€ 780 / $ 889
(incl. 20% surcharge)
More Images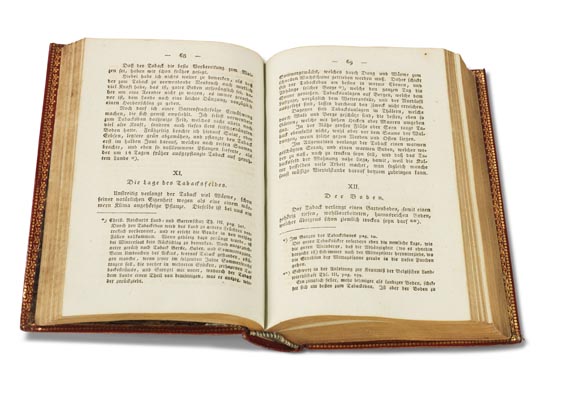 You might also be interested in

Jakob Ernst Reider - lots sold by Ketterer Kunst