Sale: 366 / Rare Books including Marine Art, May 17./18. 2010 in Hamburg

Lot 317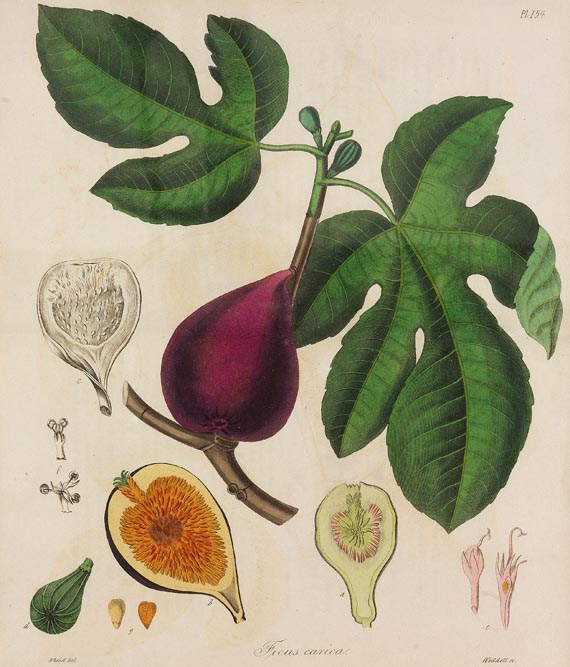 317
Medical Botany, 1853, 4 Bde.
Sold:

€ 1,140 / $ 1.356
(incl. 20% surcharge)
Lot description
Stephenson, J. und J. M. Churchill, Medical botany; or, illustrations and descriptions of the medicinal plants of the London, Edinburgh, and Dublin pharmacopoeias comprising a popular and scientific account of poisonous vegetables indigenous to Great Britain. New edition, ed. by G. T. Burnett. 3 Bde. Mit 187 kolor. Kupfertafeln (7 doppelblattgr.). London, J. Churchill 1834-36. - Dabei: Ders. , Medical zoology, and mineralogy; or illustrations and descriptions of the animals and minerals employed in medicine .. Mit 46 (44 kolor.) Kupfertafeln. Ebd. 1838. - Einheitl. grüne HLdr. d. Zt. mit RSch. und marmor. Schnitt. Gr.-8vo.

I: Plesch Coll. 719. - Vgl. Nissen, Bot. 1891. - "The plates, particulary those by Clark, are an attractive series; they are restrikes of those in the 1827-31 edition with the imprints .. erased" (Plesch). - II: Nissen, Zool. 3995. - Horn/Schenkling 21421. - Vgl. Agassiz IV, 379. - Die doppelblattgr. Tafeln von Tl. I meist knapp beschnitten (wie meist), Tl. II tlw. minim. gleichmäßig gebräunt oder unbedeut. stockfleckig. Gelenke tls. restauriert und Rücken etw. fleckig. Innen prachtvoll erhalten und sehr sauber , die dekorativen Tafeln in kräftigem Kolorit.

Fine set, uniform bound in green half claf with labels. Comprising 3 vols. "Medical Botany" with 187 colored copperplates (7 double-page) and 1 vol. "Medical Zoology" with 46 (44 colored) copperplates. - The double-page plates cropped close as usual, the plates of the 2nd part minim. evenly browned in places. Joints partly restored, spine with some stainining. Inside fine and clean copy, the beautiful plates in fine coloring.


317
Medical Botany, 1853, 4 Bde.
Sold:

€ 1,140 / $ 1.356
(incl. 20% surcharge)
More Images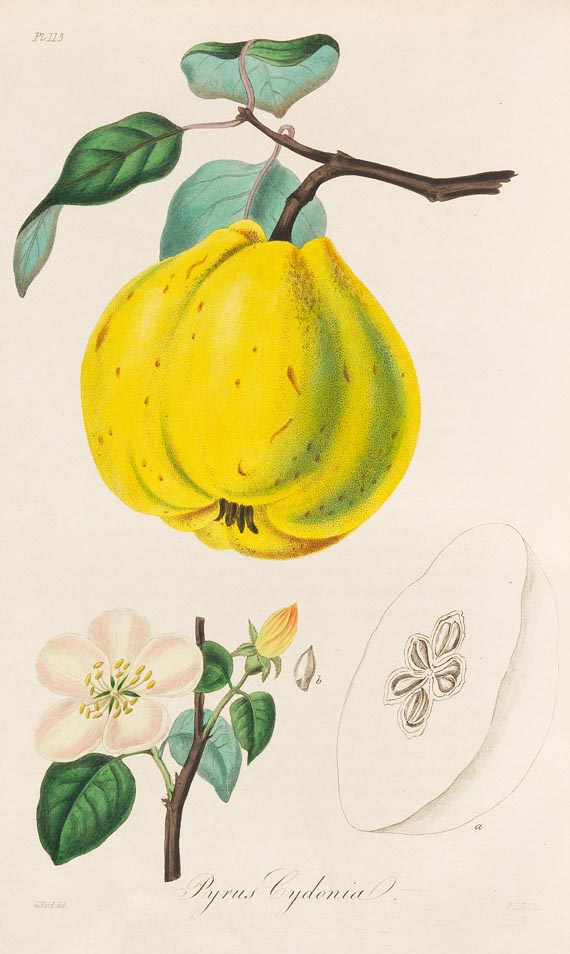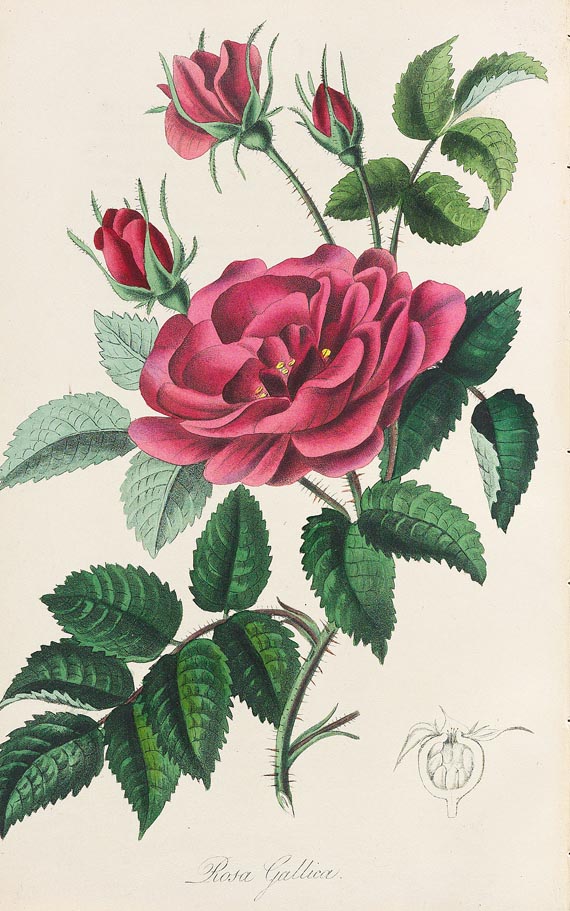 You might also be interested in

John Lloyd Stephens - lots sold by Ketterer Kunst