Sale: 366 / Rare Books including Marine Art, May 17./18. 2010 in Hamburg

Lot 23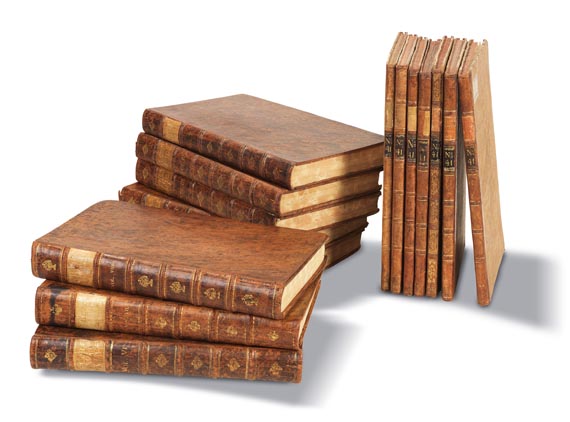 23
Flora Danica, 1766, 29 Hefte in 15 Bdn., 1716.
Estimate:
€ 15,000 / $ 16,500
Sold:

€ 27,600 / $ 30.360
(incl. 20% surcharge)
Lot description
Flora Danica. - Icones plantarum sponte nascentium in regnis Daniae et Norvegiae, in ducatibus Slesvici et Holsatiae, et in comitatibus Oldenburgi et Delmenhorstiae .. Florae Danicae nominae inscriptum. Hrsg. von G. C. Oeder u. a. - (Bd. IV-V unter dem Titel: Aftegninger paa de planter). - Hefte I-XXIX (von 51) in 15 Bdn. Mit 1860 (1563 kolor.) Kupfertafeln (ca. 20 gefaltet). Kopenhagen, (Hefte I-IX:) C. Philibert, (Hefte X-XV:) M. Hallager und (Hefte XVI-XXIV:) N. Möller sowie (ab Heft XXV:) Schultz 1766-1825. Ldr. d. Zt. mit RSch. und reicher RVerg. sowie (ab Heft XXV) HLdr. d. Zt. mit 2 RSch. Folio.

Vgl. Nissen 2249; Pritzel 6799; Sitwell/Blunt S. 124; De Belder 259; Dunthorne 218. - Vollständige dänische Ausgabe der ersten 29 Hefte des bedeutendsten botanischen Werkes Skandinaviens, noch heute die umfassendste Darstellung der dänischen, norwegischen und norddeutschen Pflanzenwelt. - Hrsg. von G. C. Oeder (Hefte I-IX), O. Fr. Müller (Hefte X-XV), M. Vahl (Hefte XVI-XXI) und J. W. Hornemann (Hefte XXII-XXIX). - Das komplette Werk erschien 1761 bis 1883 in 17 Bänden und Supplementband. Der Herausgeber der ersten 9 Hefte, der Ansbacher Arzt Chr. G. Oeder, war zur Gründung eines Botanischen Garten und einer ausführlichen Beschreibung der dänischen Flora 1752 nach Kopenhagen geholt worden, mußte die Vollendung des Werkes jedoch später abgeben. Die schönen Tafeln stammen u. a. von Martin und Michael Rößler aus Nürnberg, die Oeder auch auf seinen botan. Reisen begleiteten. "Ihre Figuren verbinden mit großen ästhetischen Vorzügen, die bei der meisterhaft gehandhabten Radiertechnik noch besonders zum Ausdruck kommen, eine bis ins letzte gehende wissenschaftliche Genauigkeit, so daß sie zu den Besten ihrer Art gehören, nicht nur innerhalb des Werkes .. sondern überhaupt." (Nissen S. 227). - "One of the greatest botanical publications undertaken, and still the greatest and most comprehensive pictorial survey of Scandinavian flora" (De Belder). - Vereinz. im Rand etw. fleckig, Taf. tlw. mit Bezeichnungen in Korrekturstift unterh. des Plattenrandes, einige großflächige Taf. im Plattenrand knapp beschnitten, stellenw. verbunden, 1 Buchblock etw. angebrochen, 2 Zwischentitel entfernt. Einbde. stellenw. mit kl. Beschabungen und bestoßen sowie tlw. mit kl. Ausbesserungen (meist im Kapital- und Eckbereich). Die HLdr.-Bände mit 2 durchgeh. Nagelspuren im unt. R., 1 Bd. mit späterer Fadenbindung. - 2 Exlibris (Wappenexlibris von 1940 und Holzschnitt-Exlibris von Signe & Olof Lamm). - Insgesamt schönes sauberes Exemplar mit den Kupfertafeln in kräftigen Abdrucken.

Complete Danish edition of first 29 issues of this magnificent botanical work about the Scandinavian and North German Flora. With 1860 (arround 1560 colored) engr. botanical plates (20 folding). Contemp. calf with label and gilt spine (8) and contemp. half calf with 2 labels (7). - Here and there stained, plates partly with annotation (in correction pencil) bellow the platemark, some plates cropped close in the platemark, some plates misbound, 1 inner book slightly broken. Bindings partly scraped and bumped and with repairs (mostly at extremities of spine and corners), half calf bindings with 2 traces of nailing (throughout), 1 vol. with later stiched binding. - Overall a fine clean copy with the plates in strong impressions. Ex libris.


23
Flora Danica, 1766, 29 Hefte in 15 Bdn., 1716.
Estimate:
€ 15,000 / $ 16,500
Sold:

€ 27,600 / $ 30.360
(incl. 20% surcharge)
More Images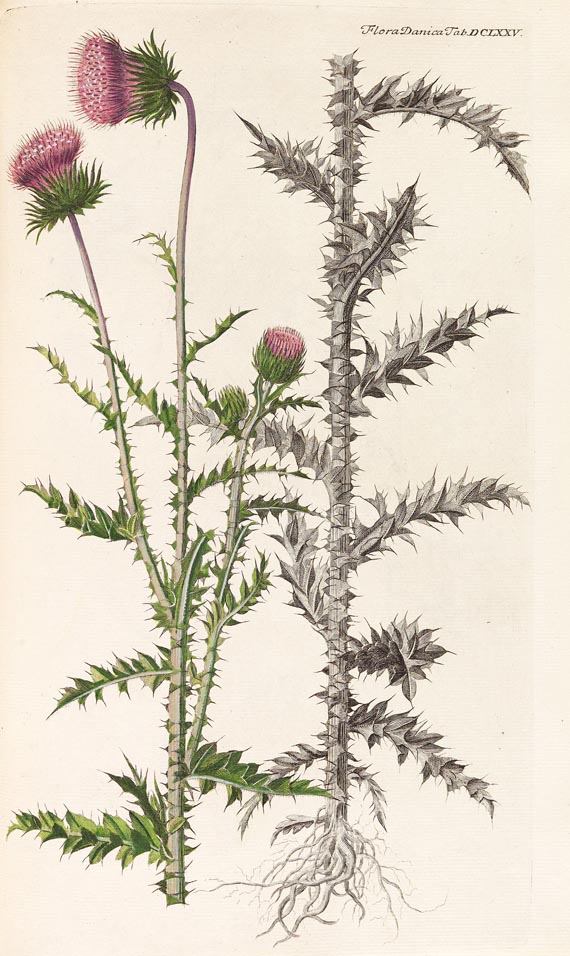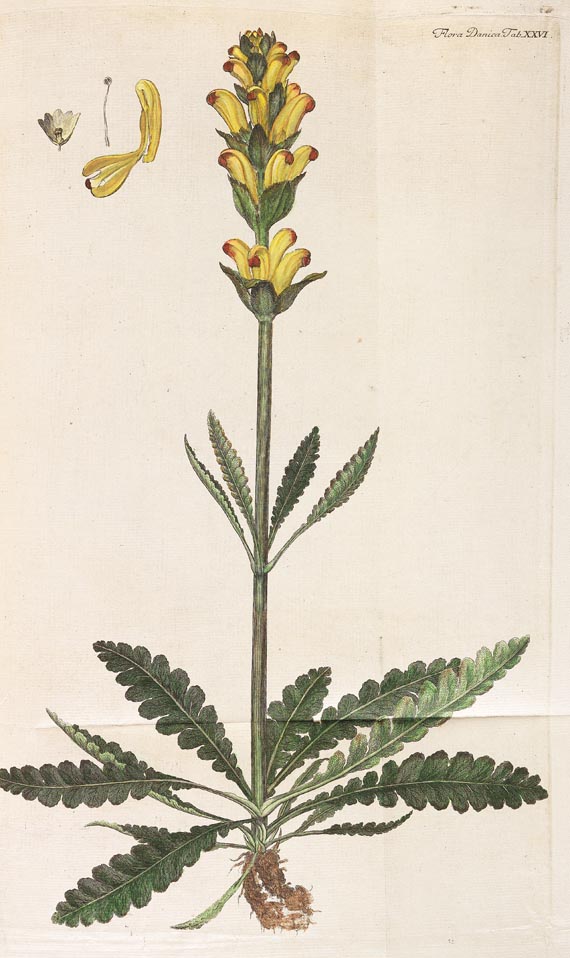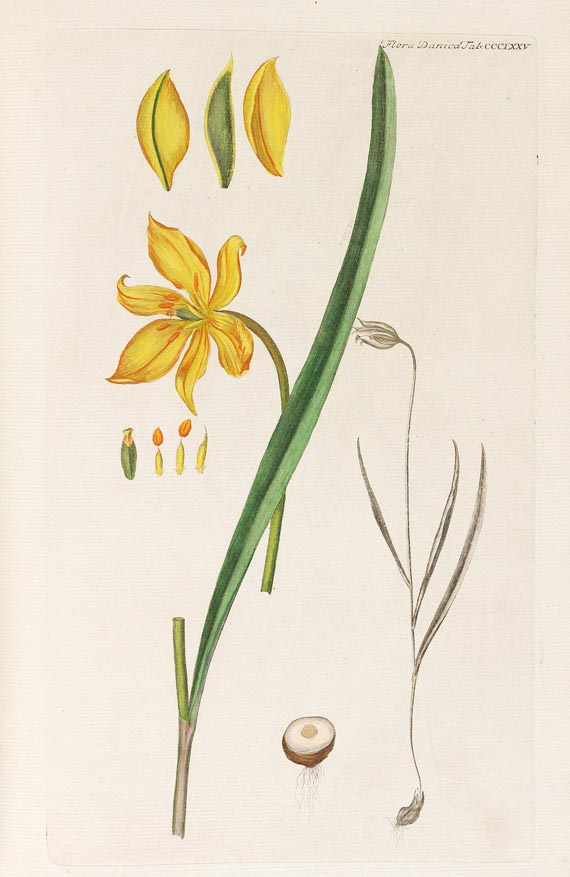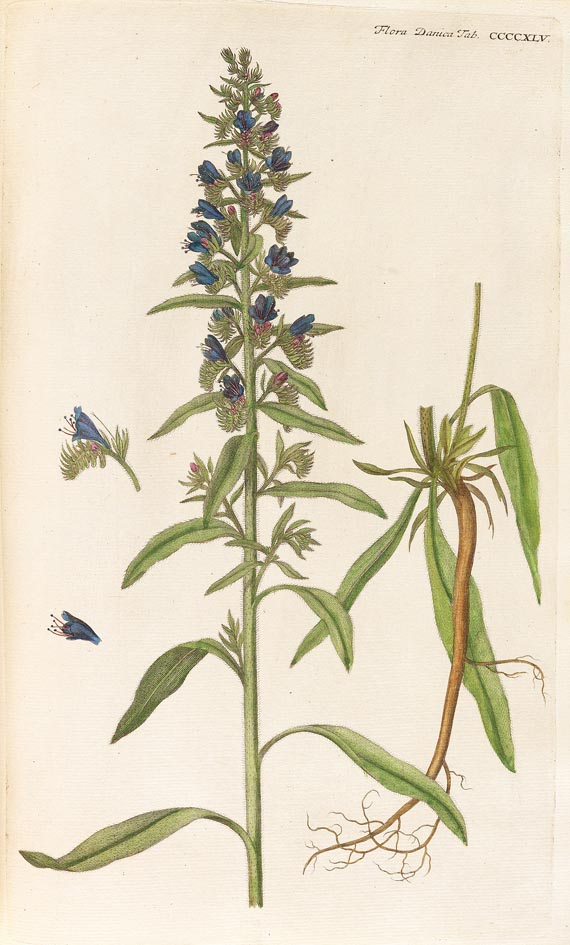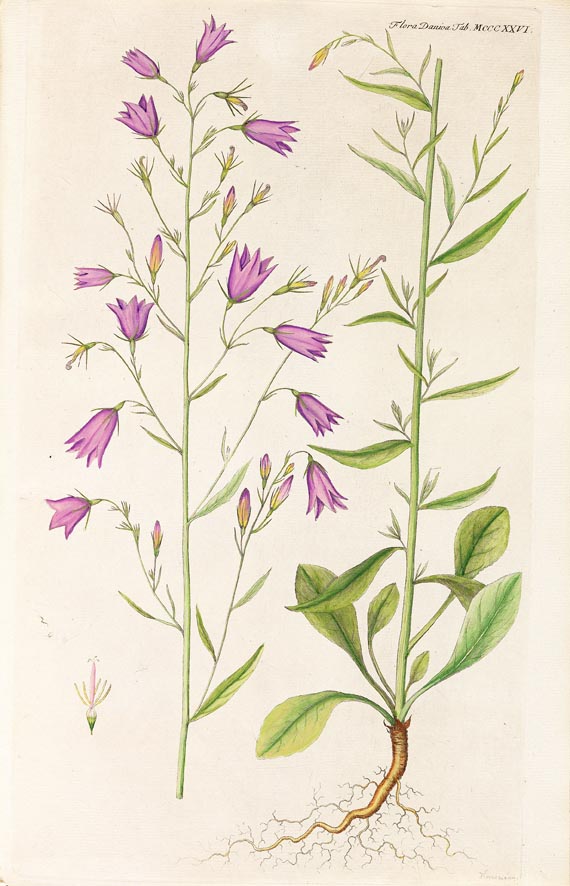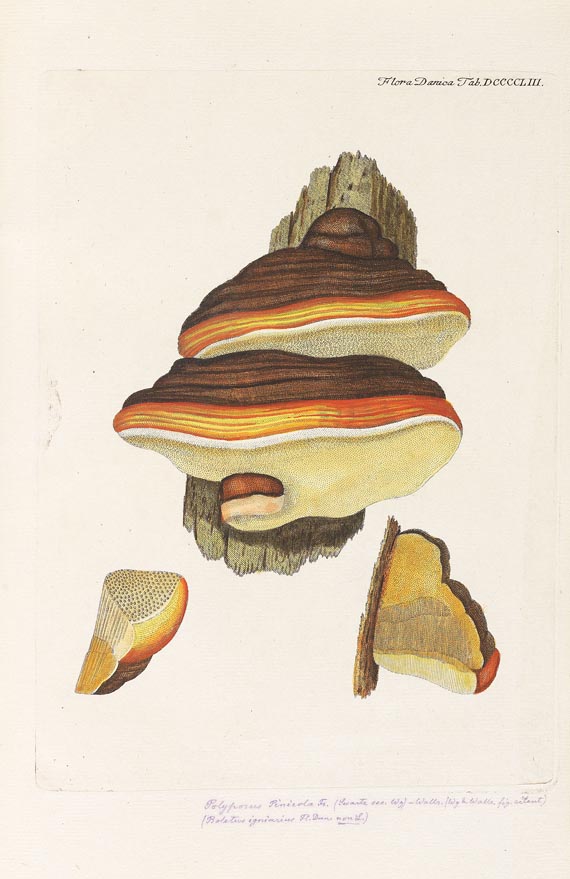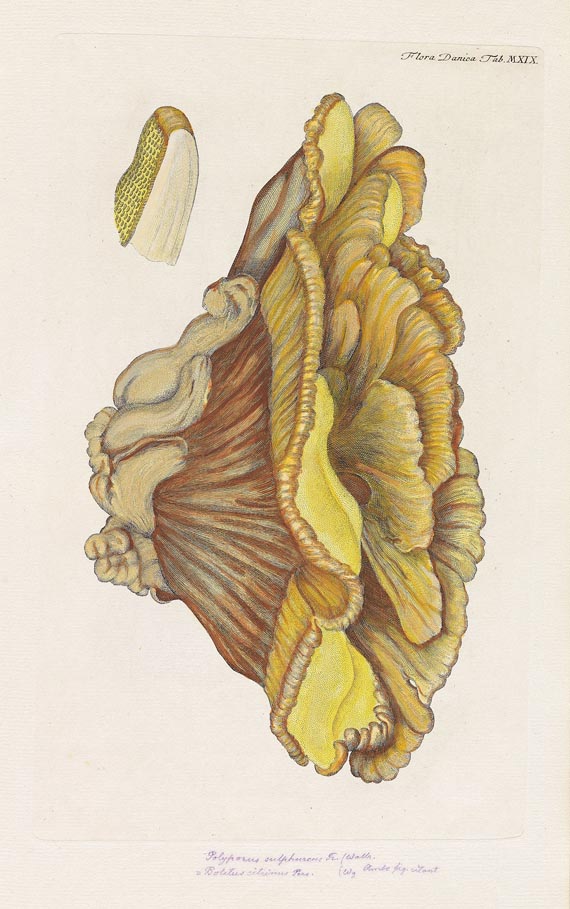 You might also be interested in

Georg Christian Oeder - lots sold by Ketterer Kunst