Sale: 366 / Rare Books including Marine Art, May 17./18. 2010 in Hamburg

Lot 530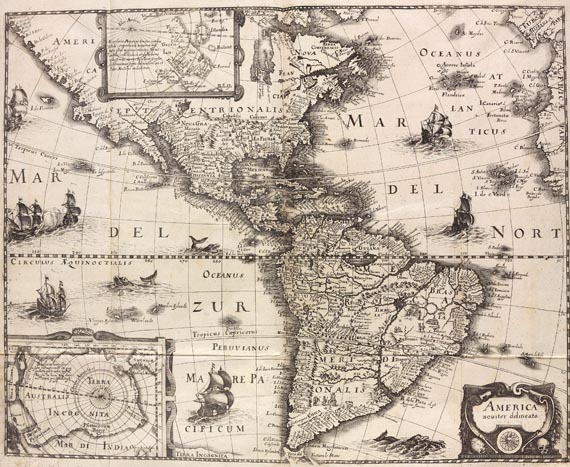 530
Newe Welt u. Amerikanischen Historien. 1655
Estimate:
€ 6,000 / $ 7,140
Sold:

€ 6,000 / $ 7.140
(incl. 20% surcharge)
Lot description
Gottfried, Joh. L., Newe Welt und Americanische Historien. Inhaltende Warhafftige und vollkommene Beschreibungen Aller West-Indianischen Landschafften, Insulen, Königreichen und Provintzien .. 3 Tle. in 1 Bd. Mit gest. alleg. Titel , 173 halbseit. Textkupfern (von 174) und 5 gefalt. bzw. doppelblattgr. Kupfertafeln und -karten (von 8). Frankfurt, Merian Erben 1655. Pgt. d. Zt. über Holzdeckeln. Folio. 3 Bll., 660 (st. 662) S., 1 B.

Alden/Landis 1655/74. - Sabin 50 (unter Abelin). - Borba de Moraes I, 372. - Brasilien-Bibl. Bosch 78. - Berger S. 204. - Leclerc 265. - J. Carter Brown Libr. II, 443. - Wüthrich III (Merian), 295. - Zweite Ausgabe des bedeutenden Werkes über Amerika . Wurde lange Zeit J. Ph. Abelin zugeschrieben, bis Gallati 1902 die Autorschaft Gottfrieds nachwies. "Dieser Auszug aus den Großen Reisen der de Brys .. erschien gleichzeitig oder unmittelbar nach dem 14. Band der deutsche Ausgabe jener Reihe." (Brasilien-Bibl.) - "It contains a resumé of the Histories of Acosta, Oviedo, Peter Martyr, Herrera, Laet, &tc. An account of 33 voyages to America, from Columbus to Spilbergen and Schouten; notices of the expeditions of Lemaire and Peter Heyn, the conquests of Brazil by the Dutch, and descriptions of Greenland and Spitzbergen. The first edition was published in 1631" (Sabin). - "As we can see, the Newe Welt is an important and sumptuous work. It is much searched for, expensive and rare" (Borba de Moraes). - Die Angabe der Tafelzahl variiert in der Literatur; insges. gibt es 8, die meisten Exemplare enthalten jedoch nur 5-7. Das vorlieg. Exemplar enthält die Karten von Amerika mit den Nebenkarten der Arktis und Antarktis, Virginia, Magellanstraße mit Eingeborenen, Nord-Brasilien sowie die Ansichten von Olinda und Olinda de Pernambuco (auf 1 Karte). - Fehlt S. 267/268. - Gest. Titel mit hinterl. Einrissen, BrasilienkarteTitel mit rotem Namensstempel. Einbd. restauriert, Vorsätze und Schließen erneuert.

Second edition. With engr. title, 173 half-page engravings (of 174) and 5 (folding and double-page) copperplates and -maps showing America, Virginia, Fretum Magellanicum, Brazil and Olinda & Pernambuco. Rebound contemp. vellum over wooden boards. - Engr. title with restored tears, map of Brazil with small defective spot (affecting printed matter, backed), title with red owner's stamp. Endpapers and brass clasps renewed.


530
Newe Welt u. Amerikanischen Historien. 1655
Estimate:
€ 6,000 / $ 7,140
Sold:

€ 6,000 / $ 7.140
(incl. 20% surcharge)
More Images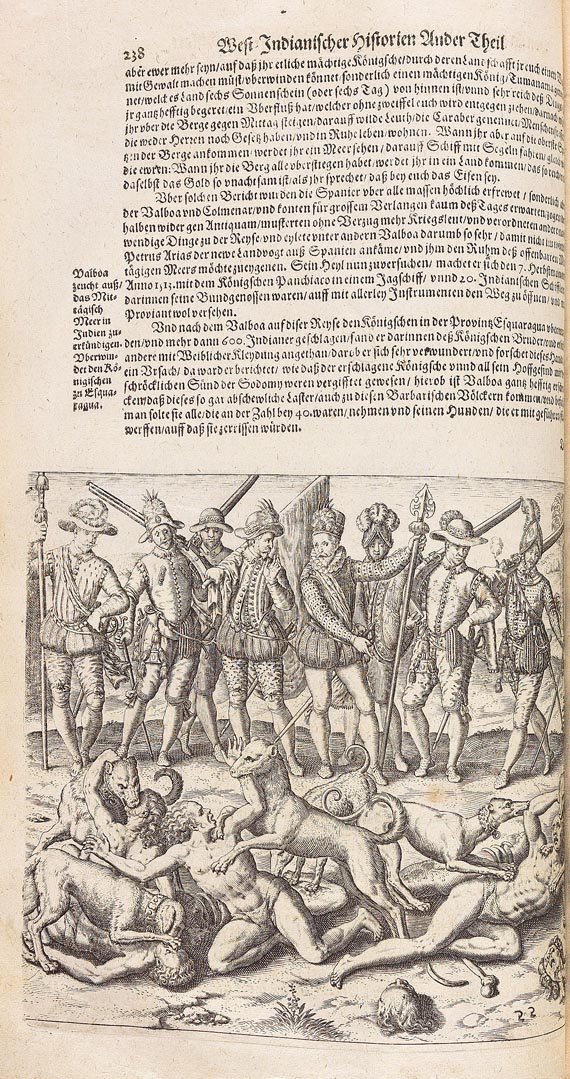 Johann Ludwig Gottfried - lots sold by Ketterer Kunst