Sale: 366 / Rare Books including Marine Art, May 17./18. 2010 in Hamburg

Lot 49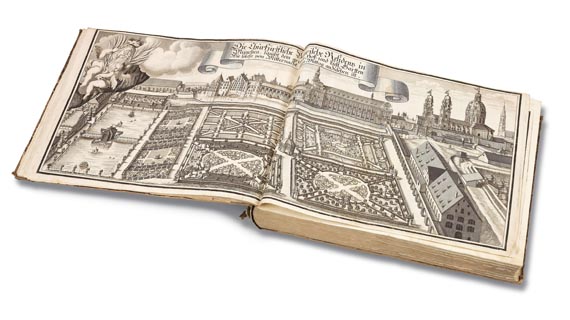 49
Topographia bavariae 1701-1726, 4 Bde.
Estimate:
€ 12,000 / $ 14,040
Sold:

€ 10,200 / $ 11.934
(incl. 20% surcharge)
Lot description
Wening, M. Historico-topographica descriptio. Das ist: Beschreibung, deß Churfürsten- und Hertzogthums Ober- und Nidern Bayrn. Welches in vier Theil oder Renntämbter, alls Oberlandts München und Burgkhausen, Underlandts aber in Landshuet unnd Straubing abgetheilt ist. 4 vols. With 4 engr. illustrated titels and 612 partly double page copper plates (of 634) as well as 2 copperplates (rep.; of 4). Munich, J. L. Straub 1701-26. Contemp. calf with gilt-tooled monogram "C. S." on boards and blind-tooled date "1727" (3) and later half cloth. Oblong folio.Fauser LXXX. - Pfister 804 - Lentner 4500. - First edition of the comprehensive topographic work on Old Bavaria. The first literary-artistic work, released at the State's suggestion, which is how the exclusion of Upper Palatinate from the bursaries can be explained. "The bursaries of Wening with their numerous neat views are the most interesting topographic work regarding Old Bavaria . Complete copies are hard to find, their prices continue to increase" (translation of quote from Lentner). The nice coppers show many monasteries, fortifications and castles that are not in existence any longer.Incomplete, as so often, increased by further plates that are not mentioned in table of contents. Collation of plates after table of contents and Pfister: Part I: Das Renntambt München. With 241 copperplates (of 258). Lacking text and table of contents. - Part II: Das Renntambt Burgkhausen. With 75 copper plates (of 78). 3 ll., 35 pp., 1 l. - Part III: Das Rennt-Ambt Landshuet. With 190 copper plates (of 193). 3 ll., 90 pp., 4 ll. - Part IV: Das Renntambt Straubing. With 106 copper plates (of 105). 3 ll., 68 pp., 2 ll.Vols. II-III lacking the monastery Alten-Hochenau, monastery Gars, castle Oberndorff and castle Salomonskirchen, as mentioned in table of contents, however, additionally with castles Brürz (?), Tulpach, Fürt, Klugheim, castle Auroltzmünster (2nd view), castle Sigharling, castle Halbernkirchen and Markt Zwisel/Adlmanstain. Vols. II-III in oblong folio edition with plates in excellent impression before numbering and in plano, vol. I presumably originally bound in quarto (title leaf in quarto). - Partly stained and with numerous re-backed marginal blemishes, ca. 30 plates with coppers mounted on rear, most from other works (partly defective). Ca. 10 plates cut out and re-mounted, few plates cropped close in the margin (minimal loss of printed matter), some entries in red, engr. title stamped in upper left, typogr. title stamped in lower right margin. Vol. I. lacking text and map, 4 plates (with 4 illustrations) cut in center and bound in as half-page plates. Calf bindings scraped and scuffed, 1 front board with remains of seal wax, spine with blemishes, half cloth binding with traces of use. Modern woodcut bookplate.
49
Topographia bavariae 1701-1726, 4 Bde.
Estimate:
€ 12,000 / $ 14,040
Sold:

€ 10,200 / $ 11.934
(incl. 20% surcharge)
More Images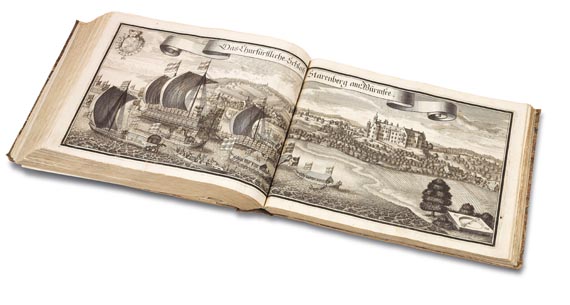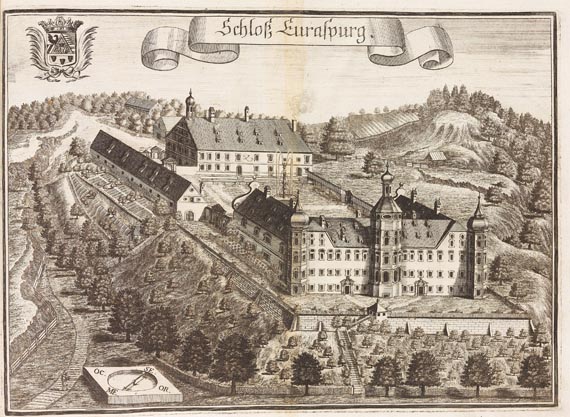 You might also be interested in

Michael Wening - lots sold by Ketterer Kunst