Sale: 366 / Rare Books including Marine Art, May 17./18. 2010 in Hamburg

Lot 292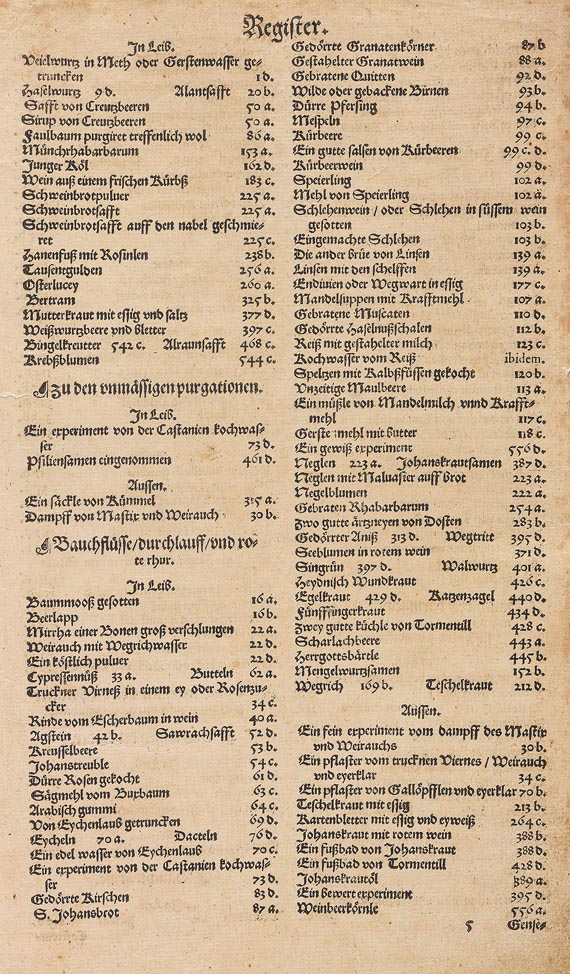 292
Kräuterbuch 1563
Estimate:
€ 4,000 / $ 4,400
Sold:

€ 3,600 / $ 3.960
(incl. 20% surcharge)
Lot description
Matthiolus, P. A., New Kreüterbuch. Mit den allerschönsten und artlichsten Figuren aller Gewechsz .. Folgendts durch G. Handsch verdeutscht. Mit 796 kolor. Holzschnitten (von 810) und 2 kolor. Holzschnitt-Druckermarken . Prag, G. Melantrich und Venedig, V. Valgrisi 1563. Ldr. d. 19. Jhs. mit etw. RVerg. und blindgepr. Deckelbordüren. Folio. 25 (st. 33) nn. Bll., 567 (st. 575) num. Bll., 5 Bll.

Nissen, Bot. 1310. - Nissen, Kräuterb. S. 67. - Schreiber S. XLIV. - Heilmann S. 262. - Pritzel 5989 (dat. 1562). - Hunt 91. - Erste deutsche Ausgabe, mit den erstmals für die tschechische Ausgabe (1562) erheblich vergrößerten Holzschnitten (meist ca. 21 : 15 cm), die vermutlich von W. Meyerpeck, Freiberg (namentl. Nennung auf Bl. 469vo.) angefertigt wurden. Alle späteren deutschen Ausgaben wurden von Camerarius ediert und mit anderen Illustrationen versehen, Drucker war Feyerabend in Frankfurt. - Zahlr. Bll. verbunden, 5 Bll. der Epistola (aus Vorstücken) am Ende eingebunden. - Ohne die Bll. 44, 345-346, 435, 555-556 und 574-575. - 8 Bll. der Vorstücke von alter Hd. ergänzt, 1 Bl. mit Zeichnungen von alter Hd. zwischengebunden. - Fleckig, Kolorit meist durchschlagend, zahlr. Bll. mit Randeinrissen und Randläsuren (bes. zu Beginn und am Ende, meist ergänzt, tlw. mit Bild-/Textverlust), Druckermarke knapp ausgeschnitten und neu aufgezogen, tlw. mit Anmerkungen von alter Hand, Bindung zu Beginn und am Ende gelockert.

First German edition. With 796 col. woodcuts (of 810) and 2 col. woodcut printer's devices. - Numerous leaves disbound, 5 ll. of Epistola (prelim. leaves) bound at the end. Lacking leaves 44, 345-346, 435, 555-556 and 574-575. 8 of the prelim. leaves supplemented by old hand, 1 leaf with etching by old hand bound in. - Staining, colors mostly shining through, numerous leaves with marginal tears and defects (mostly at beginning and end, partly rebacked, partly with loss of illustration and text), publisher's imprint cropped close and mounted, here and there marginalia by old hand, at the beginning and end shaken.


292
Kräuterbuch 1563
Estimate:
€ 4,000 / $ 4,400
Sold:

€ 3,600 / $ 3.960
(incl. 20% surcharge)
More Images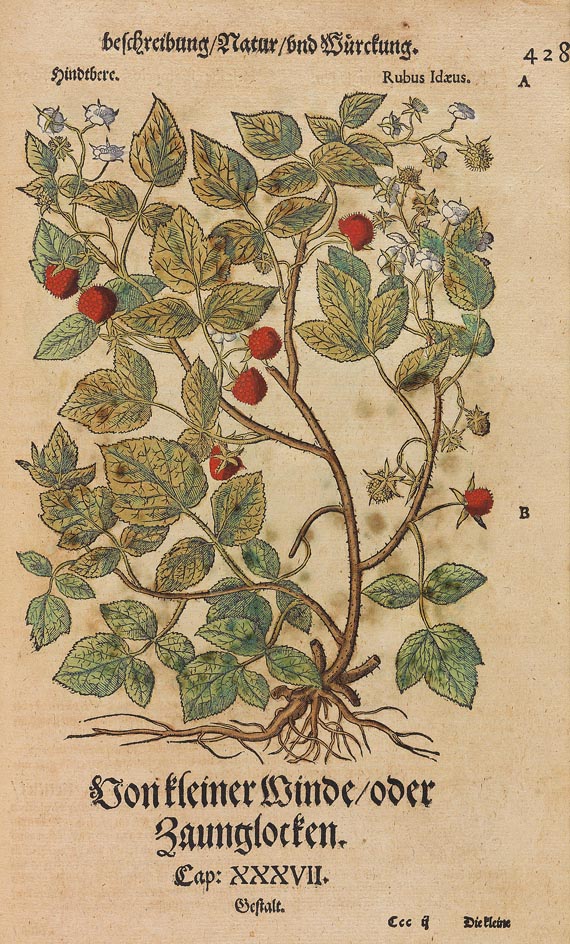 You might also be interested in

Pietro Andrea Matthiolus - lots sold by Ketterer Kunst