Sale: 366 / Rare Books including Marine Art, May 17./18. 2010 in Hamburg

Lot 48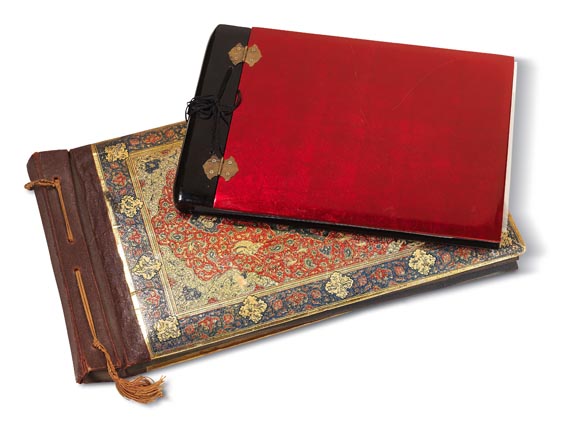 48
Sammlung Fotografien u. Reisedokumente. Zus. 4 Alben/Hefter., 1925.
Estimate:
€ 5,000 / $ 5,950
Sold:

€ 6,000 / $ 7.140
(incl. 20% surcharge)
Lot description
Hedin. - Collection of ca. 260 orig. photographs , 27 negatives and several travel documents of a Swedish-Chinese-German expedition led by Sven Hedin. Around 1925-1930. Photographs in lacquer album, half calf albzm with richly decorated paper covering in a oriental style and in transparent envelope, documents loosely attached. Oblong folio.Comprehensive documentation of one of the modern age's greatest expeditions. The Chinese-Swedish expedition to Central Asia, initiated by Sven Hedin, took place from 1926 to 35 under participation of Chinese, Swedish and German scholars of various disciplines. The result was, among others, an extensive exploration and mapping of the desert Gobi, the Tarim Basin, the Tian Shan and of North Tibet. - The collection, which covers the years from 1925 to 30, is from the estate of one of the expedition's co-organizers and participants, Eduard Zimmermann, retired major, who went to Beijing and to the expedition's destination in 1925, returning to Germany in 1930. The photographs (mostly in a size of 8 : 11 cm, some up to 11 : 17cm) show numerous interesting impressions, mainly of desert and mountain landscapes, sacral buildings and squares, native people in their housing and their everyday duties, caravans, as well as the expedition team (with S. Hedin) during the journey and in the camp, measuring and taking photographs, hunting and shooting, cutting hairs etc. - Additionally contains, among others, 1 autographed and signed note by S. Hedin to Zimmermann (in German, no place and date), as well as 1 typed contract between Zimmermann and Hedin with autographed signature (Ti hwa, Nov. 1928, 2 1/4 pp.) on the working conditions as Hedin's personal assistant for the duration of the expedition. - Typescript attached (carbon copy) Tagebuch-Aufzeichnungen. Quer durch die Gobi-Wüste nach Chinesisch-Turkestan by N. Belkievich, April-October 1925, 60 numb. ll. - 1 addition. - An overall very interesting documentation of the, journey in good condition.Interesting and comprehensive collection of about 260 photographs, 27 negatives and some documents on the Chinese-Swedish expedition 1926-35 to Mongolia, Gobi and North Tibet under the direction of Sven Hedin, from the possession of a member of the expedition, covering the period of 1925-30. Containing also an autograph letter, signed, by Hedin addressed to this member, a former major and his personal assistant during the expedition. In two contemporary ornamental albums and loose photographs. - All in all well preserved interesting documentation.
48
Sammlung Fotografien u. Reisedokumente. Zus. 4 Alben/Hefter., 1925.
Estimate:
€ 5,000 / $ 5,950
Sold:

€ 6,000 / $ 7.140
(incl. 20% surcharge)
More Images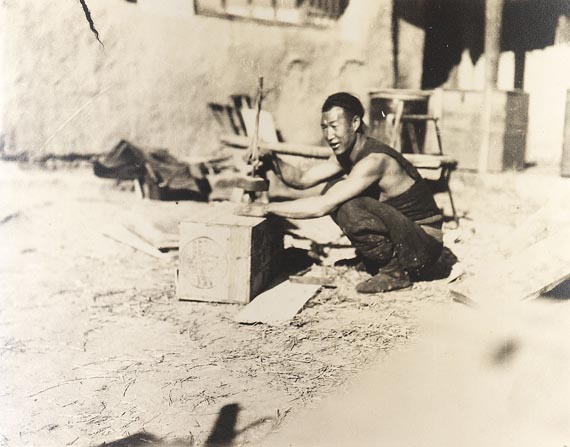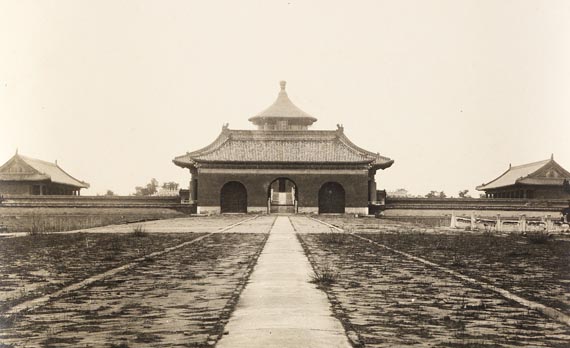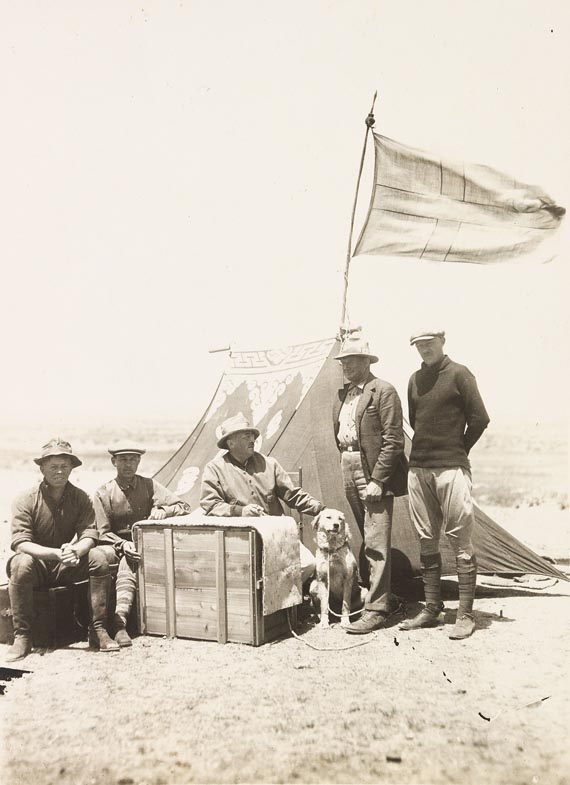 Sven Hedin - lots sold by Ketterer Kunst