Sale: 366 / Rare Books including Marine Art, May 17./18. 2010 in Hamburg

Lot 1282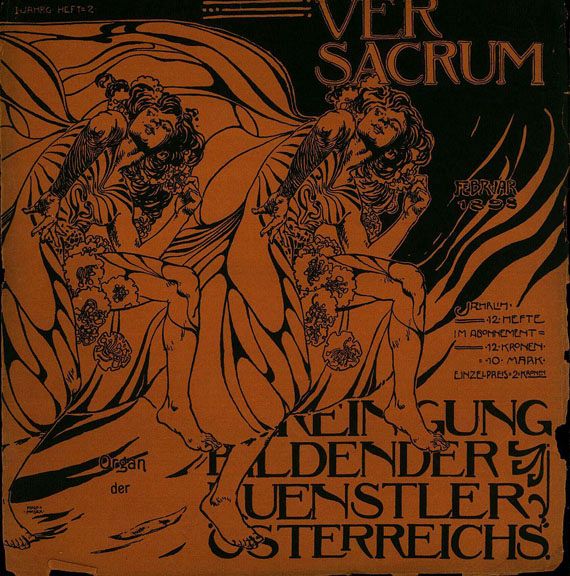 1282
Ver Sacrum 2 Jgge. 1898-1901.
Sold:

€ 720 / $ 842
(incl. 20% surcharge)
Lot description
Ver Sacrum. Organ (ab Jg. III: Mitteilungen) der Vereinigung Bildender Kuenstler Österreichs. Jgge. I und III (von 6), 29 Hefte (st. 36) in 2 Bdn. Mit 5 Orig.-Graphiken von F. Andri (2), W. Laage, R. Jettmar, W. List sowie zahlr. tlw. farb. Tafeln und Abbildungen. Wien, Gerlach & Schenk u. a. 1898-1901. Illustr. OU in OHLdr.-Decken. 4to.

Garvey/Wick 120. - Schauer I, 40. - Schlawe I, 59/60. - Reed 37. - Hofstätter S. 219ff. - Bedeutende Wiener Jugendstil-Zeitschrift, die neben dem Pan zu den schönsten Publikationen dieser Epoche gehört. - Während der erste Jahrgang vor allem Kunst- und Kulturbeiträge enthält, wird die Zeitschrift ab dem dritten Jahrgang in bescheidenerem Format als Mitteilungen weitergeführt. Zu den künstlerischen Mitarbeitern gehörten u. a. J. Hoffmann, G. Klimt und K. Moser. - "One of the most significant journals of the period." (Garvey/W.) - Heft 7 in Jg. I als Dublette vorhanden. - Es fehlen die Hefte 1, 3 und das Sonderheft in Jg. I sowie die Hefte 1, 5, 6, 21 und 22 im Jg. III. - Jg. I tlw. leicht gebräunt, 4 Bll. und hint. OU in Heft 9 mit Randabriß, Jg. III stellenw. leicht fleckig. Umschläge von Jg. I mit tlw. stärkeren Randläsuren, Rücken beschädigt. Die Einbanddecken mit starken Gebrauchsspuren.


1282
Ver Sacrum 2 Jgge. 1898-1901.
Sold:

€ 720 / $ 842
(incl. 20% surcharge)