Sale: 366 / Rare Books including Marine Art, May 17./18. 2010 in Hamburg

Lot 138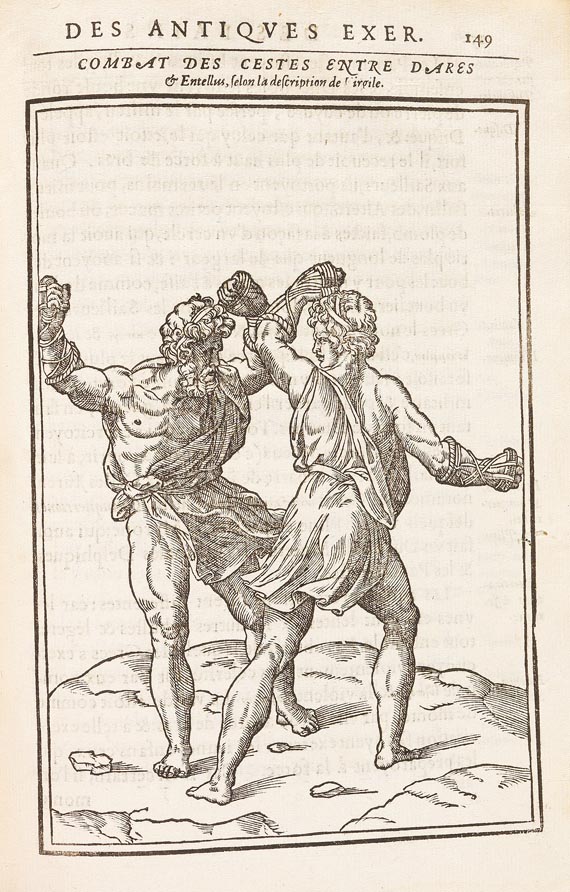 138
Religion des anciens Romains. 1567
Sold:

€ 288 / $ 316
(incl. 20% surcharge)
Lot description
Du Choul, G., Discours de la religion des anciens Romains. De la castrametation & discipline militaire d'iceux. Des bains & antiques exercitations Grecques & Romaines. 2 Tle. in 1 Bd. Mit zahlr. tlw. ganzseit. Textholzschnitten und 2 Holzschnitt-Druckermarken (wdh.). Lyon, G. Rouillé 1567. Kalbldr. d. 18. Jhs. mit RVerg. und goldepr. Wappensupralibros. 4to. 339 S., 28 Bll.; 154 S., 5 Bll.

Adams D 1025. - BM STC, French Books S. 142. - Baudrier IX, 312. - Cockle 702 Anm. - Vgl. Mortimer 181. - Reich mit schönen Holzschnitten illustriertes Werk zu den Altertümern der Römer und Griechen, erstmals 1555-56 erschienen. Enthält im ersten Teil zahlr. Abbildungen aus antiken Reliefs, Grabmälern, Münzen etc., im zweiten Teil meist ganzseitige Holzschnitte (laut Baudrier P. Eskrich zugeschrieben) mit römischen Legionären zu Fuß und zu Pferd mit ihren Feldzeichen und Waffen, Faustkämpfer, vornehme Römer im Bad usw. - Ca. 15 Bll. mit kl. Wurmspur (tls. Buchstabenverlust), vereinz. mit schwachem Wasserrand. VGelenk gebrochen, Kanten vereinz. ausgebessert, Vorsätze erneuert. Sonst gutes, innen sauberes Exemplar. Wappen-Exlibris F. G. Perry Vidal.

Finely illustrated work on Roman and Greek antiquities, first publ. 1555 also by Rouillé. 2 parts in 1 vol. With 2 woodcut printer's devices (rep.) and numerous, partly full-page woodcuts in text, ascribed to P. Eskrich. 18th cent. calf with gilt spine and gilt armorial centrepiece. - About 15 leaves with small wormtrace (partly loss of letters), here and there with small waterstain. Front joint broken, few spots at edges mended, endpapers renewed. Else good, inside clean copy. Heraldic bookplate.


138
Religion des anciens Romains. 1567
Sold:

€ 288 / $ 316
(incl. 20% surcharge)