Sale: 366 / Rare Books including Marine Art, May 17./18. 2010 in Hamburg

Lot 186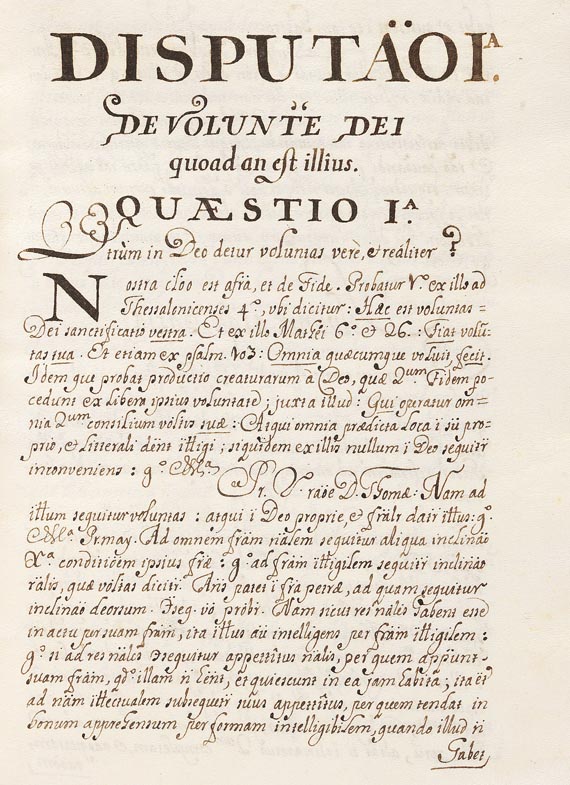 186
Kommentar zu Thomas von Aquin. 2. Hälfte 17 Jh., 1670.
Sold:

€ 240 / $ 264
(incl. 20% surcharge)
Lot description
Manuskripte. - Andres del Sacramento, Tractatus de volu(n)tate dei, ad questione p. Angelici Praecept D. Thomae .. subscribe(n)te Fr. Iosepho À S. Euphrosyna. Latinische Handschrift auf Papier. Portugal, 2. Hälfte des 17. Jhs. 230 Bll. (davon 3 weiß). Blattgr. ca. 20,2 : 14,5 cm. Schriftbild ca. 18 : 12,5 cm. Dunkelbraune Tinte, ca. 32 Zeilen mit Zwischenüberschriften. - Flex. Pgt. d. Zt.

Sehr fein und ansprechend geschriebenes Manuskript von einem klösterlichen Schreiber, wohl aus Portugal. Der Text, ein Kommentar zur Summa Theologica des Thomas von Aquin, stammt von dem spanischen Franziskaner Andres del Sacramento (gest. um 1634) und scheint nicht veröffentlicht worden zu sein. Er enthält vier Teile, wobei der letzte Teil am Ende inhaltlich nicht vollständig ausgeführt ist (möglicherweise ebenso wie die Vorlage des Originalmanuskripts). - Feines Hadernpapier mit Wasserzeichen (vgl. Heawood 740). Der in Rot und Schwarz geschriebene Titel stammt vermutl. aus späterer Zeit (ca. Ende 18. Jh.). - Überschriften vereinz. mit Tintenfraß. RDeckel mit kl. Fehlstellen, vord. Innengelenk gelockert. Exlibris. Gut erhaltenes, innen sauberes Manuskript.

Finely written Latin manuscript on paper, an unpublished commentary on Aquinas by the Spanish Franciscan Andres del Sacramento (died 1634), transcribed by one "Frater Iosephus a Euphrosyna", presumably from Portugal. Around 1673 (cf. Heawood 740 for the watermark). 230 leaves (3 blank). Flex. vellum. - Large subtitles here and there ink-eroded. Rear board with few defective spots. Else well-preserved. Bookplate Ruth and McKew Parr.


186
Kommentar zu Thomas von Aquin. 2. Hälfte 17 Jh., 1670.
Sold:

€ 240 / $ 264
(incl. 20% surcharge)
More offers for Manuskripte

Manuskripte - lots sold by Ketterer Kunst