Sale: 366 / Rare Books including Marine Art, May 17./18. 2010 in Hamburg

Lot 91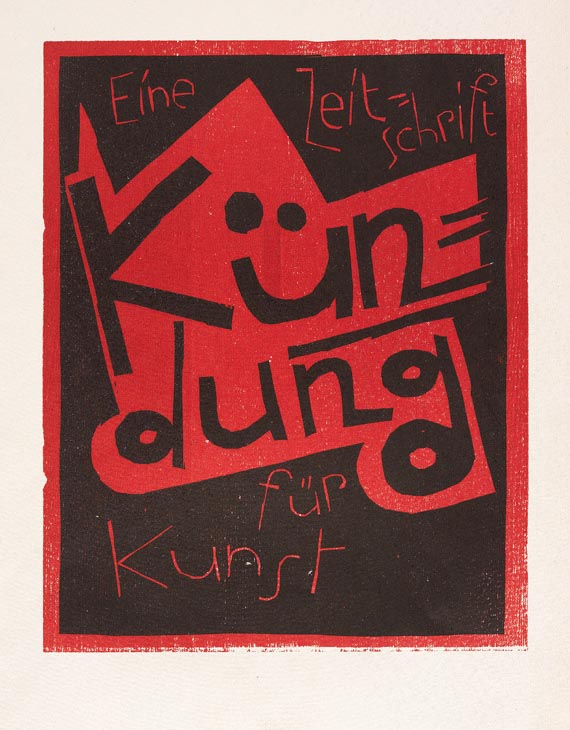 91
Kündung, Die,7 Hefte, 1921
Estimate:
€ 5,000 / $ 5,700
Sold:

€ 6,000 / $ 6.839
(incl. 20% surcharge)
Lot description
Kündung. Eine Zeitschrift für Kunst. (Hrsg. von W. Niemeyer und R. Schapire). Erste Folge, Heft I-XII (alles Erschienene) in zus. 7 Heften. Mit 7 (wdh., 6 farb.) Orig.-Titelholzschnitten von K. Schmidt-Rottluff, 49 Orig.-Holzschnitten (2 kolor.) von K. Schmidt-Rottluff, W. Lange, H. Meyer, W. Titze, S. Schott, E. Maetzel, K. Opfermann u. a. und 3 Orig.-Lithographien von Ch. Crodel und L. Segall sowie 14 Holzschnitt-Initialen von K. Schmidt-Rottluff und 6 mont. Fotografien. (Hamburg, Einmann-Werkstatt Joh. Schulz 1921). Illustr. OU. Folio.

Söhn HDO 135. - Jentsch 104. - Reed 282. - Raabe, Zeitschriften 96. - Raabe 221, 22. - Pirsich 6.2. - Lang S. 80f. - 1 von 200 Exemplaren. Vollständige Folge dieser wichtigen Zeitschrift des Hamburger Expressionismus. Unter den Holzschnitten finden sich auch mehrere mit Text, u. a. die Tafeldruck-Gedichte von Fr. Radziwill, R. Koepke, H. Meyer, W. Titze und S. Schott. - "Die Auflagenhöhe der Kündung .. beträgt 200 Exemplare und ist damit eine der niedrigsten - wenn nicht die niedrigste - von allen Zeitschriften des Expressionismus .. Jedoch gehören auch die unselbständig in der Kündung erschienenen neun Tafeldruckgedichte noch mit zu dem interessantesten, was der Expressionismus an Verbindung von Graphik und Dichtung hat entstehen lassen." (Pirsich) - Umschläge mit kl. Randläsuren und leicht fleckig, 1 Umschlag gelöst. Insges. gut erhaltenes Exemplar.

Complete series of this significant magazine of the Hamburg expressionism. 1 of 200 copies. With 7 (rep.; 6 col.) orig. title woodcuts by K. Schmidt-Rottluff, 49 orig. woodcuts (2 col.) by K. Schmidt-Rottluff, W. Lange, H. Meyer, W. Titze, S. Schott, E. Maetzel, K. Opfermann et al., 3 orig. lithographs by Ch. Crodel and L. Segall and 14 woodcut initials by K. Schmidt-Rottluff and 6 mounted photographs. Illustr. orig. wrappers. - Wrappers with small marginal defects and slight staining, 1 wrapper detached. Altogether fine copy.


91
Kündung, Die,7 Hefte, 1921
Estimate:
€ 5,000 / $ 5,700
Sold:

€ 6,000 / $ 6.839
(incl. 20% surcharge)
More Images