Sale: 359 / Rare Books including Marine Art, Nov. 16./17. 2009 in Hamburg

Lot 160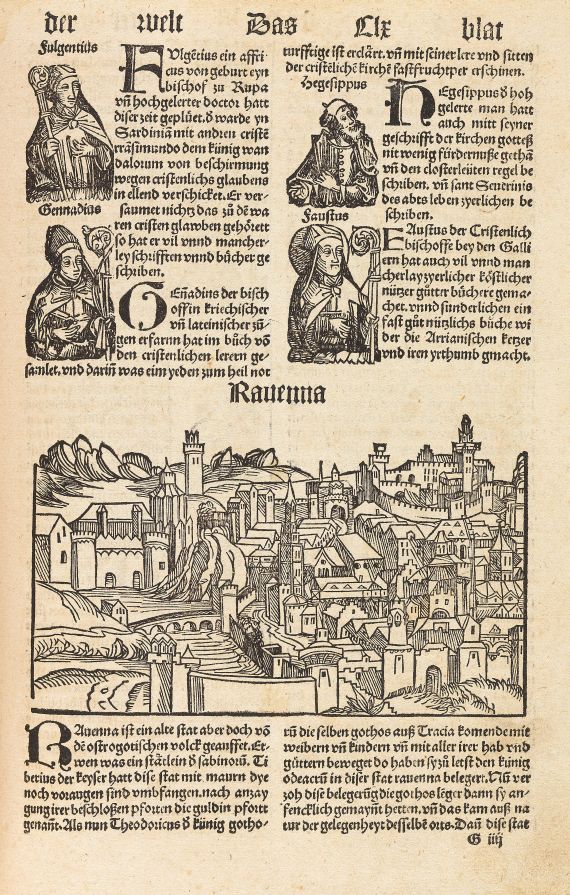 160
Buch der Croniken. 1500.
Estimate:
€ 10,000 / $ 11,400
Sold:

€ 12,000 / $ 13.679
(incl. 20% surcharge)
Lot description
(Schedel, H.,
Das Buch der Chroniken und Geschichten). Mit
1 gefalt. Holzschnitt-Karte
und
ca. 1800 Textholzschnitten
nach Wohlgemuth und Pleydenwurff. Augsburg, Joh. Schönsperger 1500. Zeitgenöss. Schweinslederband über Holzdeckeln mit Blind- und Rollenprägung. Folio. 312 (st. 317) num., 11 nn. Register-Bll.
Hain 14512. - Goff S-311. - BMC II, 375. - BSB S 199. - Schramm 5207. - Schreiber 5207. - Vgl. Rücker S. 143. - Zweite deutsche Ausgabe des sogenannten
Kleinen Schedel
von Schönsperger, weitaus seltener als die vorhergehenden Groß-Folio-Ausgaben bei Koberger in Nürnberg. - Die am reichsten illustrierte Inkunabel überhaupt erschien erstmals 1493 auf Latein und nur sechs Monate später in deutscher Übersetzung. Der vorliegende Raubdruck von Schönsperger, eine Art Volksausgabe, enthält den Text in der Übersetzung von Georg Alt und verkleinerte Nachschnitte der Nürnberger Illustrationen. "Man kann den Raubdruck von Schönsperger - der übrigens später zum Hofdrucker Kaiser Maximilians I. aufstieg - nicht nur vom verlegerischen Standpunkt aus beurteilen. Es gibt auch einen kunsthistorischen Aspekt, der den Nachschnitten des Raubdrucks eine gewisse Eigenständigkeit zuspricht. Denn diese repräsentieren trotz Motivübernahme eine andere Stilrichtung. Die 'Handschrift' des maßgeblichen der beiden Augsburger Zeichner, den wir namentlich nicht kennen, ist ausgesprochen malerisch, selbst im kleinen Format der zahllosen Halbfiguren. Daher erübrigte sich eine Kolorierung des Buches, die bei der Nürnberger Ausgabe noch einkalkuliert wurde." (Rücker) - Unter den Abbildungen sind die zahlr. Städteansichten von besonderem Interesse, da sich hier, neben bloßen Phantasieansichten, die
ersten authentischen Ansichten deutscher Städte
finden, darunter Augsburg, Bamberg, Breslau, Köln, Konstanz, Lübeck, München, Nürnberg, Passau, Prag, Regensburg, Salzburg, Ulm, Wien, Würzburg u. a. Erwähnenswert ferner die doppelblattgr. Deutschlandkarte am Schluß, die erste im Buchdruck erschienene Karte Mitteleuropas. - Es fehlen die 5 Textbll. a1 (Titel), b2, p1, P5 und BB4 sowie die beiden leeren Bll. KK6 und b6. - Zustand: Etw. gebräunt und fleckig (vereinz. deutlicher) sowie vereinz. mit kl. Randläsuren, die Karte mit hinterl. Einriß (etw. Bildverlust) und knapp beschnitten; erste 3 Bll. mit ergänzter Fehlstelle (ca. 3 : 4 cm, Textverlust hs. ersetzt), bei ca. 18 Bll. die Darstellung seitlich beschnitten, ca. 20 Bll. mit hinterl. (Rand-) Einriß, 1 Bl. mit Eckabriß (gering Text- bzw. Bildverlust), letztes Textbl. mit Kolophon in der unt. Hälfte durchgerissen (ausgebessert). Einbd. fleckig und bestoßen, Bezug tls. mit Läsuren, bewegliche Schließenteile entfernt.
Second German edition of the so-called Small Schedel, a pirate edition by Schönsperger in a smaller size and with reduced woodcuts after Wolgemut and Pleydenwurff. With 1 double-page woodcut map and ca. 1800 woodcuts in text. Contemp. blind- and rollstamped pigskin over wooden boards. - Lacking the text leaves a1 (title), b2, p1, P5 and BB4, further the 2 blanks KK6 und b6. - Some browning and staining, here and there small marg. defects, the map with backed tear (some loss of printed matter) and trimmed, first 3 leaves with defective spot (about 3 : 4 cm, text supplied by early hand), ca. 18 leaves the illustration trimmed at side, ca. 20 leaves with backed tear, 1 leaf with defective corner (affecting printed matter), colophon with repaired tear. Binding stained and bumped, covering partly defective.
160
Buch der Croniken. 1500.
Estimate:
€ 10,000 / $ 11,400
Sold:

€ 12,000 / $ 13.679
(incl. 20% surcharge)
More Images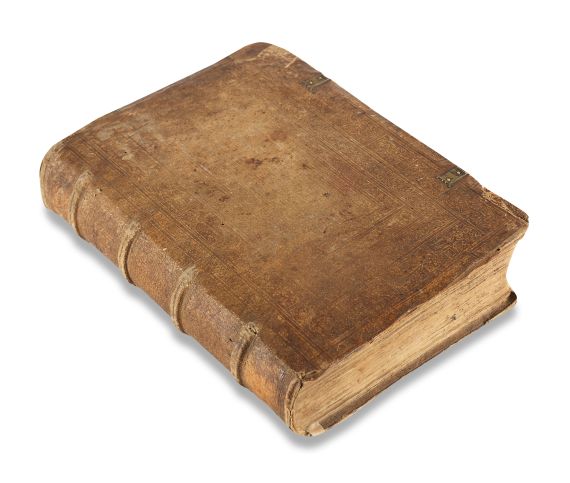 You might also be interested in

Hartmann Schedel - lots sold by Ketterer Kunst